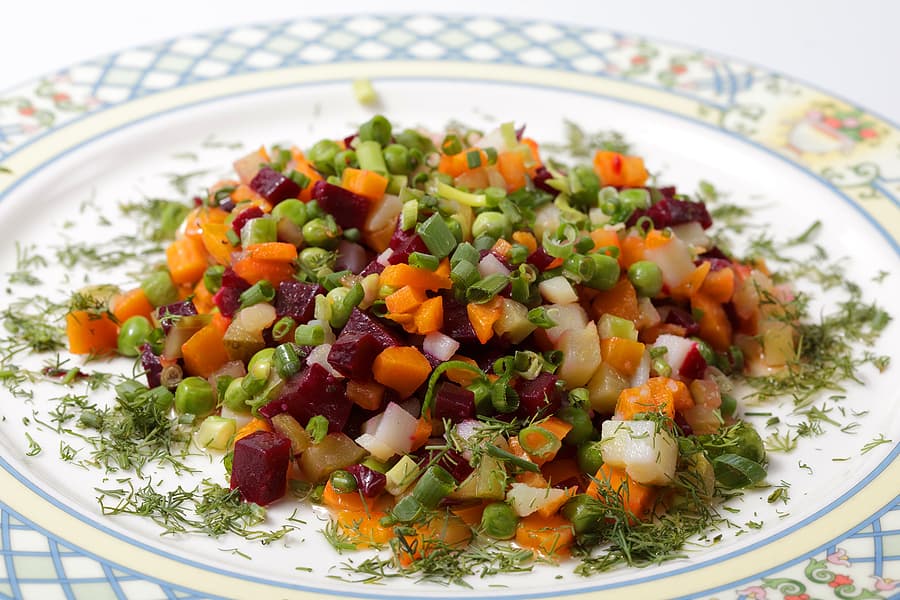 Sweet and smooth baby beets–red, yellow, and orange–added to sugary sugar snap peas and sweet baby carrots tossed with a tangy orange zest dressing and you have a seasonal salad that says Spring! You'll have to search to find someone who doesn't like this salad.
Baby beets, sugar snap peas, and baby carrots will hit their peak in the garden in spring. If you don't grow these, head to the farmers' market where they will be easy pickin', all at the same time.
Baby beets–about the size of a walnut–are tender, sweet, and juicy–better tasting than large ones. Choose a bunch–6 or 8 will do–all about the same size for even cooking. For this salad, the beets were individually wrapped in foil and roasted in the oven at 400ºF for about 45 minutes and then cooled in advance.
Sugar snap peas can be added shelled or you eat the entire pod, no shelling required; these are perfect when the pods have just plumped. You'll want to serve these within a day of harvest to enjoy the pods' natural sweetness. About a half-pound or two cups of sugar peas will do.
Baby carrots are ready when they are about the size of your index finger. They will be tender and sweet diced, cubed or sliced in strips.
Use a navel orange for an orange zesty dressing. You'll only need a few slivers of zest and a tablespoon of juice, so the sections are sweet snacking while preparing the salad.
Baby Beets. Baby Carrots and Sugar Snap Peas Salad
Ingredients
6-8 baby beets, roasted and cut into julienne strips (about 1 cup)
6-8 baby carrot, slice, cube or cut into julienne strips (about 1 cup)
½ pound sugar snap peas (about 2 cups), tips removed
1 orange
½ teaspoon finely shredded orange peel, or zest
1 tablespoon orange juice
2 teaspoons sugar
⅛ teaspoon salt
⅛ teaspoon ground ginger
⅛ teaspoon pepper
1 tablespoon margarine or butter
Instructions
Wrap baby beets individually in foil and roast in 400ºF oven until just tender when pierced, about 45 minutes. Set aside to cool. When cooled peel and julienne the beets.
Zest the orange and set aside the juice from one or two sections. You can now snack on the rest of the orange while preparing the beets and sugar snaps.
In a small mixing bowl combine orange peel, orange juice, sugar, salt, ginger, and pepper. Just stir.
Add the sugar snap peas to a small amount of boiling, salted water and cook for 3 to 4 minutes or until just crisp-tender. Drain well.
Combine the beets and sugar snap peas, add margarine or butter, and drizzle the dressing. Toss lightly to coat.
Courses Salad