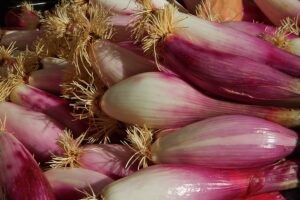 There is an onion that comes from Tropea in Calabria, Italy that you will enjoy. It is a mild or "sweet" flavored red onion—many say the sweetest-tasting onion in the world–that will be a welcome addition to the preparation of many meals, and, if all else fails, you can just about make a meal of this onion itself.
Tropea is a seaside village almost 400 miles south of Rome on the Tyrrhenian Sea. The gardens there are filled with bougainvillea, verbena and jasmine. The hills rising from the sea around the village are quilted with orchards of lemons and limes, olive groves and fields of vegetables and onions.
It is said that the Phoenicians—one of the great peoples of the ancient world—introduced onions to Tropea. If so, it would only be a guess where Tropea onions really originated because the Phoenicians were explorers and traders who roamed far and wide across the then known western world more than 3,000 years ago. Certainly in Tropea this onion found a perfect meeting of soil and climate from which it developed.
Today the Tropea onion—which is known in Italian markets as Tropea Rossa–is said to be the most popular onion in Italy and Europe. Those grown in the fields around Tropea are said to be extraordinarily "sweet." If you stop in at your farm market this week, you may find Tropea Rossa onions grown close to where you live. They will be labeled sweet Italian onion, Italian red onion, Creole onion and–most commonly—red torpedo onion.
"Torpedo" is probably not a corruption of Tropea. Rather, it is descriptive of the Tropea's elongated spindle or torpedo shape. The Tropea onion has a red to deep purple colored skin and a flesh of light rose colored rings. It does not actually have high sugar content but rather a low pyruvic acid count—meaning lack of heat and mouth burn—which translates into mild flavor, not pungent like many onions. To that end, this onion eaten raw will not make you cry.
The Tropea Rossa is delicious on both cold and warm sandwiches and on turkey burgers or hamburgers. Its deep red color makes it a lively garnish or addition to a spinach salad. These onions can be used in pasta dishes with tomatoes and basil. They can be grilled or lightly cooked and sautéed.
Here is a recipe for Tropea Rossa onion salad: Peel, halve and thinly slice 2 pounds of these red onions and place them in a large bowl. In a separate bowl, combine 1 cup of olive oil, 1½ cups of red wine vinegar, ¾ cup sugar, and ½ teaspoon salt and ⅛ teaspoon freshly ground pepper; pour over the onions. Cover and let stand at room temperature for about 2 hours. Makes 4 cups and will keep in the refrigerator for up to 2 days.
The Tropea Rossa can be grown from seed in about 120 days. It is planted usually in spring for summer harvest or from mid- to late summer for autumn harvest. The autumn harvest is at the farm market now.