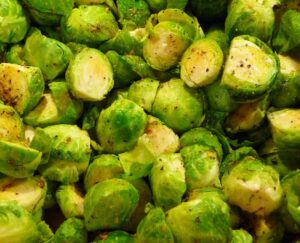 You don't have to get fancy to enjoy Brussels sprouts. Simply steam or sauté the sprouts and serve them with butter or lemon or sprinkled with Parmesan cheese, like you see here.
To steam Brussels sprouts, arrange the sprouts or pieces on a steamer rack. Bring 1 to 2 inches of water to a rapid boil. Place the rack in the pot and then turn the heat down to medium. Place the lid on tightly and steam until tender when pierced (5 minutes or more until tender crisp).
To butter sauté sprouts, cut the sprouts in half lengthwise. Pan fry using 2 tablespoons butter or margarine. Cook and stir for 1 minute. Add 3 to 5 tablespoons liquid; cover and cook until stem end is tender when pierced.
Steamed or butter sautéed, you can add the Parmesan cheese and salt and pepper to taste and serve hot, or set aside in the refrigerator to reheat and serve later.
There are many ways to enjoy fresh spring Brussels sprouts:
• Serve sprouts folded into a cheese or béchamel sauce.
• Served sprouts au gratin or added to soups, stews, or stir-fries.
• Purée the sprouts with potatoes.
• Toss cooked and cooled Brussels sprouts with diced tomatoes and a vinaigrette and serve on a bed of greens.
• Mix cooked sprouts with cooked chestnuts and butter or with almonds and sour cream.
• Braise sprouts, onions, and mushrooms in bacon fat then top with grated cheese and crumbled bacon.
Brussels sprouts taste best when prepared soon after picking. The sprouts you get at the farm market today will stone in an airtight container in the refrigeratore for up to four days.