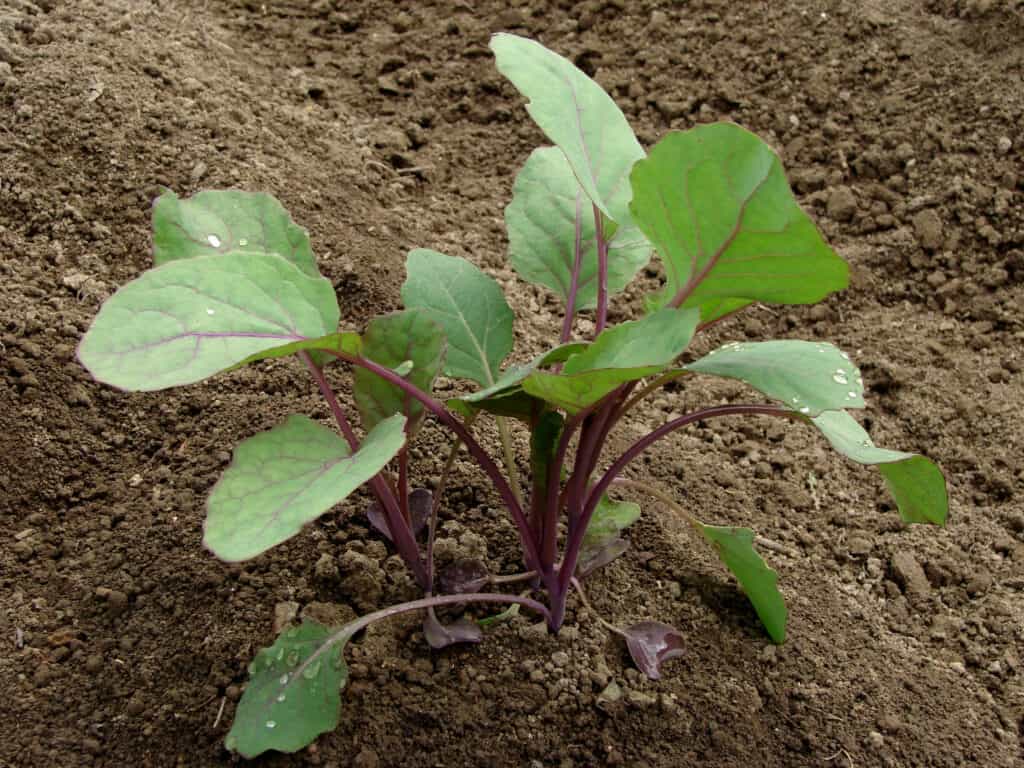 Brussels sprouts are a cool-season crop; they thrive in temperatures between 60°F and 70°F (16-21°C). Mature plants can withstand temperatures as low as 25°F (-4°C).
Brussels sprouts require a long growing season—90 to 120 days. Commonly Brussels sprouts are planted in late spring to mid-summer for harvest in fall. Brussels sprouts touched by frost just before harvest will be the best flavored, firm, and crunchy.
But quick-maturing Brussels sprouts varieties can be started indoors in winter for harvest in late spring or summer where summer temperatures do not rise much above 70°F (21°C). Sprouts grown in warm to hot summer and mild winter regions will be less flavorful.
Brussels sprouts mature in 90 to 120 days depending on the variety.
Brussels Sprouts Sowing and Planting Tips
Start from seed or transplants.
Seed is viable for 4 years.
For a fall crop, start seed indoors 16 weeks before the first fall frost. For summer crop (not advised in most regions) start seeds indoors 4 to 6 weeks before the average last frost date.
Start seeds in individual pots
Sow seed ¼ to ½ (6-8 mm) inch deep in the seed-starting mix.
Keep the mix moist but not wet.
Seeds should germinate in 5 to 8 days at an optimal temperature of 77°F (25°C) or thereabouts.
Transplant seedlings into the garden when they 4 to 6 inches (10-15 cm) tall with 2- to 4-leaves; firm transplants into the soil by hand—leafy sprouts can be caused by insufficient soil-root contact at transplanting time.
Set transplants deeper than they grew indoors, with the lower leaves just above soil level.
Grow Brussels sprouts in full sun for best yield—tolerates partial shade.
Add 3- to 4- inches of compost and well-aged manure into planting bed, before transplanting; Brussels sprouts need friable, moisture-holding soil.
Avoid planting where cabbage family crops have grown recently.
Space plants 16 to 18 inches (40-45 cm) apart; plants spaced 10 to 12 inches (25-30 cm) apart will yield smaller heads.
Space rows 36 inches (0.9m) apart.
Protect the seedlings from the cold for two to three weeks after planting covering them with a cloche, spun poly row cover, plastic tunnel, or cold frame.
Fertilize with an organic fertilizer such as fish emulsion at half strength; be sure Brussels sprouts get potassium, phosphorus, and magnesium.
Common pest enemies are aphids, cabbage worms and loopers, cabbage worms, and cutworms.
Brussels Sprouts Planting Calendar
Cool summer regions: 16-15 weeks before the last frost in spring start seed indoors for transplanting out later.
Cool summer regions: 10-8 weeks before the last frost in spring transplant to the garden when minimum soil is 40°; in cool summer regions, you can harvest in summer.
Warm-hot summer regions: 18-16 weeks before the first frost in fall start seed indoors.
Warm-hot summer regions: 13-11 weeks before the first frost in fall transplant seedlings to the garden for autumn and winter harvest. Warm and hot summer regions grow for fall and winter harvest.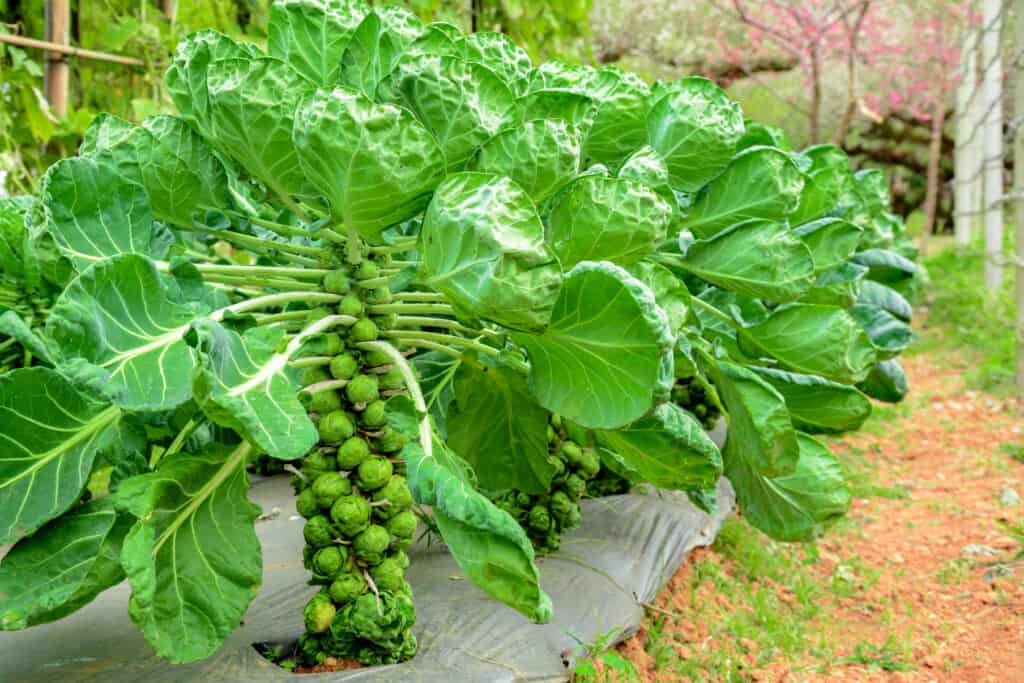 Brussels Sprouts Recommended Varieties
'Long Island Improved' is best for fall growing.
'Catskill' is a dwarf variety best for fall growing.
'Jade Cross' and 'Oliver' somewhat heat tolerant and relatively quick growing at 90 days.
'Diablo' produces uniform, medium-sized sprouts.
Interplanting: Interplant with lettuce, spinach, and other quick maturing crops.
Container Growing: Choose a container with a minimum depth of 20 inches (51 cm).
Botanical Name: Brassica oleracea var. gemmifera
Broccoli is a member of the Brassicacea (Cruciferae) or cabbage family.
Related Articles:
Troubleshooting Brussels Sprouts Problems