Chard—Swiss chard—is a cool and warm-season crop. It will tolerate frost and keep growing in summer. The optimum soil temperature for germination is 50° to 8°5F (10°-29°C).
Direct—seeding is the most common way to start chard. Sow seed in the garden 2 to 4 weeks before the last average frost date in spring.
To get an early start on the season, start seeds indoors 4 weeks before setting transplants in the garden. Set transplants in the garden as early as 3 to 4 weeks before the last frost.
For a fall and winter crop, sow seeds directly in the garden 10 weeks before the first frost in autumn. In mild winter regions, chard can winter over in the ground and may produce a winter or early spring crop.
Good Products for Growing Swiss Chard at Amazon:
For the best leaf growth, grow chard in humus-rich, well-drained soil. Chard grows best in full sun but tolerates partial shade. It is a light feeder that needs just moderate amounts of nitrogen.
Chard matures in 50 to 60 days, but you can begin harvesting outer leaves 40 days after sowing. Leave the inner leaves intact to assure continuous production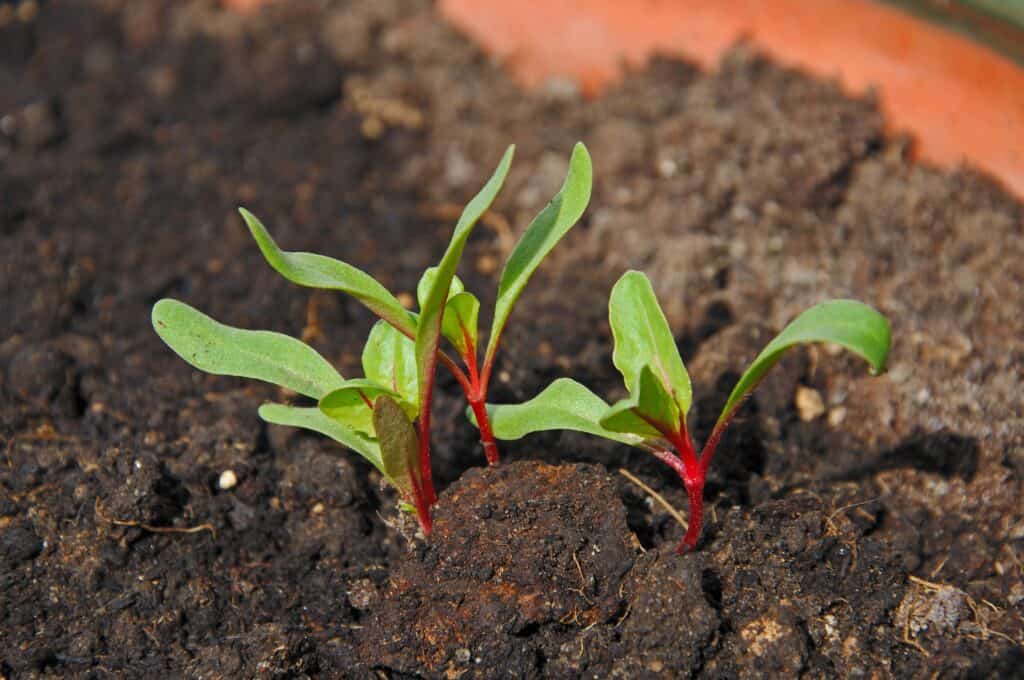 Chard–also called Swiss chard–grows best in the cool weather of spring and fall but tolerates warm and hot weather as well. If you plan to grow chard into the summer, choose a heat-tolerant variety.
Chard tolerates the light frosts of spring and the moderate frosts of autumn. If you want to grow chard for harvest in winter, plant it under the cover of a plastic hoop tunnel or cold frame.
Chard matures in 50 to 60 days depending on the variety.
Swiss chard seed is viable for 4 years.
Chard planting details
Sowing depth: ½ (1.25cm)
Space between plant after thinning: 8-12 inches (20-30cm)
Days to sprout: 7-14
Days to harvest: 55+
Storage period: 1-2 weeks
Seeds for 100-row feet: 1 ounce (29 grams)
Yield per 100-row feet: 25 pounds (11kg)
Suggested Varieties: Lucullus, Fordhook Giant, Perpetual Chard, Rhubarb
Chard sowing and planting tips
Chard can be grown from seeds or transplants.
Direct-sow chard seeds in the garden 5 to 3 weeks before the last spring frost; chard can be started indoors or in a plastic tunnel or cold frame 10 to 8 weeks before the last frost in spring.
Soak seeds overnight before sowing to hasten germination.
Seed germinates in 5 to 7 days at or near 60°F to 65°F (16-18°C)—but sometimes seed can take up to 3 weeks to germinate if the soil is cold. Germination will not occur in soil chillier than 50°F (10°C).
Keep the soil evenly moist until the seeds germinate.
Sow seed ⅓ to ½ inch (13mm) deep.
Sow seeds 1 inch (2.5cm) apart; later thin seedlings to 6 inches (15cm) apart; use the thinnings in salads.
Space plants 8 to 10 inches (20-25 cm) apart in a staggered pattern or in rows 18 to 24 inches apart.
Chard grows best in full sun but can tolerate light shade.
Chard prefers a soil pH between 6.0 and 7.0.
Add aged compost to planting beds in advance of sowing; compost will feed the soil and aid moisture retention.
Chard grows best when daytime temperatures are in the 60s°F but can tolerate much warmer temperatures.
Keep the soil moist until seedlings are well established; once plants are established mulch with straw to keep the roots cool and moist.
Chard can tolerate light frosts in the spring and moderate freezes in the fall.
Avoid planting chard where beets, spinach, or orach have recently grown. Plant chard where beans have just grown if you can.
Fertilize with an organic fertilizer such as fish emulsion at half strength.
Aphids and leaf miners can attack chard.
Cut plants back to about 3 inches (7 cm) above the soil in late summer; the plant will produce new leaves for autumn harvest.
Interplanting: Interplant chard with carrots, radishes, and strawberries.
Container Growing Chard: Choose a container at least 6-12 inches (15-20 cm) wide and tall.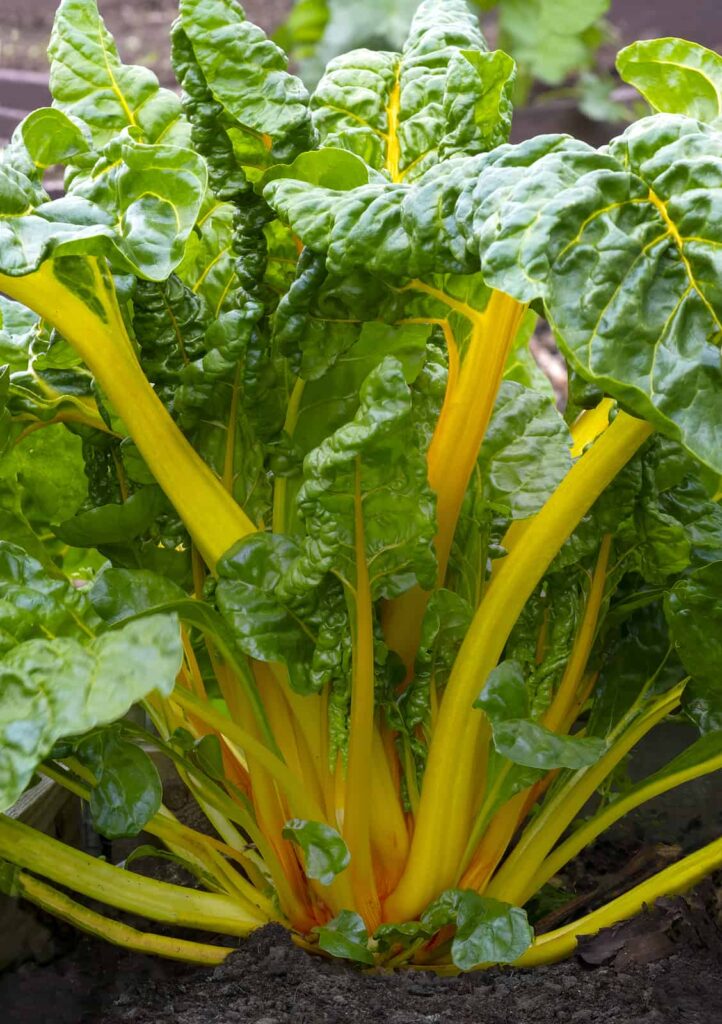 Chard planting calendar
Plant for summer harvest:
10-12 weeks before the last frost in spring: sow seed in a plastic tunnel or cold frame.
3-5 weeks before the last frost in spring: direct-sow seed in the garden; minimum soil temperature is 40°F.
Planting for fall and winter harvest:
10-12 weeks before the first frost in fall: direct-sow in the garden for fall harvest.
6-8 weeks before the first frost in fall: direct sow in a plastic tunnel or cold frame for winter harvest.
Chard seed sowing dates
(These dates are for the Northern Hemisphere)
| | |
| --- | --- |
| Average date of the last frost | Planting dates |
| Jan. 30 | Jan. 1-Apr. 1 |
| Feb. 8 | Jan. 10-Apr. 1 |
| Feb. 18 | Jan. 20-Apr. 15 |
| Feb. 28 | Feb. 1-May 1 |
| Mar. 10 | Feb. 15-May 15 |
| Mar. 20 | Feb. 20-May 15 |
| Mar. 30 | Mar. 1-May 25 |
| Apr. 10 | Mar. 15-June 15 |
| Apr. 20 | Apr. 1-June 15 |
| Apr. 30 | Apr. 15-June 15 |
| May 10 | Apr. 20-June 15 |
| May 20 | May Cas10-June 15 |
| May 30 | May 20-June 15 |
| June 10 | June 1-15 |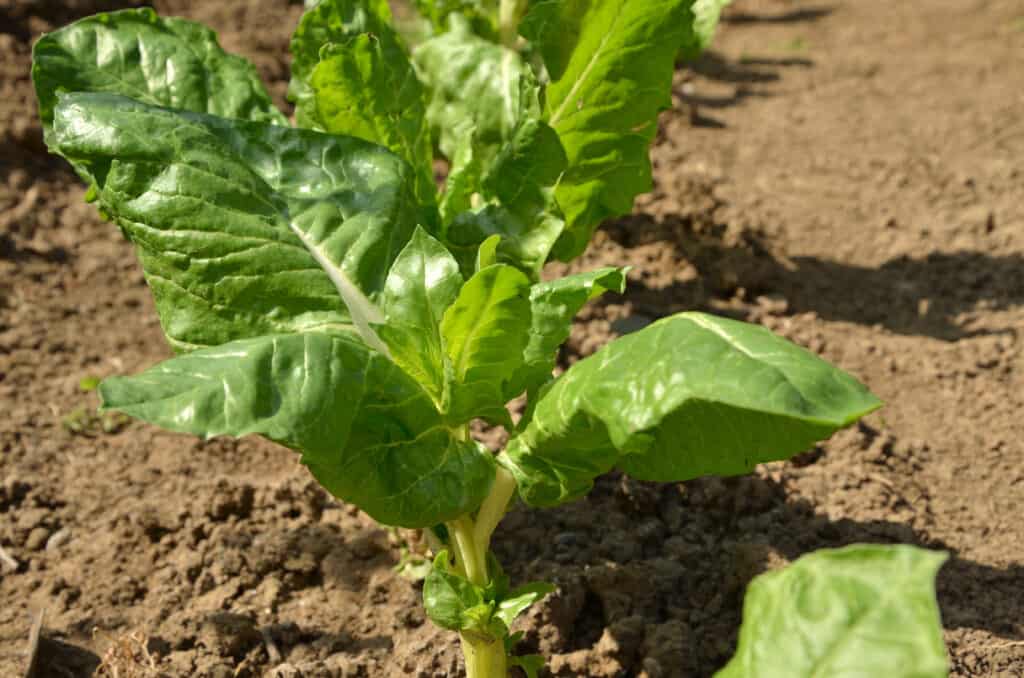 Recommended Chard Varieties
'Argentata' is flavorful with crisp leaves.
'Bright Lights' is delicious to eat, the leaves have vivid reds and yellows.
'Bright Yellow' has lemon yellow stems and dark green leaves, delicious.
'Charlotte' has cherry-red stalks, and savoy, dark green leaves.
'Fordhook Giant' is a good grower with dark leaves and white ribs.
'Rainbow' has leaves of vivid reds and yellows.
'Rhubarb' has red ribs.
Botanical Name: Beta vulgaris var. cicla
Chard belongs to the Chenopodiaceae family, other members include beets, spinach, quinoa, and sugar beets.
More tips:
How to Plant, Grow, and Harvest Swiss Chard
Growing Swiss Chard in Containers
Garden Planning Books at Amazon: