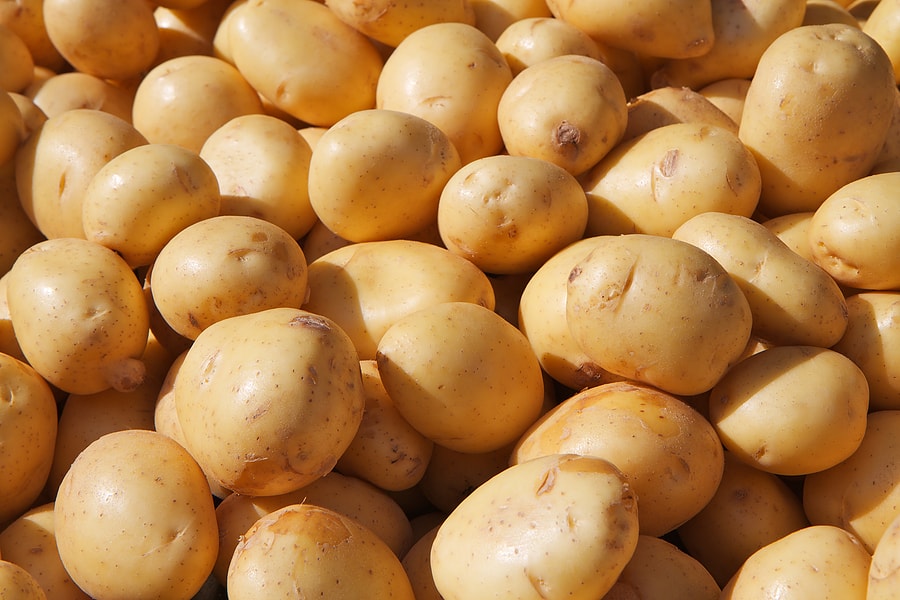 Yellow potatoes are well suited for boiling, steaming, mashing, roasting, grilling, and au gratin dishes. 'Yukon Gold' is a stand-out yellow potato with a buttery-tasting flesh that you will want to try mashed, steamed, in soups and chowders, or made into potato pancakes.
Because the 'Yukon Gold' brings its own buttery flavor to the table, you won't need to add butter or margarine to 'Yukon Gold' dishes. Yellow potatoes like 'Yukon Gold' also require less seasoning than white potatoes.
The 'Yukon Gold' is slightly flat and oval with a thin, golden yellow skin. It has shallow eyes and golden-yellow flesh. You know you have a 'Yukon Gold' in your hand if the shallow eyes are a rosy pink color.
The 'Yukon Gold' has a lower starch content than the Idaho or russet which makes it a good all-purpose potato. Feel free to use the 'Yukon Gold' or other yellow potatoes in recipes that call for white potatoes.
Steamed. To steam the 'Yukon Gold' or other thin-skinned potatoes, arrange whole thin-skinned potatoes or ½-inch-thick slices on a steamer rack. Steam over 1 to 2 inches of boiling water until tender throughout when pierced (30 to 35 minutes for whole potatoes, 8 to 10 minutes for slices).
Mashed. For mashed 'Yukon Gold' potatoes (which some are the tastiest of all mashed potatoes): Cover the potatoes in an inch of water in a saucepan with ½ teaspoon of salt, bring to a boil, and then allow to simmer for 15 to 20 minutes until the potatoes are skewered easily. Drain, reserving some of the cooking water, and dry the potatoes in the saucepan over medium heat until the potatoes are floury. Use a hand masher until the potatoes are creamy smooth then beat in unsalted, softened butter and milk or buttermilk, and some of the reserved cooking water if need be, until the texture is just the way you like it. Season these mashed potatoes to taste with salt and pepper.
Because its sugar content is slightly higher than a russet, the 'Yukon Gold' does not store as well. Keep yellow potatoes at 40-50ºF (4-10ºC), but not below 33ºF (1ºC). Keep potatoes in a paper bag in the refrigerator vegetable crisper away from onions. Yellow potatoes are best used within a week. If you keep potatoes in a cool, dark, well-ventilated area, they will keep longer.
The 'Yukon Gold' and other yellow potatoes are available from late summer through early spring. Other yellow flesh potato varieties include 'German Butterball', 'Carola', 'Nicola', 'Alby's Gold', 'Michigold', 'Donna', 'Delta Gold', 'Banana', 'Saginaw Gold' and 'Yellow Finn'. 'Yellow Finn' is a bit smaller and sweeter tasting than 'Yukon Gold'. The 'Yellow Finn' is a very good substitute for the 'Yukon Gold'.
Yellow fleshed potatoes are common in Europe and South America. 'Yukon Gold' was developed in Canada in 1980, a cross between North American white potato and a wild South American yellow-fleshed potato.