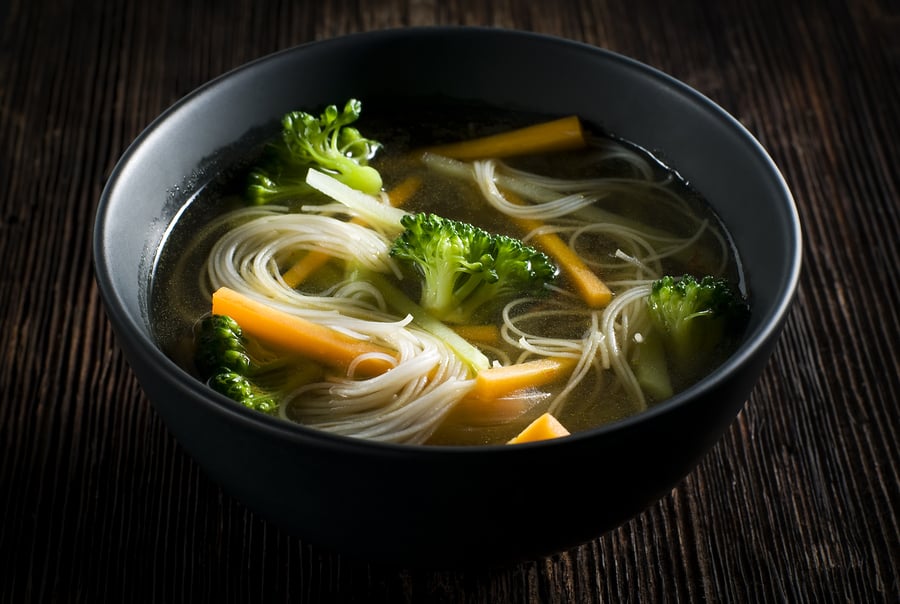 Vegetable and rice noodle soup is both light and hearty. Vary the stock—beef, chicken, or vegetable for degrees of intensity and complexity of flavor—and vary the vegetables with the season—root and cabbage family vegetables in the cool time of the year, leafy vegetables and summer squashes in the warm time of the year.
I use rice noodles in the recipe here—they will require some soaking in advance, but you can use rice vermicilli or, if you are short on time, egg noodles which will require no soaking.
Vegetable and Rice Noodle Soup
Yield 8 servings
Ingredients
8 cups beef stock (or you can use chicken or vegetable stock)
1 pound or so rice noodles
2 medium carrots, peeled and sliced into batons
2 head of broccoli florets, separated
Seasonal alternate ingredients, choose two or three: bok choy leaves (3 cups coarsely chopped); Tatsoi and Chinese broccoli (4 cups, coarsely chopped); green onions or scallions (2 or3 trimmed and thinly sliced); turnips (2 or 3 medium size; beans sprouts (2 cups); shitake mushrooms (3 finely sliced)
Spicy add-ons: Try finely grated fresh ginger (2 teaspoons); 1 garlic clove, thinly slice; Sriracha chili sauce or toasted sesame oil to taste.
Instructions
Soak rice noodles in hot water to cover until soft, 15 to 30 minutes. Rinse under cold water for a minute to drain.
Place broth in large flat-bottomed pot and bring to a boil, then add broccoli and carrots (or other root vegetables) for about a minute—these vegetables will quick cook in boiling liquid.
Bring liquid to a boil and add noodles and cook on for about 1 minute.
If you want to add leafy greens, turn off heat, add and stir in greens, cover for 30 second to a minute until greens are just wilted.
Sea salt and white pepper to flavor (or try pink salt for the natural minerals it will add to your diet)
Divide among bowls.
Serve with a dash of sesame oil and bits of chopped cilantro to enhance the flavor if you like.
Courses Soup