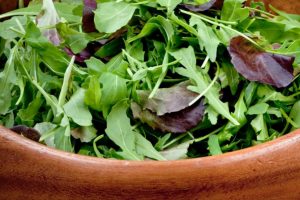 Mesclun is a mix of tender, young salad green leaves. The mix often includes leaf lettuce, arugula, endive, frisée, mizuma, oak leaf, mâche or lamb's lettuce, radicchio, sorrel, chervil, groundsel, and dandelion.
Mesclun is the French word for "mixture." In Italy, a similar mixture of greens is called mescladisse.
Mesclun was originally a mixture of wild field greens. The mix is said to have originated in Nice, France with the word mesclun coming from a Niçois word for mix, mesclumo. Undoubtedly, the concept is much, much older.
Mesclun is often dressed with olive oil and flavored with fines herbes, garlic, and even anchovies.
A traditional mesclun serving includes croutons, small bits of baked goats'-milk cheeses, small pieces of bacon, preserved gizzards, or chicken livers fried in butter.
Contemporary mesclun mixes usually include a variety of lettuces and European and Asian salad greens that grow under similar conditions, have similar rates of maturity, and taste good together. Mesclun greens are matched by season, by flavor, by color, or by where they are grown. The leaves are usually cut and prepared for serving when only a few centimeters (inches) tall.
Three Mesclun or traditional French salad mixes:
• Provencal Mesclun (originated in Porvence, France): includes lettuce, fine curled endive, rocket and chervil. The traditional recipe calls for one part arugula, two parts chervil, one part curly endive, and four parts lettuce. It is made up entirely of leaves, mild tasting or zesty.
• Mesclun (originated in northern France): various lettuces and endive cultivars and cress, corn salad, and spinach.
• Nicoise (originated in Nice, France): Mediterranean salad leaves including dandelion, upland cress, rocket, chicory, lettuce and curly endive.
Choose. Select leaves that are crisp with no signs of wilting or spotting.
Store. Mesclun will keep in a plastic bag in the refrigerator for up to 5 days. Wash and blot dry the leaves just before using.
Serve. Raw is the only way that mesclun is served. Serve alone or mixed with tomatoes, onion, celery, mushrooms, sweet bell pepper, avocado, citrus fruits, blanched almonds, toasted bred crumbs, hard boiled egg, bacon or ham, cooked shellfish, poultry or meats.
Season mesclun with virtually all herbs, onions, or garlic. Top mesclun with vinegar or vinaigrette dressing or plain or flavored mayonnaise.
Flavor partners. Mesclun has a flavor affinity for anchovies, cucumber, fresh herbs, lemon, mustard, raw onion, tart fruits, tomato, and vinaigrette.