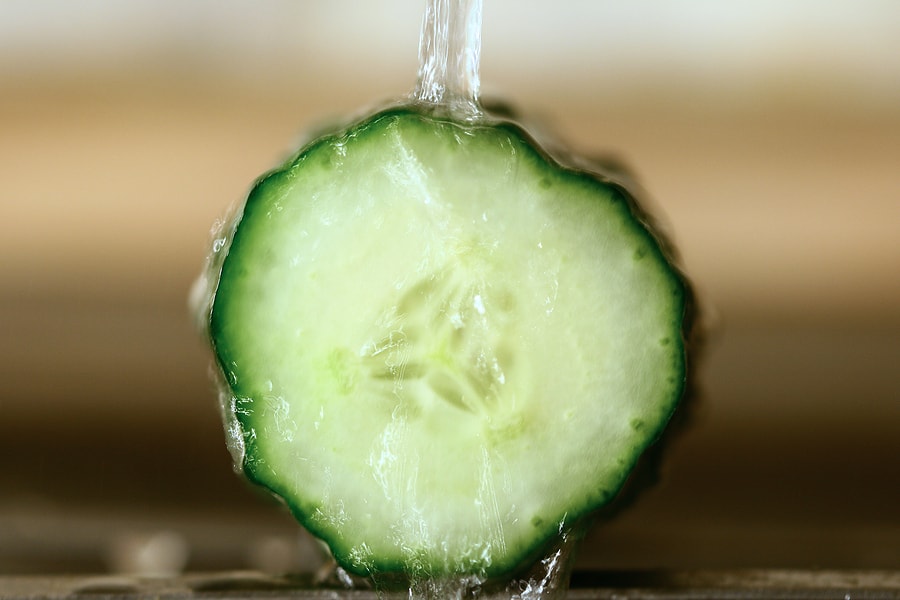 Cucumbers are sweet except when they are a tad bitter.
Choose cucumbers for their sweetness and refreshing cleanness or for their green grassy astringency and crispness. Sometimes you don't know which cucumber you will get until you bring it in from the garden and taste it.
Always cucumbers are cooling and refreshing—they are, after all, more than 90 percent water.
The best cucumbers are well-shaped, firm, and have a deep green color (unless you have a lemon cucumber). Garden cucumbers do not need to be peeled, but you can. (Cucumbers from the grocery may have been waxed to keep them fresh—you'll want to skin them.)
Peel a cucumber with a paring knife or a vegetable slicer; to seed a cucumber, cut it lengthwise in half and scoop out the seeds with a teaspoon.
Match bitter cucumbers with sour ingredients to knock back the bitterness—goat cheese, yogurt, dill, or vinegar, or add a pinch of sugar.
Sliced garden-fresh cucumbers are tasty on buttered bread—white, whole wheat, or rye cut almost paper thin. Dress sliced fresh cucumbers with sour cream or yogurt—just enough to coat them or serve sliced cucumbers with feta, olives, tomatoes, and onions.
Try these sliced cucumber flavor matches:
cucumber + vinegar (balsamic, cider, red wine, rice wine, sherry, tarragon, white wine)
cucumber + sea salt
cucumber + sugar (a pinch)
cucumber + chopped dill
cucumber + chopped basil
cucumber + sliced tomato
cucumber + chopped cilantro
cucumber + sour cream
cucumber + melon (try Galia variety)
cucumber + salmon
cucumber + shrimp
cucumber + sliced fennel
cucumber + sliced onion or sliced scallions
cucumber + dill + salmon
cucumber +dill + yogurt
cucumber + avocado + squeeze of lemon
cucumber + goat cheese + parsley
cucumbers + strawberries + cream cheese
cucumber + mint + yogurt
cucumber + mango + red onion
cucumber + garlic + mint + yogurt
cucumber + chile peppers + mint + yogurt
cucumber + jalapeño + dill + onion
cucumber + lemon + sesame oil + vinegar
cucumber + chervil + salt +vinegar
cucumber + rice vinegar + salt + pepper + basil
cucumber +cider vinegar + salt + pepper + scallions
cucumber + cilantro + ginger + sugar + rice vinegar
cucumber + dill + red onion + sour cream + vinegar
cucumber + rice wine vinegar + garlic + red bell pepper + carrot
cucumber + red onion + plain yogurt + dill + white wine vinegar + sugar
cucumber + feta cheese + garlic + mint + olive oil +oregano + red wine vinegar
cucumber + feta cheese + garlic + mint + olive oil + oregano + red wine vinegar