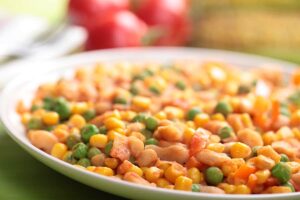 Look around and you will find a dozen or so ways to make "authentic" succotash.
The bottom line on succotash is that this cooked dish always includes lima beans and corn kernels—unless it doesn't. You see, sometimes "real" succotash doesn't include lima beans but green shell beans instead (just ask Fannie Farmer).
So, at least succotash always includes corn. (Yes, for real!) You see, succotash just has to include corn because the word succotash comes from the Naragansett Indian (up New England way) word msickquatash which means "boiled whole kernels of corn."
That settled, the absolute basics on succotash is that fresh corn kernels and lima beans or some other shell beans are cooked separately in boiling water until tender and then the two are mixed together with a little butter (or salt pork, particularly in The South) and cooked until ready.
Succotash is an original American dish. It was one of the first cooked dishes that the Native Americans offered the interloping Pilgrims.
While succotash is clearly of New England origin, today it is a favorite meal in the southern United States.
Now here's a succotash recipe that goes beyond the basics–corn and lima beans–to include several of the vegetable highlights of the summer garden—green pepper, tomato, onion, parsley, garlic, and zucchini:
Serves 8
Ingredients
6 ears corn
1 green pepper
2 tomatoes
1 medium onion, minced
3 tablespoons minced parsley
1 clove garlic, minced
⅓ cup olive oil or 3 slices bacon, diced
1 tablespoon paprika
1 cup cubed zucchini
1 pound fresh lima beans
⅓ cup water
Salt and pepper to taste
Directions
1. Cut kernels from the corn cobs and scrape all pulp and milk from cob.
2.Grill pepper over flame until it blisters, the peel, seed, and cut into strips. Grill tomatoes over flame until they blister, peel, seed and chop.
3. Fry onion, 1½ tablespoons parsley, and garlic in olive oil or with bacon until golden brown. Add paprika, sauté for 1 or 2 minutes. Add tomato, pepper, corn, zucchini, and shelled lima beans and toss. Add about ⅓ cup of water to just moisten vegetables. Season to taste and cover tightly.
4. Simmer for 30 minutes or until all vegetables are tender. Uncover and simmer rapidly for 5 to 10 minutes to reduce liquid. Check seasoning and sprinkle with remaining parsley.
For a hearty addition: Cook 3 sliced chorizo sausages with the vegetables.