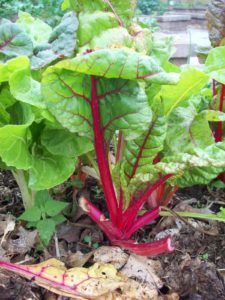 Chard leaves have a hearty, yet mild spinach flavor. Chard stalks have a delicate, celery-like taste and crunch.
To get a bit of both flavors and texture sauté chard for 2 to 3 minutes after slicing leaves and stalks together crosswise.
Here's how we sautéed our just picked from the garden chard to match with the delicate flavor of grilled orange roughy: slice crosswise 6 to 8 chard leaves, place in a pan with 4 or 5 tablespoons of extra virgin olive oil, one or two medium garlic cloves chopped, and a dash of lemon-pepper to taste; sauté over a medium flame until just tender-crunchy and sprinkle with fresh lemon juice before serving.
Sautéed chard comes together so fast and is so flavorful that you will find yourself bringing it to the table all summer.
The key to flavorful chard is to make sure you don't overcook it. Chard cooked in less than 3 minutes will preserve its mild, sweet flavor.
Many cooks prefer to cook chard leaves and stems separately since the ribs take longer to cook. If you do this, you can combine the two after cooking or serve them separately.
The thinner chard is sliced the quicker it will cook. Overcooked chard will be soft and mushy. If you're simmering or boiling chard, use acidulated water to prevent the leaves and stalks from darkening during cooking.
Here are a few tips for cooking chard:
Simmer. Prepare chard, cutting stems crosswise into ¼-inch slices and shredding leaves. In a skillet, boil stems, covered, in ¼ inch water for 2 minutes. Add leaves and cook just until stems and leaves are tender-crisp to bite (1 to 2 more minutes).
Steam. Arrange sliced chard stems on a rack, steam for 3 minutes. Add shredded leaves and steam until just tender-crisp to bite (2 to 4 more minutes). Steam chard leaves as you would beet greens or spinach. Steam the leaves in just the water that remains on the leaves after washing. Steamed chard may have a slightly bitter taste.
Microwave. Cut stems crosswise into ¼-inch slices and shredding leaves. Place stems in a microwave-proof baking dish with 2 tablespoons water; cover. Microwave on high (100%) for 3 minutes, for 1 to 1½ pounds. Add leaves and microwave for 4 to 5 more minutes. Let stand, covered, for 2 minutes. Stems and leaves should be tender-crisp to bite.
Preparation. Wash chard carefully before using to get rid of sand and soil trapped in the leaves. Cut fibrous chard stalks off near the base and peel off any tough strings. Slice leaves into 1-inch slices. Slice stems into ½-inch slices.