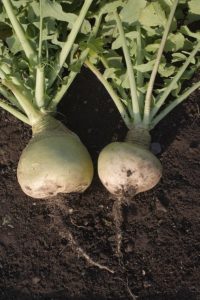 The Tokyo turnip is a diminutive, small radish-sized turnip with a crunchy, juicy bitter- sweet flavor eaten raw. Steamed it is buttery-sweet and delicate.
You will find the Tokyo turnip in early spring. You might mistake it for a white radish if you don't look closely enough. The Tokyo turnip is white through and through.
Tokyo turnips are most often harvested at 1 to 3 inches (2.5-7.6 cm) in diameter. They will be globe shaped and perhaps slightly flattened. About 8 to 12 of these pearly turnips make a pound. Look for them still attached to fresh greens.
The Japanese call these turnips kabura-type turnips, varieties include 'Tokyo White', 'Tokyo Market', and 'Tokyo Cross'. In markets outside of Japan, all are usually simply called Tokyo turnips or white turnips.
Serve. Serve these turnips sliced with a crisp sea salt. (Try the French "fleur de sel" or "flower of salt", a hand harvested sea salt).
Steam. Steamed Tokyo turnips are nearly a delicacy. Choose turnips of equal size and wash them thoroughly under running water or soak them until any grit or sand falls away. You don't need to remove the greens; you can actually use them as a bed for steaming.
Spread the turnips with greens attached on a steamer rack over boiling water, cover and cook until just barely tender, about 3 to 6 minutes depending upon the size of the turnips. (Choose turnips of equal size for even steaming of the bunch.)
When tender, drain the turnips and greens on a kitchen towel and serve with a side dish of salt or butter or pepper, or all three. Steaming turnips of any type will bring out the best flavor.
Flavor partners. Tokyo turnips can also be pickled, roasted, sautéed, or boiled in soups. You can use them as a garnish or serve them alongside poached or grilled whole fish or roasted meat. Served raw Tokyo turnips are good with a vegetable dip or you can throw them into a salad sliced or whole.
Grow. If you are growing Tokyo turnips, they will be bite-sized or about an inch in diameter about 30 days after sowing. Turnips grow best in the cool times of the year, spring and autumn. You don't have to harvest Tokyo turnips small. You can let them grow larger and treat them just like other turnips.
Turnip originated in northern Europe in about 2000 BC. They made their way to China and Japan about 1,300 years where the Tokyo turnip developed. The Tokyo turnip has grown in popularity in the west most recently.
The botanical name for turnips is Brassica rapa, Rapifera Group.