Since pears—that is the European varieties–are plucked from the tree before they are ripe and cure to ripeness usually in a cool, dark place, how do you know a pear is ready for your bite?
Well, there are two ways to choose a pear for eating out of hand: smell and feel. A ripe pear ready for snacking will have a sweet, fruity fragrance. You'll know it when you smell it. And, a ripe pear that you can munch or use as a dessert this moment will be slightly soft at the stem end. You can gently feel it.
Pears that came off of the tree in October and early November—referred to as autumn or winter pears (such as the Comice and the D'Anjou)–are ready for eating out of hand. (Remember, most Asian pears will ripen completely on the tree and can be eaten right after they are picked.)
How about pear cooking? Pears for cooking or poaching can be slightly less ripe than those for snacking; that is they should be firm but not hard. Simple!
Pears can be served with duck, pork and poultry. Pears have a flavor affinity for allspice, bay leaf, chocolate, cinnamon, clove, honey, red wine, rosemary, thyme, vanilla and white wine.
You might be a pear and cheese person. The fine, buttery texture of the Anjou pear goes perfectly with Brie, Camembert, Gorgonzola, Roquefort, Cabrales or Stilton cheese. You can even match the Anjou or Comice pear with cream cheese. Tasty!
Also of interest: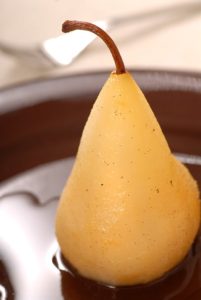 Print
Poached Pear Recipe
This recipe is sometimes called Pears Hélène. It is served over vanilla ice cream and topped with hot chocolate sauce.
Ingredients
6 pears—Bosc, D'Anjou or Comice
1½ cups (360 mL) sugar
2 cups (480 mL) water
1 teaspoon (5 mL) vanilla extract or 1 inch (2.5 cm) of vanilla bean
Instructions
Peel, halve, and core the pears. (Cut the pears in half lengthwise and scoop out the cores with a melon baller or grapefruit spoon. Remove any gritty flesh around the core. Peeled pears will almost immediately begin to brown: to prevent discoloration, immediately toss cut pears with lemon juice.)
Boil the sugar and water with the vanilla. Add the pears and reduce the heat.
Simmer until the pears are just cooked through—just tender when pierced with a fork.
Cool in their syrup.
Notes
Serve over vanilla ice cream topped with the hot chocolate sauce.
Courses Dessert