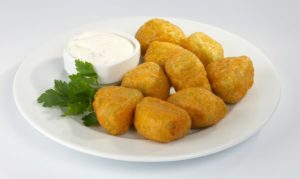 Turnips can be boiled, steamed, and stir-fried. Cook turnips until they are just tender-crunchy–less than seven minutes or so for a young turnip. The flavor will be mildly sweet and crisp.
Steamed and boiled. Toss steamed small turnips with butter and parsley and serve. Boiled turnips can be mashed with butter and cream or puréed for soup.
Serve raw. Serve turnips raw as a finger food. Simply peel and cut the turnips into quarter-inch slices. Sprinkle with salt and chill in the refrigerator for 10 minutes before serving.
Cooking turnip greens. Turnip greens can be strong-flavored. You'll want to cook them before serving: boil, braise, sauté, steam, or stir-fry. The strong flavor is muted when cooked with other, milder greens.
One-half cup of turnips contains just 23 calories. Turnips contain vitamin C and turnips greens are rich in vitamin A.
Mashed Turnips and Russet Potatoes
Yield 4-6 servings
Instructions
Trim and peel 8 or 9 medium-size turnips and cut into bite-size cubes. Place in a large saucepan with lightly salted water to cover and simmer until just tender–that is pierced with a sharp knife, about 25 minutes.
Add 3 medium russet potatoes peeled and cut into bite-size cubes and continue cooking until very tender, about 15 more minutes.
Drain the saucepan and mash the turnips and potatoes with a potato-masher or pass through a food mill into a large bowl. Add 4 tablespoons of unsalted butter and salt and pepper to taste. Whisk in 3 tablespoons of sour cream.
Return puree to saucepan and cook over low heat for 2 to 3 minutes, stirring constantly, until the puree thickens.
Garnish or fold in 3 tablespoons of minced fresh chives and serve hot.
Notes
This dish can be served with roast or meatloaf.
Courses Side Dish