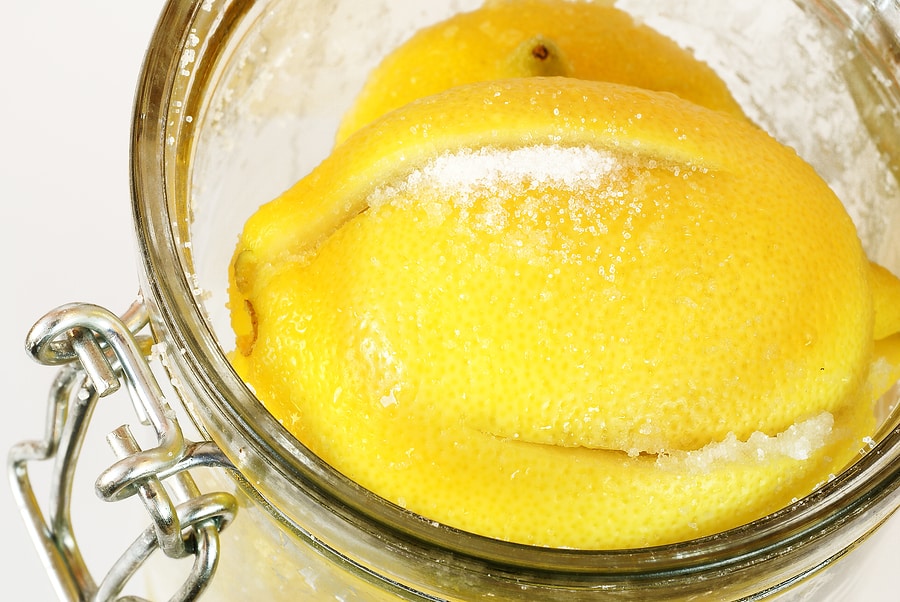 Lemon is the most common accompaniment for fish and other seafood dishes. It's interchangeable with vinegar for many sauces and salad dressings.
Here is a way to preserve lemons for use as flavoring in marinades, salad dressings, and many fish and stew recipes. You will find the flavor a bit salty, pleasantly fermented, and just slightly bitter.
Use this method to preserve 'Meyer' lemons, limes, and oranges. The peak season for Meyers and oranges are the colder months. Other lemons and limes come to harvest in the warm months of the year.
(By the way, if you simply want to keep lemon and lime juice for out of season use, squeeze the fruit and freeze the juice in ice cube trays then store the cubes in plastic freezer bags.)
Also of interest:
Eureka Lemon and Lisbon Lemon: Kitchen Basics
Sweet Meyer Lemon: Kitchen Basics
Preserved Lemons
Ingredients
8 lemons (maybe more depending upon the size of the fruit)
1½ cups kosher salt
Rosemary sprig  and  olive oil (optional)
Instructions
Thoroughly rinse the lemons. Quarter each lemon by cutting through the skin lengthwise from top to bottom.
Sprinkle some salt on the bottom of a wide-mouthed 1- to 1½-quart jar. Take the lemon quarters one at a time and squeeze some juice into the jar. Sprinkle the inside of each lemon with additional salt then pack each squeezed quarter into the jar. After each is packed in the jar, sprinkle the skin of each with more salt. You can fully pack the jar with lemons—so use as many lemons as it takes, but 8 nice-sized lemons should do it.
Once packed, use a wooden spoon to press the fruit extracting more juice; the goal is to immerse the fruit in juice. (An alternative is to pour enough olive oil into the jar to cover the lemons.) Flavor the preserve with a spring of rosemary, if you like.
Seal the jar tightly and place it in the refrigerator for at least 2 weeks before using. In the first week, use a wooden spoon to press down the fruit every couple of days to keep the lemons submerged in liquid. Your preserved lemons will keep for up to 6 months in a cool place.