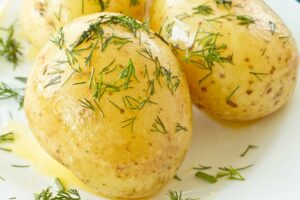 Choose potatoes for planting with cooking in mind. Potatoes for boiling—for making potato salad and home-fry potatoes—should have a low- to medium-starch content. Potatoes for baking should have high-starch content.
Low- and medium-starch potatoes keep their shape and remain creamy and toothy when boiled. High-starch potatoes will swell and puff up when baked; they will be light, dry, and delicate. (A high-starch potato submitted to the rigors of boiling will explode and turn inside out in boiling water.)
Low- and Medium-Starch Potatoes for Boiling
Low- and medium-starch potatoes are sometimes called salad or boiling potatoes. They have high moisture content so they don't absorb as much water when submerged and boiled. The most common low-starch potatoes are red-skinned varieties often called round-reds; look for the variety Red Bliss. Other boiling potatoes are California long whites, Maine, and Kennebec potatoes. Medium-starch potato varieties include Yukon Gold and Yellow Finn.
Other low- and medium-starch potatoes include many dubbed fingerlings (name for their shape and size) and heirlooms (look for rose, pink, gold, and purple potatoes).
High-Starch Potatoes for Baking
High-starch potatoes, best for baking, are russet, russet Burbank, and Idaho. They have low moisture content and are sometimes called "mealy" potatoes. If you can't get a russet, Burbank, or Idaho potato for baking, use a medium-starch potatoes, again Yukon Gold and Yellow Finn are the best known. Medium-starch potatoes will not produce a baked potato as light and puffy as a russet or Idaho.
Mashing Potatoes
If you plan to mash the potatoes you grow, you can choose either low-, medium, or high-starch potatoes, but preparation differs when making mashed potatoes. Low- and medium-starch potatoes will be more flavorful as mashed potatoes than high-starch potatoes, but you will find they are stickier, almost glue like, in preparation so you may find it difficult to achieve a smooth-texture mashed potato serving. Use high-starch potatoes for a smooth, fluffy mashed potato, but rather than boil the potatoes steam them.
Test a Cooking Potato for Doneness
To test a cooking potato for doneness, use a fork or skewer rather than a paring knife. The blunt tip of a fork will give you a better read of how done the potato is; the sharp tip of a knife will make is feel more done that it truly is.
For more on potatoes, click over to these articles: