Asparagus is a perennial plant that can grow for 15 to 20 spears. Asparagus can be grown from seeds or crowns. Here are asparagus growing basics:
Sowing asparagus seed and planting crowns (roots)
If you grow asparagus from seed, your first harvest will come in three years.
If you grow asparagus from crowns (established roots), the first harvest will come a year after planting two-year-old crowns and two years after planting one-year-old crowns.
Crowns are available in nurseries and garden centers each spring or you can start your own.
To start plants from seed, sow seeds indoors or outdoors in early spring one year before re-setting the roots in their permanent location.
Cover seed with ½"(12 mm) of soil.
The seeds will germinate in 14-18 days at 75°F (25°C).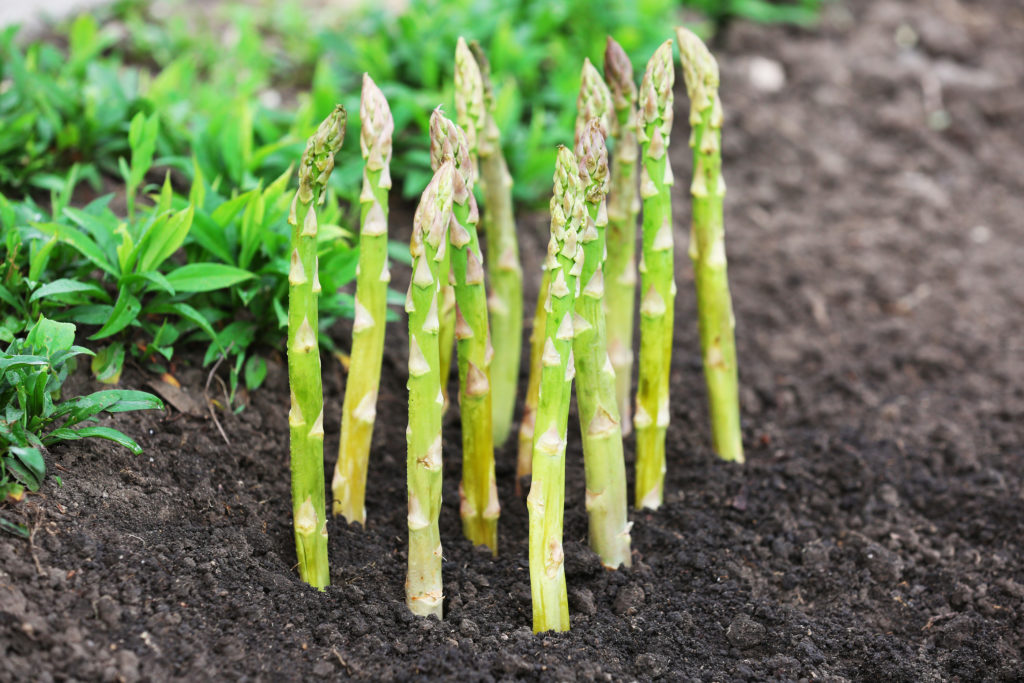 Asparagus growing tips
Grow asparagus in deep, loose, well-drained soil rich in organic matter and compost.
Choose a location that gets at least 6 hours of sun each day.
Set asparagus crowns (roots) in the garden as early as the soil can be worked in spring. Set one- or two-year-old crowns in trenches 6 to 8 inches (15-20 cm) deep and in rows 12 to18 inches (30-45 cm) apart.
Space roots 8 inches (20 cm) apart for slender spears to 14" (36 cm) apart for thick spears.
Keep the soil evenly moist throughout the growing season; do not water during the winter.
Mulch the planting be with straw or leaf much during the winter to protect roots from freezing temperatures.
Regular applications of compost or well-rotted manure will keep plants productive.
Harvesting asparagus
Do not harvest asparagus spears the first year Allow the plants to develop a strong root system.
Grown from seed the first crop of spears will come in the third year.
Harvest mid to late spring in the third year after planting.
After the third year, the harvest will extend 6-10 weeks.
Harvest when spears are ¼-¾" (6-19 mm) in diameter and about 5-8" (13-20 cm) long by snapping off spears at the base.
Harvest before the stems toughen and the scales at the tips begin to open.
Steam, grill, or sauté tender shoots.
More tips at How to Grow Asparagus.
For detailed asparagus growing articles go to Asparagus.