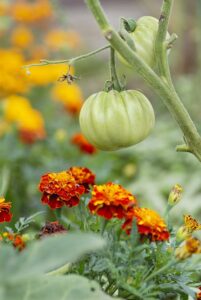 Want to enhance the flavor or your tomatoes? Grow leaf lettuce, chives, or marigolds nearby.
The notion behind companion planting is that some plants naturally grow better together, that they form natural alliances. How such alliances work is not completely clear; companion planting is based widely on reported observation.
Tomato companion plants—said to ward off disease, encourage growth, and improve flavor–are carrots, leaf lettuce, nasturtiums, parsley, onions, chives, and marigolds. Conversely, poor tomato-growing companions are cabbage, fennel, potatoes, and kohlrabi.
Some plants grown as companions seem to discourage pests and disease; some seem to encourage growth and flavor.  Others act to balance the soil.
One plant may be a good companion to another because it does not draw heavily on soil nutrients that the other favors. One plant may be a good companion because it more readily attracts insects that otherwise might attack the other.
Interplanting often goes hand-in-hand with companion planting.  For example, a shallow rooted plant such as leaf lettuce is an excellent companion when it is interplanted with the more deeply and complex rooted tomato.
Here are some other good companions: to benefit carrots grow onions; to benefit collards grow tomatoes;  to benefit corn grow beans; to benefit cucumbers grow broccoli; to benefit potatoes grow tansy; and to benefit tomatoes grow dandelion.
And here are some poor companions: growing beans avoid chives, garlic, leeks, onion, shallots; growing beets avoid pole beans; growing cabbage family crops avoid kohlrabi and pole beans; growing carrots avoid dill; growing corn avoid tomatoes; growing cucumbers avoid potatoes and sage; growing onions avoid beans, peas, and sage; growing peas avoid chives, garlic, leeks, onions, and shallots; growing potatoes avoid cucumbers, squash, and tomatoes; and growing tomatoes avoid corn, dill, kohlrabi, and potatoes.