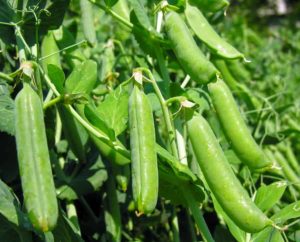 The best tasting peas are young, sweet, and tender.
The best way to tell when peas are ready is to pick and taste each day until they are just right. Then harvest.
Peas should be just about ready for harvest 3 weeks after the flowers appear. Shelling peas are ready when the pods have swelled and are nearly cylindrical shape. Edible pod peas are ready when they are 2-3 inches long, before the seeds begin to swell.
A small pair of scissors may be the quickest way to harvest, or pinch them off by hand. Vines can be brittle, so steady them with one hand with picking with the other. The tips of pea vines are edible and can be used in stir fries.
Harvest peas often. The more you pick the more the vines will produce.
You'll want to start eating your pea harvest immediately. Like corn, peas start converting their sugar to starch as soon as they are picked.
If your peas taste just a tad bitter or the texture seems off, you probably waited too long.
Pea growing tips at How to Grow Peas.