Harvest artichokes when the buds are tight and firm and about 3 inches (8 cm) in diameter. Harvest buds before the petals begin to open. If you wait until the bud opens, the petals will no longer be tender.
When to harvest artichokes
Artichoke plants live for about 5 years. Production starts about a year after planting. A mature plant will produce 10 or more stalks each season; each stalk will produce four to five buds.
When flower buds begin to form on stalks in the spring, check plants daily to be sure you cut buds before they open. Buds that are allowed to open will be fibrous, stringy, and inedible.
An artichoke plant will produce several flower buds beginning in late spring. The bud atop each stalk will ripen first and buds lower on the stalk will follow—but will not be as large as the top bud.
Artichokes prefer cool summers; plants do not bear well in hot, dry conditions; buds mature too quickly and become tough.
Related articles:
How to harvest artichokes
Cut artichoke buds from the stalk with a garden pruner or lopper; leave about 1 to 3 inches below the bud base. The stem you leave attached will make the thorny bud easier to handle and some stems are tender enough to eat. Handle buds carefully during harvest to avoid bruising bud petals.
Once all the buds on all of the stalks have been harvested, cut the entire plant down to slightly below soil level and reduce irrigation. Soon new stalks bearing new buds will develop for fall harvest.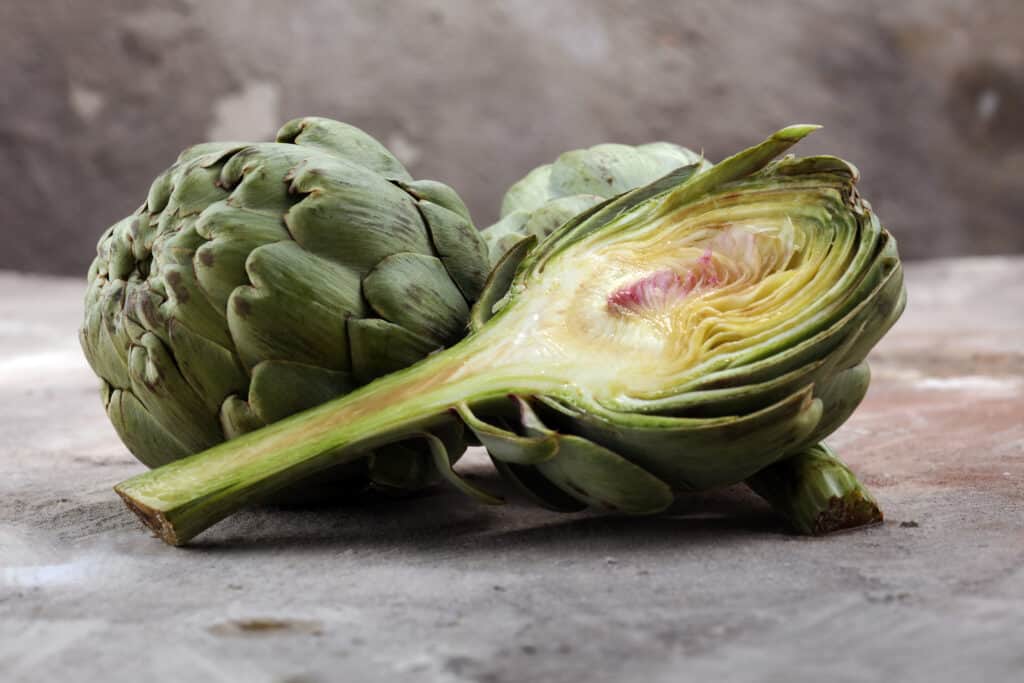 How to store artichokes
Store artichoke buds in the refrigerator as soon as possible after harvesting. Store buds in a perforated plastic bag in the vegetable crisper section. Artichokes may be stored for 1 to 2 weeks in the refrigerator at about 32° F (0°C).
Cooked artichokes can be frozen and will keep for 10 months. Sprinkle cooked artichokes with lemon juice before freezing. Freeze buds in an airtight freezer container or a heavy-duty plastic freezer bag.
Kitchen tips: How to Cook and Serve Artichokes
Growing tips: How to Grow Artichokes and Artichoke Plant Starting Tips.
Garden Planning Books at Amazon:
More harvest tips:
Learn when and how to harvest your favorite vegetables for the best flavor and texture. Get storage tips for each crop. Click on the vegetable you are growing below.