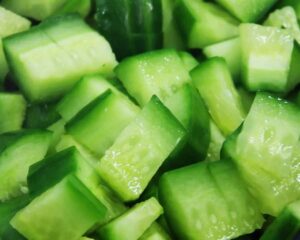 Can there actually be two "World's Best Cucumber"?
To decide, taste 'Diva' and 'Amira' two very tasty slicing cucumbers.
'Diva' comes to the competition with all of the fanfare. In 2002, 'Diva' became an All-America Selection—which is a sort of growers' Academy Award for best performing plants.
'Amira' has never taken home the All-America Selection award, but whenever you read or hear about 'Amira' the phrase "one of the best cucumbers" is close by.
Both 'Diva' and 'Amira' are fresh-eating cucumbers. That's means you can slice them right onto a sandwich or salad moments after they come off the vine.
These two are best when harvested at about 4 to 5 inches (10-13 cm) long and about 1½ inches (3.8 cm) in diameter. You might find 'Amira' slightly more petite, but both are about the size of a medium pickle.
'Diva' and 'Amira' have deep forest green skins and look like regular salad cucumbers. 'Diva' has a very smooth, thin skin that actually requires no peeling. 'Amira' is just slightly bumpy skinned and its peel may be just ever so thicker than 'Diva'. Both are essentially seedless.
Now, the test is in the taste. Both are bitter-free. (You know that some cucumbers have a bite that makes them best when dipped in a salad dressing; not these two.) 'Diva' and 'Amira' are tender, crisp, and sweet—not sugary sweet, but refreshingly sweet (remember cucumbers are 90 percent water).
To my taste, 'Diva' has a flavor that is light, clean, and says "excellent tasting cucumber". Not to be outdone, 'Amira' is lighter yet with a very mellow grassy aftertaste that adds a very seductive layer of complication.
That both of these cucumbers came off the vine young means each was especially succulent. Easily they could have been sliced right onto a salad. I ate both out of hand and never thought they needed an ounce of help from a dressing.
Taste 'Diva' and 'Amira' side by side and you just might say there are two "World's Best Cucumber". You will have to decide for yourself because the farmers at your market may not help; at the farmers' market in San Francisco this week, both 'Diva' and 'Amira' had "World's Best Cucumber" signs above them and they were sitting on tables across from each other.
Season. The peak season for fresh-from-the-garden cucumbers is late spring through summer, May to August in the Northern Hemisphere.
Choose. Always look for cucumbers that are green and firm with no sign of bruising or yellowing. Avoid cucumbers that have soft spots or that are shriveled. Over-large cucumbers tend to be bitter and bland tasting and are likely to contain numerous hard seeds.
Fresh cucumbers will keep in the refrigerator vegetable crisper for 3 to 5 days.