Kale is a versatile autumn and winter vegetable. A good frost will sweeten kale overnight. At the same time, kale can withstand most winters in the garden with no protection. It's hardy to 10°F.
Kale growing tips at: How to Grow Kale.
Best kale varieties to grow
There are a couple of dozen different varieties of kale. Here are six easy-to-grow varieties that are especially tasty (you will like any one of these!):
Blue Curled Scotch: curly blue-green leaves; tender and extremely tasty; rich in Vitamin A; easy to grow; very cold hardy; grows just over 1 foot tall; harvest in 50 to 60 days or as baby leaf kale in 25 to 30 days; open-pollinated heirloom from Scotland. Dwarf Blue Curled Scotch grows to 15 inches tall.
Lacinato: crinkled, deep blue-green leaves; sweet, full flavor—mild, never strong-flavored; best harvested young after the first frost; Italian heirloom dates to 18th century also called Tuscan or Toscano kale (for its origin) and Dinosaur kale (for its primitive look); grows 2 to 3 feet tall; cold and heat tolerant; harvest in 45 to 50 days; open-pollinated.
Red Russian: wide, flattened, oak-like, dark green leaves with purple-red veins; more tender than other kale; use in salads, steamed, and light cooking; can be a tad bitter when cooked; 2 to 3 feet tall; cold and heat tolerant; harvest in 40 to 60 day; open-pollinated.
Siberian: extra curly blue-green leaves; tender and mild-flavored perfect for salads or blanch or stir-fry; flavor sweetened by frost; 1½ to 3 feet tall; very cold hardy; harvest in 60 days; open-pollinated.
White Russian: deeply cut, frilly, dark green leaves with white veins; tender, sweet flavor; very cold hardy, and heat tolerant; tolerates wet soil; 2 to 3 feet tall; harvest full-size in 50 days; harvest gourmet baby leaves in 25 days; open-pollinated.
Winterbor: curled and ruffled blue-green leaves; tender, sweet, and extra mild flavored; 2 to 3 feet tall; very cold hardy; harvest in 60 to 65 days; hybrid.
Kale harvest tips
You can harvest kale leaves as soon as they are big enough to eat or let them mature on the plant. Older, outer leaves exposed to more sunlight will be rich in vitamin C and calcium.
Harvest kale leaves cut-and-come-again to keep the plant producing or take the entire plant.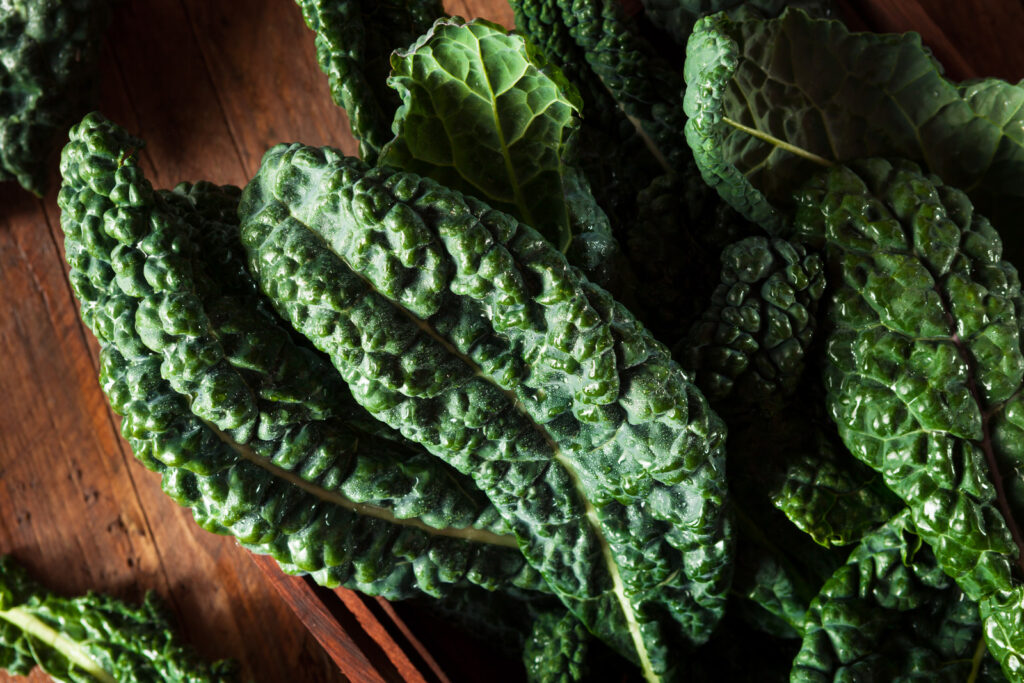 How to prepare kale
Cool- and cold-weather kale can be served almost like summer-tender spinach: cut out the center ribs of young kale and use the leaves cut into strips as salad greens; dice the ribs and add them to the salad for a bit of crunch.
Cook kale leaves just out of the garden only a few minutes longer than spinach. And in the dead of a winter cut frozen kale leaves from the plant and cook them before they thaw; the flavor will not suffer.
One pound of kale with stems will serve 2 to 3 people. Without stems, one pound will serve 3 to 4 people.
Kale can be prepared just as you would spinach.
Kale salad: Baby leaf kale has a much more tender texture and milder sweet flavor than mature kale. Eat baby leaf kale raw in a salad alone or mixed with other greens; simply dress kale with oil and vinegar.
Kale holds up well when steamed, braised, stir-fried, or sautéed.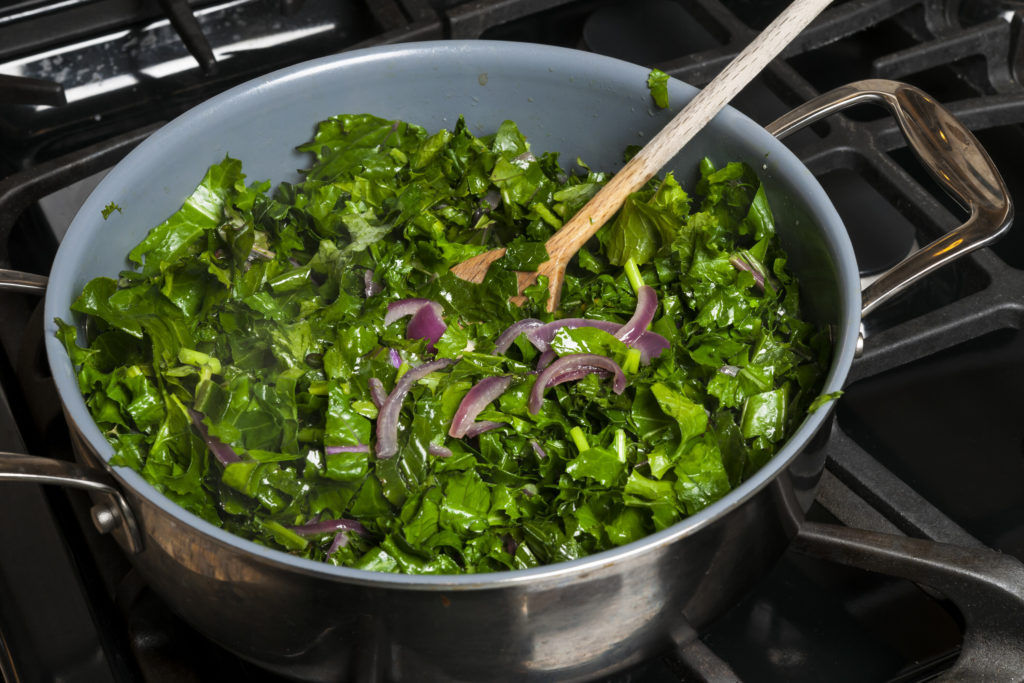 How to prepare kale for cooking
Wash the leaves in a large bowl of water to dislodge sand and dirt. Add vinegar or salt to the water to dislodge any insects.
Rinse the leaves under cold running water.
Remove the tough center stalk by folding the leaves in half and ripping the stalk out then gather up the greens and roll them like a cigar then slice them into ribbons.
Don't dry the leaves before cooking. Use the residual water on the leaves to help wilt the leaves as they cook.
Steam kale leaves in just the water that remains after the leaves have been washed. Steam only long enough for the leaves to wilt: 3 to 6 minutes. Italian style: steam kale until tender, then add olive oil, a little garlic, and breadcrumbs, and sprinkle it with Parmesan cheese in the last minute or two of cooking.
Blanch kale strips in salted water for 1 minute, drain, then sauté in olive or nut oil, butter, or with bacon or pancetta, season with olives, garlic, chili, cumin, caraway, fennel, anise, or toasted sesame oil.
Stir-fry kale with a few slices of fresh ginger root, for about 1 minute. Or stir-fry in sesame oil with minced garlic for 3 minutes, tossing with sliced mushrooms.
Braise kale in stock if you want the strong flavor to match grilled sausage or frankfurters served with potatoes.
The strong flavor of mature kale leaves goes well in soups and stews. In India, kale is often teamed with hot spices.
Kale can be seasoned with salt, pepper, onion, garlic, basil, dill, mace, nutmeg, allspice, mustard, parsley, sage, rosemary, or thyme.
More about kale preparation at Cooking Kale and Kale: Kitchen Basics.