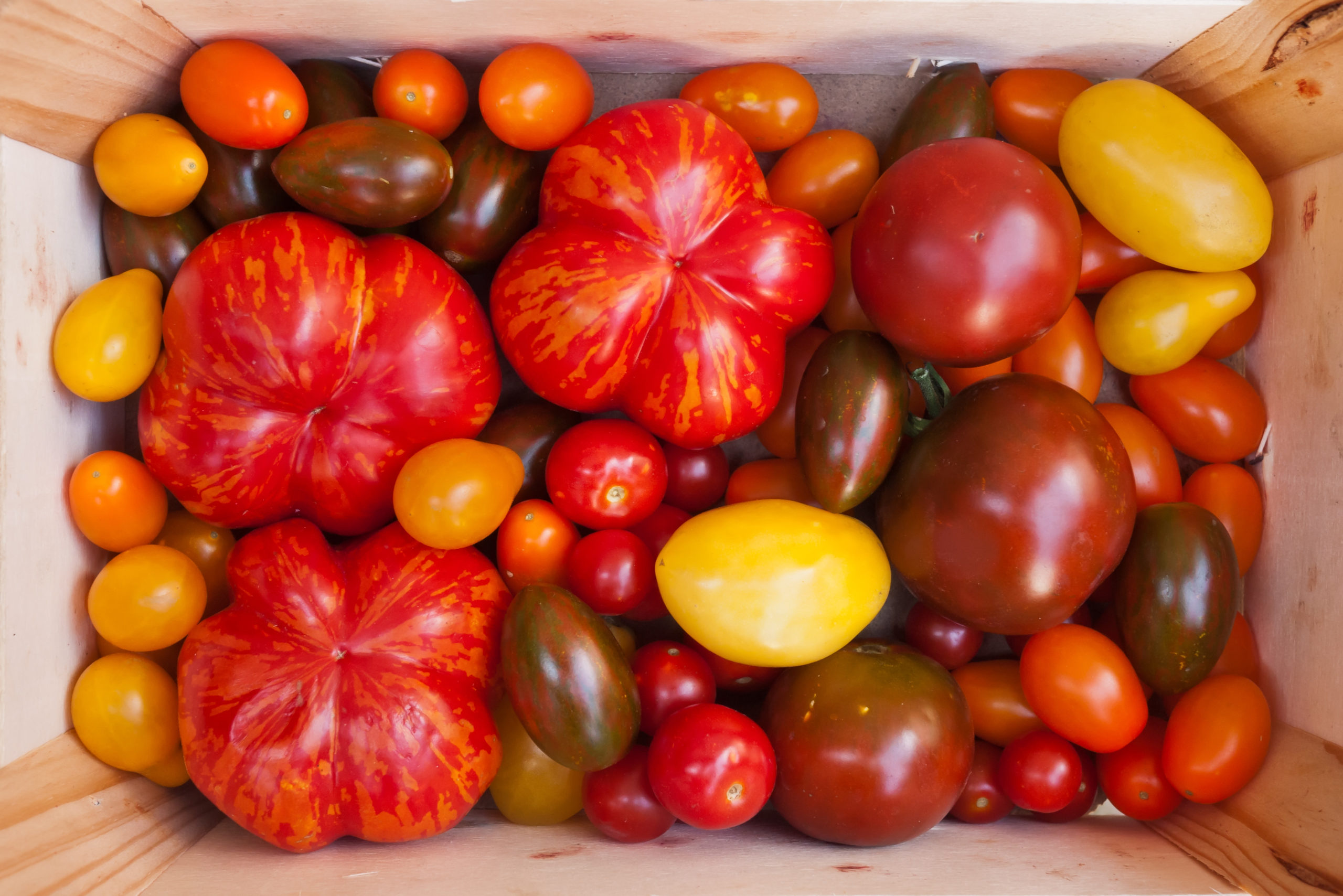 August is a month of endings and beginnings in the kitchen garden. In nature, change is about. Summer will begin to fade in many gardens during August giving way to autumn and cool weather. In hot summer regions, heat may continue for several more weeks then give way to warm but not hot temperatures. In these regions the "second spring" garden will come on; in the second spring garden you can grow again all of the crops you planted in spring but instead of starting seeds indoors you can direct sow seed in the garden.
Warm and Cool Weather Crops
Vegetables are generally divided into warm-season and cool-season crops. Most warm-season crops are harvested for their fruit: tomatoes, squash, peppers, eggplant, and melons for example. These crops require a lot of heat and long days to mature and become tasty.
Cool-season crops prefer cooler temperatures. These are the leaf and root crops: beets, cabbage, carrots, lettuce, and spinach. Leaf and root crops benefit from cool weather; they use the shorter days to direct their energy into leaf and root formation and don't bother with flowering and seeding or fruiting.
Also of interest: Cool-Season and Warm-Season Crops
Days in the Growing Season
Use the number of days in your garden's growing season to determine which crops still have enough season left to mature to harvest. The growing season is the number of days between the last frost in spring and the first frost in autumn. Seeds that go into the ground now need time to germinate and grow. If there are 60 to 90 days of temperatures greater than 70 degrees F, you have a lot of growing season left for warm-weather crops. If temperatures will drop into the 60s or 50sF in the next 60 to 90 days, you should plant cool-season crops now.
If you are unsure of how many growing days you have left this season, check the frost dates for your area online or call the nearly Cooperative Extension Service or master gardeners in your area. They can tell you about when to expect the first frost of autumn or winter.
Also of interest: Average Date of the Last Frost and Days in the Growing Season
When to Plant the Autumn Garden
When planning the autumn and winter garden, check the date of maturity on your seed packets against the average date of the first frost in your area. Add at least 2 weeks and up to 4 weeks to that number and count backward from the average first frost date to arrive at your planting date for that crop. Plants grow a bit slower as summer fades into autumn and the sun's intensity decreases. So allow some grow time by adding a few weeks to the maturity date on your seed packets.
You may have plenty of time for more warm-weather crops in your region (after all there are only 1 or 2 days of frost each year in San Diego, for instance), or time may be very short (there are on average just 60 frost-free days each year in Telluride, Colorado, with the average first frost date arriving about August 27).
Also of interest: Planting the Autumn and Winter Garden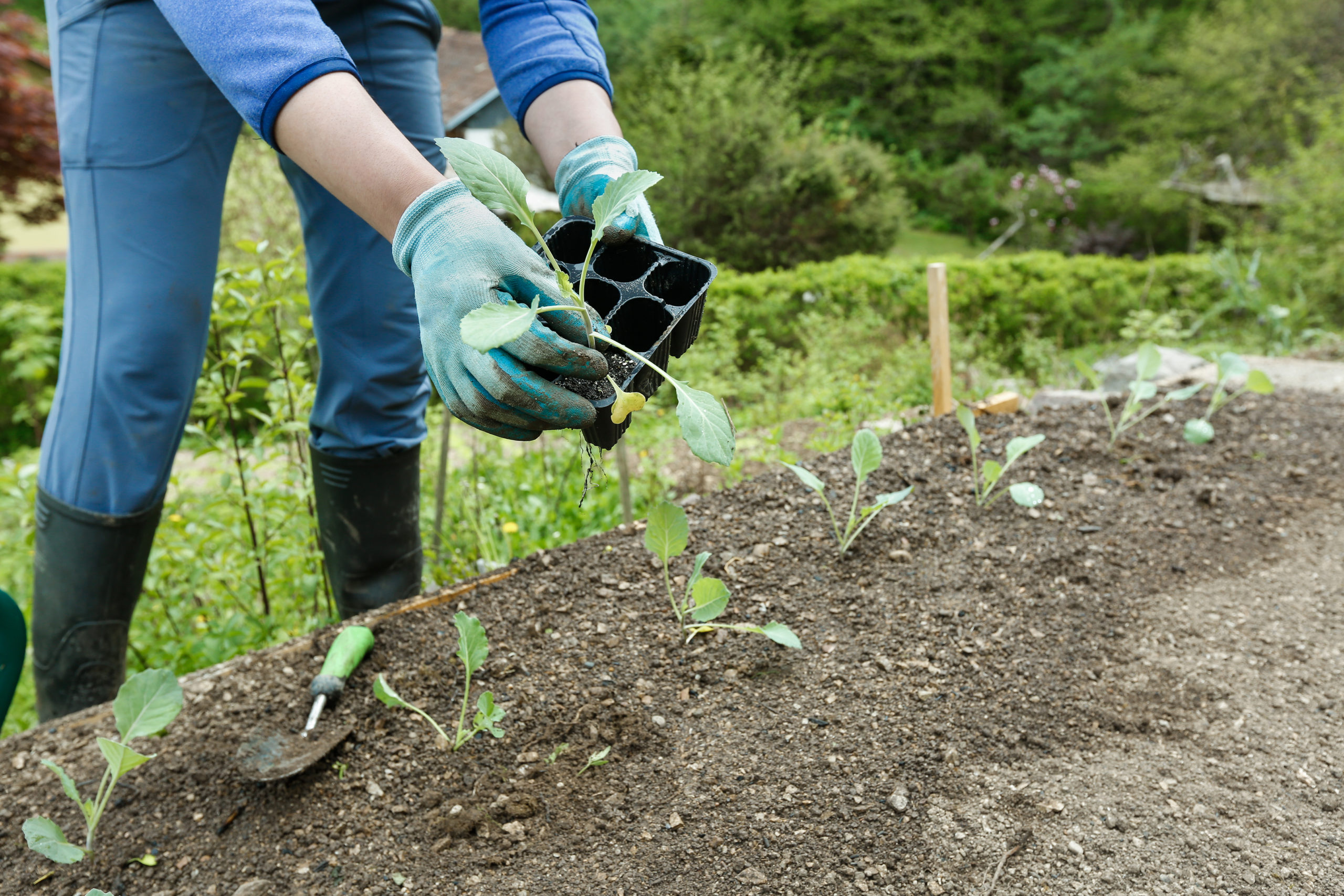 Plant Seedlings in Late Summer
One way to cut short the number of days a plant will need in the garden is to transplant seedlings into the garden rather than growing from seed. Garden centers may still have warm-season seedlings available and are very likely to have cool-season seedlings on hand now. These plants already have a 2 to 6-week head start over seeds you might sow today.
If you have not started seeds already, check the garden center for seedlings now available. Mark your calendar for next year to start seedlings for the autumn garden beginning in mid-July. If frost will not come to your garden until late October, November, or December, you can sow seeds during August.
Also of interest: Late Summer Vegetable Garden
Autumn Garden Planting
Here are some crop recommendations for planting the late summer or autumn kitchen garden now. These suggestions are divided into 4 major geographical areas: North and East and Midwest (zones 2 in the northernmost areas to 6 along the coast), the South (zones 7 in the north to 10 in the far south), the Southwest and California (zones 7 in the coolest areas to 11), and the Northeast (zones 5 in the highest elevations to 8 along the coast).
• North and East and Midwest. Check the number of frost-free days left in your area. You may have time to plant beets, chard, endive, kale, late kohlrabi, lettuce, mustard, winter onions, radishes, and spinach. Also in some areas: carrots, beans, chard, corn salad, endive, kale, broccoli, Brussels sprouts, late cabbage, Chinese cabbage, cauliflower, celery, and late peas. You must hurry these into the garden if starting from seed. Herbs can be planted in pots: chives, parsley, mint, and thyme.
• South. Start winter vegetables in seedbeds or undercover for planting in early September. Both warm and cool-weather crops can still be planted in the August garden in The South: broccoli, Brussels sprouts, bush and pole beans, cabbage and Chinese cabbage, cauliflower, chard, sweet corn, kale, leaf lettuce, Bermuda onions, fall peas, radishes, rutabagas, salsify, spinach, winter squash, tomatoes, turnips, and pumpkins. Next month you can begin to plant autumn salad greens.
• Southwest and California. In many areas, there is plenty of warm weather to keep the warm-weather crops going in successive plantings; in the warmest regions and reverse-season areas, set out bush beans, cucumbers, eggplants, limas, southern peas, peppers, tomatoes, and watermelon. You can also plant basil, string beans, beets, broccoli, carrots, cauliflower, chard, sweet corn, dill, endive, kohlrabi, lettuce, okra, potatoes, rutabagas, summer squash, winter squash and pumpkins, spinach, and turnips. Where there is less time until the first frost, plant radishes, cabbage, Brussels sprouts, chard, kale, leaf lettuce, fall peas, late potatoes, salsify, and late spinach. Irish potatoes can go into the garden now. Towards the end of August, winter vegetables can be sown in seedbeds or undercover.
• Northwest. Be sure to check the number of frostless days left in your area. You may have time for beets, broccoli, cabbage, carrots, cauliflower, endive, leaf lettuce, mustard, parsley, peas, spinach, and turnips. Check the seed packets for "fall" and "late" varieties; they are quicker maturing plants. Late cabbage, late cauliflower, Brussels sprouts, and broccoli will probably have time to mature.
Also of interest: When to Plant the Fall Vegetable Garden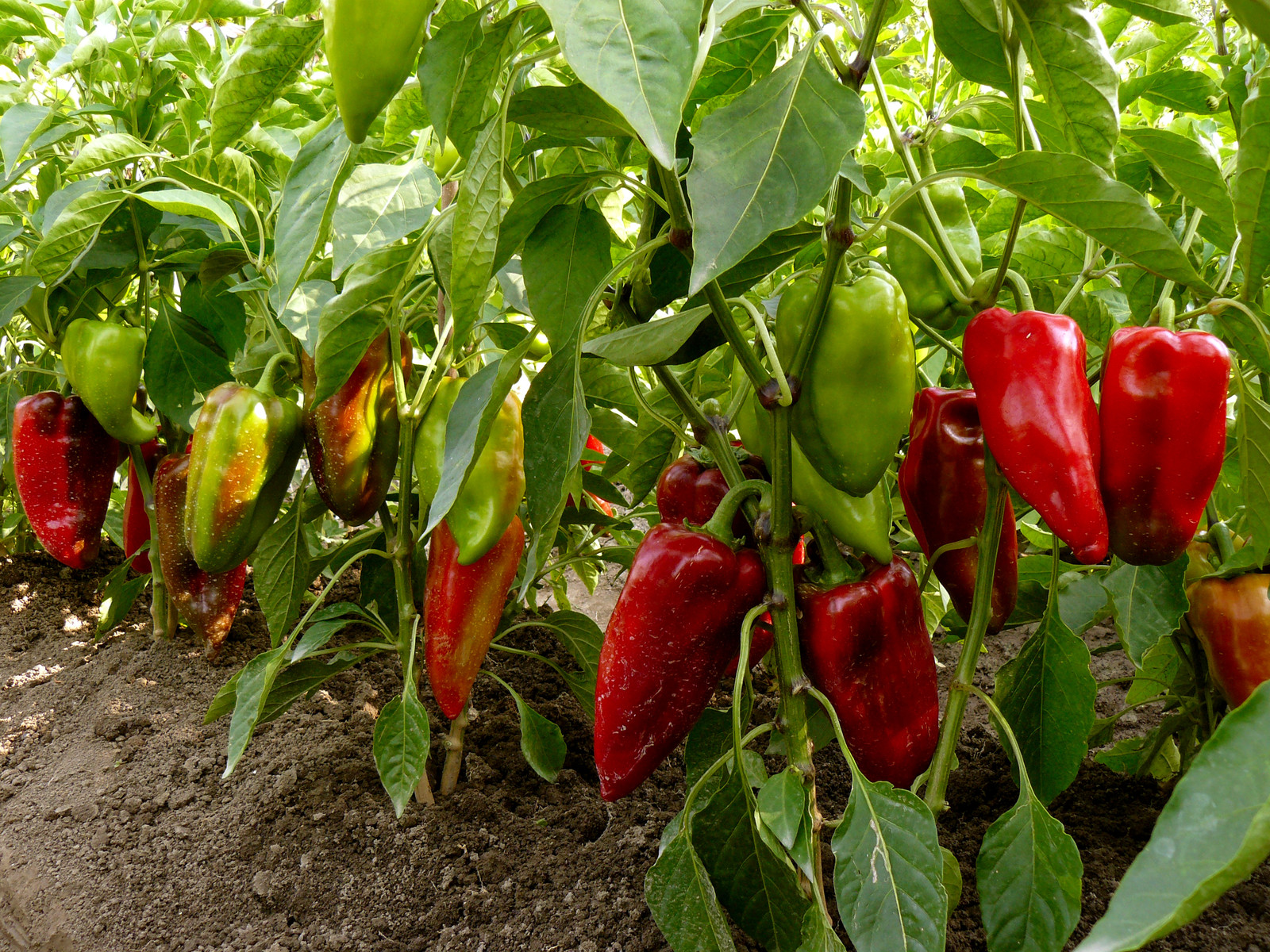 Additional Tips for August
• Tomatoes. Continue to feed tomatoes and watch for pests and diseases. Water tomato plants frequently to prevent the development of blossom-end rot. Remove excessive leaf growth from tomatoes, side shoots, and yellowing leaves. Stop outdoor tomatoes when four or five trusses have set by pinching out new growth. At midmonth, remove flowers and buds from tomatoes to speed the ripening of fruit. (The same is true for squash.) More at: How to Ripen Tomatoes on the Vine
• Feeding vegetables. Give warm-season fruiting crops–eggplants, peppers, tomatoes, and squash–a side-dressing of compost tea or manure tea. Add a cup or two of well-rotted manure or compost to a gallon and let sit overnight before watering around plants. More at: Fertilizer for Tomatoes, Peppers, and Eggplants
• Prepare for season extension. Prepare for frost In short-season regions, clothes, floating row covers, and plastic tunnels can be used to extend the growing season past the first frost. Season-extending devices should be readied to protect plants from early frost. Be ready to cover tomatoes, peppers, beans, and other tender crops from frost. A plastic tunnel can extend your growing season by 4 to 8 weeks. See all of the articles about Season Extension  click here.
• Herbs. Cut herbs to freeze and dry for winter use, preferably before leaves become too old or plants begin to flower. Collect herb seeds when ripe. Pot up herbs for winter use, or take cuttings or divide perennial herbs to start new plants. Take cuttings of bay, lavender, mint, rosemary, rue, and sage; lift and divide clumps of chives. More at: Grow Herbs Indoors in Winter
• Brambles and berries. Cut fruited raspberry, blackberry, loganberries, currants, and gooseberries canes back to ground level, and carefully tie new canes that have not fruited to supports. Take hardwood cutting from black currants and gooseberries. Root them in sandy soil in a sheltered spot. Plant black currants, red and white currants, and blackberry and raspberry canes from now until early spring provided that the soil is not too cold to too wet. Shallow rooted blueberries should be well mulched and watered. Protect grapes from birds. There are articles on nearly all fruits here at Harvest to Table. Look up your favorite fruit to grow in the Index.
• Strawberries. Clean up strawberries once they have finished fruiting. Remove old leaves and unwanted runners. Runners can be detached from parent plants and transplanted or rooted in pots. Potted runner plants can be set out in the garden. Water all well. Replace worn out mulches. Keep watering everbearing strawberries; replenish their mulch as needed. In short-season regions, have cloches ready to extend the season for late-fruiting plants. More at: Strawberries
• Apples. Thin apples and support heavily laden trees. Spray developing fruit with calcium nitrate. Start picking early apples; early-ripening apples do not store well, so eat them now. Water apple trees regularly and deeply to decrease the risk of bitter pits. Remove and dispose of apples showing signs of pest infestations. Control woolly aphids on apple trees; apply grease bands to trunks. Dispose of fallen leaves from scab infected apple trees. Place netting to cover and protect developing fruit from birds. Summer prune cordon and espalier apples. More at: Apples
• Cherries, plums, apricots, nectarines, and peaches. Start picking early plums. Prune cherries, plums, apricots, nectarines, and peaches when the harvest is complete; cut out dead, diseased, broken, and crossing branches. Prune espalier and fan-trained fruit trees; cut lateral growth toward the wall or fence by half. Rake and dispose of fallen leaves from scab-infected pear trees and rust-infected plum trees. Keep the orchard and area below fruit trees clean to interrupt the life cycles of pests. Protect fruit against birds. Plant peaches and nectarines. See the Index for articles on each of these fruit trees.
• Greenhouse and frames. Add extra shading to greenhouse glass if necessary. Clean and disinfect the greenhouse and get ready for winter. Check insulation and heaters to make sure the minimum temperatures are reached (be sure you have a minimum-maximum thermometer). Ventilate on warm days as necessary.