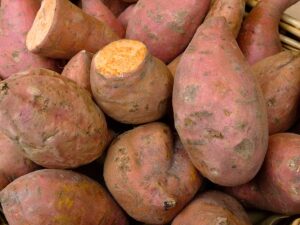 Sweet potatoes in 100 days!
Sweet potatoes started from slips–rooted sprouts–purchased at the garden center or from a seed catalog can be harvested in about 100 days, even less.
Short-season sweet potato varieties include 'Beauregard', 'Centennial', and 'Georgia Jet.' These three planted from slips will be ready for harvest in 80 to 90 days.
Varieties that can be harvested or lifted in about 100 to 110 days are 'Bush Porto Rico', 'Jewel', and 'Vardaman', again when planted from slips.
Slips are most readily available for purchase in spring at the start of the growing season. You can start your own slips, but you'll have to add about 30 to 40 days to reach harvest.
When to plant. Sweet potatoes require warm, frost-free weather to mature. The time to put sweet potatoes slips in the garden is after the soil has warmed to at least 60°F, even better 70°F–usually about 2 weeks after the last frost. If your nighttime air temperatures are staying above 60°F, the time is right.
Planting. Plant sweet potato slips in low mounds or ridges not more than 6 inches high. Set slips 4 inches deep and from 18 to 36 inches apart. Add aged compost to the planting hole and plant slips up to their bottom leaves. Prepare the soil ahead of time by turning it 10 to 12 inches deep; sweet potatoes like mounded soil because it warms quicker and loose soil because they can swell without hindrance.
Care. For best results, give sweet potatoes a compost tea side dressing once a month, and keep them well-weeded (especially in the first 40 days) and well watered. It's true that sweet potatoes are drought resistant–they will survive dry weather that kill other vegetables, but for the very best yield water sweet potatoes just like other garden vegetables, about three gallons per vine per week.
Wet weather. If wet weather hits your garden during the summer growing season, gently lift sweet potato vines after each good rain. Sweet potatoes will send down roots from their nodes if given the chance. New roots will result in many undersized potatoes. For bigger sweet potatoes, let sweet potatoes root only from their base. (When vines run down their hills, place a couple of sheet of newspaper between the plant and the soil so that new roots don't set.)
Mulching. Mulching sweet potatoes with straw is a good idea only in the warmest regions. Mulching will help keep the soil cool, and that is counter-productive for sweet potato growing in cooler regions. The warmer the soil the faster the sweet potato will grow and reach harvest.
Harvest. Harvest sweet potatoes as soon as they are big enough to eat. If you want to let them get to full size, leave them in the ground until the frost kills the vine–the first frost will sweeten the roots. But once frost hits, get your sweet potatoes harvested in the next few days; if you leave them too long they will begin to spoil.
Storing. If you plan to put sweet potatoes into long storage, cure them first. Put them in the sun for a day or two allowing the soil on the tuber to dry. Then brush them off and place them in a hot (80 to 90°F), humid spot for 10 days. After, wrap each tuber in newspaper (so that they won't touch) and store them where they will keep at 55 to 65°F for 6 months or more.
Recommended short-season sweet potato varieties:
• Beauregard (90-100 days): orange flesh, extremely high yields.
• Bush Porto Rico (110 days): sweet, red-orange flesh, baking favorite, high yields, compact for small gardens.
• Centennial (90-100 days): sweet, moist, mostly yellow flesh, good keeper, vining habit, widely adapted.
• Georgia Jet (90 days): moist, excellent flavor, deep-orange flesh, vining habit, good in the north, table-size tubers in 75 days.
• Jewell (100 days): moist, sweet flesh, deep-orange flesh, soft texture-quick baker, keeps well, vining habit.
• Vardaman (110 days): rich flavor, deep-orange flesh, best eating for a short-vine variety; bush habit.