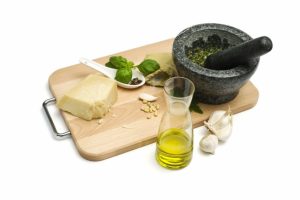 • Creamy lemon sauce: mix 1 cup ranch dressing, 1 crushed garlic clove, and the juice of 1 lemon.
• Mint-yogurt sauce: mix ½ cup plain yogurt, the juice of 1½ lemon 1 tablespoon chopped fresh mint, and 1 small minced garlic clove.
• Sun-dried tomato or fresh tomatillo pesto with goat cheese sauce: mix 2 tablespoons each pureed marinated sun-dried tomatoes or tomatillos and prepared pesto with 2 ounces fresh goat cheese, 1 tablespoon olive oil and chopped garlic to taste.