Shiso–Perilla frutescens var. cripa–is a member of the Mint family. It strongly resembles a large basil plant. Shiso leaves have the tangy flavor of cumin, mint, nutmeg, and anise combined. There are two main types: green and red. Green shiso can be added to salads and is used in wrapped sushi or chopped into hot and cold noodle dishes. Red shiso is a bit more bitter-flavored; it's used in cooked dishes and pickling.
Here is your complete guide to growing shiso-perilla.
Many varieties of shiso–perilla
Shiso is the Japanese name for Perilla frutescens var. cripa. It is a cultigen of Perilla frutescens. A related plant is Perilla frutescens var. frutescens; it is commonly known as perilla or Korean perilla. There is also a related form of Perilla frutescens grown in Vietnam. There are many varieties of Perilla frutescens; here are a few: red shiso (f. purpurea) leaves are red on both sides, flat surface; often called simply "shiso; ruffled red shiso (f. crispa) leaves are red on both sides, ruffled surface; green shiso (f. viridis) leaves are green on both sides, flat surface; ruffled green shiso (f. viridi-crispa) leaves green on both sides, ruffled surface; cultivar bicolor shiso (f. discolor)leaves green on the top side, red on the backside, flat surface; cultivar variegated shiso (f. rosea) leaves a mix of green and red on both sides, flat surface.
Articles of interest: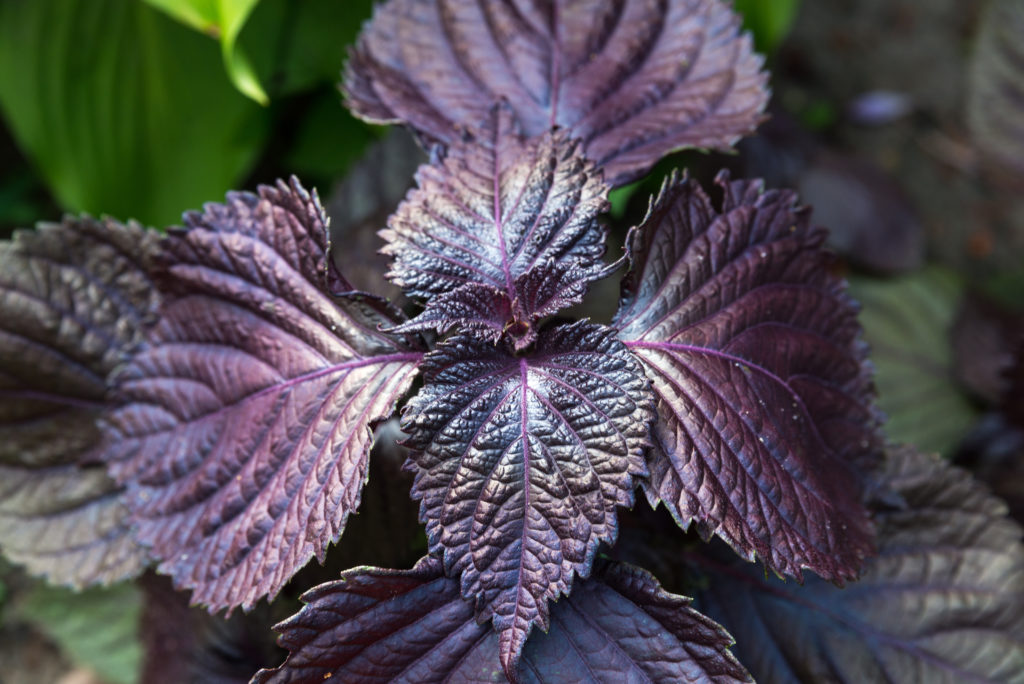 Get to know shiso-perilla
Botanical name and family: Perilla frutescens var. cripa (called shiso in Japan) is a member of the Lamiaceae—mint family.
Origin: Japan, Southeast Asia
Type of plant: Shiso is a tender annual
Growing season: Summer
Growing zones: Shiso grows in Zones 1-11 as a summer annual.
Hardiness: Shiso grows best in warm to hot climates in partial shade; it does not tolerate cold; it is not frost-hardy.
Plant form and size: Shiso is a bushy mass that grows 18 to 36 inches (45-91cm) tall and resembles large basil or coleus.
Flowers: Shiso has insignificant lavender, pink, or white blooms on spikes.
Bloom time: Shiso blooms in late summer and early fall.
Leaves: Shiso has broadly oval, textured green, or reddish-purple leaves with a metallic sheen.
Where to plant shiso-perilla
Best location: Plant shiso in full sun or light shade; in hot summer regions grow shiso in dappled sunlight.
Soil preparation: Plant shiso in compost-rich, well-drained soil. Shiso prefers a soil pH of 5.5 to 6.5. Shiso will grow in average soil.
When to plant shiso-perilla
Seed starting indoors: Sow seed indoors 4 to 6 weeks before the last spring frost. Seeds will germinate in 7 to 21 days at 70°F (21°C). To improve germination, soak seeds in water for 24 hours before sowing. Grow shiso indoors in bright but indirect light. Keep seedlings away from blowing warm air. Avoid soil too damp; seedlings can be killed by damping off fungal disease.
Transplanting to the garden: Transplant seedlings out to the garden after all danger of frost is past.
Outdoor planting time: Sow shiso seed outdoors after all danger of frost has passed in spring and nighttime temperatures are warmer than 45°F (7.2°C).
How to plant shiso-perilla
Planting depth: Set seed ¼ inch deep but do not cover; seeds require light to germinate.
Spacing: Space shiso plants 10 to 12 inches (25-30cm) apart.
How much to plant: Grow 4 to 6 shiso plants for fresh use.
Companion planting: Shiso roots spread via rhizomes; be careful that shiso roots do not impede the growth of other herbs.
Watering and feeding shiso-perilla
Watering: Keep the soil just moist; established plants will grow in slightly dry soil but will thrive in soil that stays just moist.
Feeding: Side dress shiso with compost tea or a dilute solution of fish emulsion every 3 or 4 weeks during the growing season.
Shiso-perilla care and maintenance
Care: Pinch back growing tips to keep the shiso bushy. Remove flowers before they open to keep the plant from going to seed and self-sowing. Keep the planting bed free of weeds which can compete for nutrients and moisture.
Container growing shiso-perilla
Container growing: Shiso is a good choice for container growing. Choose a container at least 6 inches deep and wide.
Winter growing: Shiso is a tender annual that will not grow outdoors in winter. Grow plants in pots indoors in winter. Place plants in a bright window or grow under fluorescent lights.
Shiso-perilla pests and diseases
Shiso is commonly free of pests and diseases.
How to harvest shiso-perilla
When to harvest: Harvest leaves and flowers whenever you need them for fresh use. Start harvesting leaves after the plant is 8 inches tall or taller.
How to harvest: Snip leaves and flowers with a garden pruner or scissors.
Shiso-perilla in the kitchen
Flavor and aroma: Shiso has a cinnamon-curry scent and flavor and a distinctive minty aroma.
Leaves: Toss fresh shiso leaves into green salads or fruit salads. Add fresh leaves to Japanese and Asian dishes; use leaves as an outer wrap for sushi. Add leaves and flowers to soups and fish dishes. Leaves can also be pickled with raw fish.
Culinary companions: Shiso has a distinctive taste and aroma which is a flavoring match for Japanese cuisine. Depending on the variety, the flavor may include hints of mint, cinnamon, clove, citrus, cumin, cilantro, and basil.
Preserving and storing shiso-perilla
Refrigeration: Wrap leaves in a damp paper towel and place in a perforated plastic bag in the crisper; leaves will store for 2 or 3 days.
Shiso-perilla propagation
Seed: Shiso readily self-seeds. Let the plant flower and save seeds after flowers dry in autumn.
Also of interest:
Related articles:
Best Herbs for Container Growing
Planning the Home Fruit Garden
Garden Planning Books at Amazon: