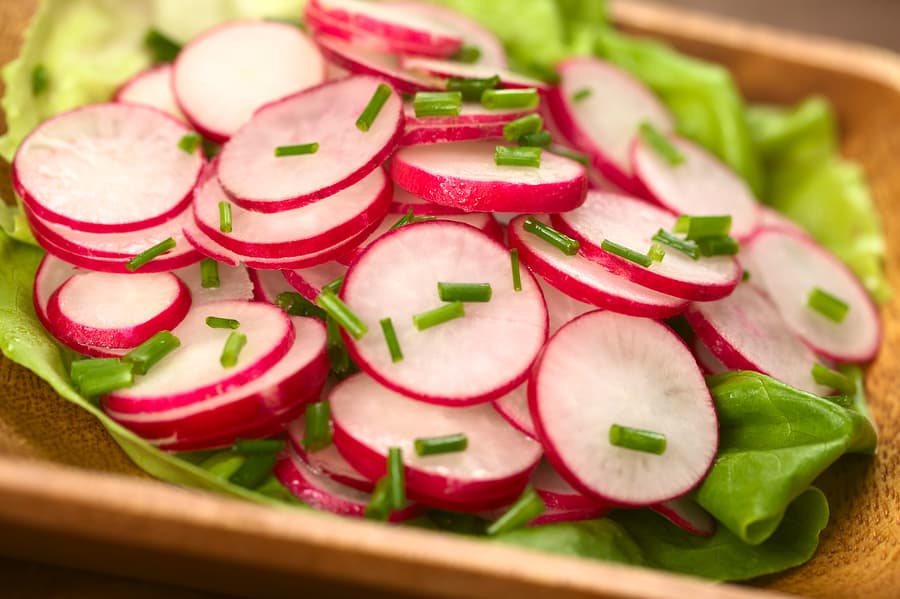 Radish salad combines the crisp, juicy, mild flavor of the radish roots with the tender peppery flavor of young radish leaves—or use spinach, arugula, or leaf lettuce; all ready for the table just before summer.
Radish salad is one of my late spring fresh from the garden favorites. The end of spring—just as cool weather is coming to an end—is peak season for radishes.
A fresh herb garnish—choose from mint, fresh basil, flat-leafed parsley, dill, chervil, tarragon, or chives, whatever you have in the garden—will add a fun kick to this salad. Or sprinkle raisins on your radish salad—a nice combination of sweet and peppery.
Keep an eye on the weather; even a few days of hot temperatures can cause radishes to become pithy and unpleasantly hot.
Because radishes mature in just 3 to 4 weeks, you can easily fit them into your growing calendar and their small stature allows them to use space around or under longer-maturing crops. Radishes thrive in the shade of taller plants.
Radish Root and Leafy Green Salad
Ingredients
3 cups tender radish leaves (about a dozen leaves), or use spinach, leaf lettuce, or arugula—tear the leaves rather than cut with a knife.
3 to 5 radish roots sliced into rounds; or you can quarter them.
⅓ carrot, grated (later in the season try slivered green peppers)
Herbs to garnish; add chopped chives, small dill sprigs, chervil sprigs, tarragon leaves, torn mint leaves—experiment with these for the flavor you prefer.
1½ teaspoon red wine vinegar
½ teaspoon fine sea salt, plus more to taste
2 tablespoons extra-virgin olive oil
Garnish option: raisins sprinkled to sweeten
Instructions
Slice the radish roots into rounds; leave the stem and leaves attached when slicing so you have something to hold on to.
Combine the radish leaves (or spinach or lettuce leaves), radish roots, carrots, and chopped or torn herbs in a large serving bowl. Cover and chill for about 30 minutes to crisp the leaves.Tip: Young radish leaves are most tender; your first choice. Older radish leaves can be tough, so cut them thinly then salt and press them before adding them to a salad.
Whisk together vinegar and a dash of salt in a small bowl, then whisk in oil to make a dressing. Drizzle dressing over the salad and toss gently to coat evenly. Season to taste with salt.
Notes
Here is a dressing option: 2 parts oil and 1 part vinegar and season with soy sauce to taste. You can sweeten the vinegar to taste with honey or sugar. Or try equal parts oil, vinegar and soy sauce.