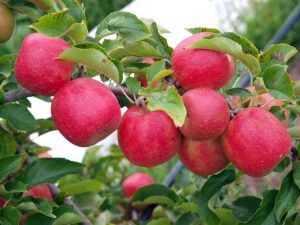 The apple is the most widely grown fruit. Apple trees grow everywhere except in the very hottest and very coldest regions of the world.
Apples vary from crisp to soft, from juicy to dry, from acid or insipid to bitter, bland, or aromatic.
Apples can range in color from green to gold to yellow to scarlet orange to pink to dark red to purple. All apples carry the remains of the apple blossom at the fruit's end opposite the stalk.
The apple tree can be trained as a smart-looking espalier or grow twisted and distorted in an orchard. The leaves can be soft and downy or smooth but are never glossy or flashy like a pear. Apple blossoms can be pink- or red-tinged or simply snow white.
Some of the apple blossoms you see in spring will become fruit ready for picking in late summer or early fall.
If you haven't got the room for an apple tree, you can train an apple on wires against a fence or even grown an apple as a column in a container. To begin growing apples, start with the one that you really like to eat. After that, explore apple flavors and branch out. There are nearly 10,000 different kinds, or varieties, of apples grown in the world.
Apple harvest time by variety
Apples come to market every season of the year. Add your favorites to this apple market calendar shortlist:
Fall. Delicious, McIntosh, Jonathan, Grimes Golden
Early Winter. Delicious, Jonathan, Cortland, Winesap, Rome Beauty, York Imperial, Golden Delicious, Stayman, Baldwin, Northern Spy
Late Winter and Spring. Winesap, Rome Beauty, Yellow Newtown, Delicious, Rhode Island Greening
Late Summer. Summer Pearmain, Anna, Gala, Gravenstein
Also of interest:
How to Plant, Grow, Prune, and Harvest Apples