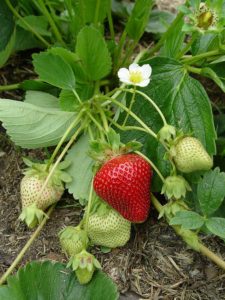 If the idea of serving your own fresh-picked strawberries next summer sounds good, spring is the time to get your strawberries growing.
Strawberries are a perennial plant which means once you've got them in the ground you will have them for two or three years to come.
There are two types of strawberries: June-bearing strawberries produce one crop per year in late spring or early summer, and everbearing or day-neutral strawberries fruit over a long season with harvest peaking in early summer and continuing unevenly through autumn.
Growing Strawberries
Site. Strawberries prefer full sun and temperatures between 60-80ºF (16-27ºC). They grow best in growth zones 3-10. You can grow strawberries in light shade.
Soil. Plant strawberries in well-drained acidic soil. Plant on a mound 5-6 inches (13-15cm) tall if your soil drains poorly. You can also grow strawberries in a container. Choose a container at least 6 inches (15cm) deep.
Planting. If you live in a cold winter region, sow strawberry seeds indoors 8 weeks before setting out the plants in early spring. Transplant the seedlings outdoors after all danger of frost has passed. Strawberry seeds should be sown ⅛-¼ inch (3-6 mm) deep. You can also plant "offsets" which are strawberry runners that have rooted.
If you live in a cool or warm winter region, set out everbearing plants in spring for summer and autumn harvest, and set out June bearers in late summer or autumn for harvest the next spring.
If you are looking for a quicker way to harvest, plant bareroot crowns instead of seeds. Bareroot crowns are the roots and top growth of strawberry plants that were grown on last summer.
Plant seeds, seedlings, or crowns 12-14 inches (30-36 cm) apart. Crown leaves should be planted just above soil level; a buried crown will rot. To grow larger plants, plant on small hills and allow the strawberries to cover the hill. Strawberries grow 6-8 inches (15-20 cm) tall and about 12 inches (30 cm) wide.
More tips at Strawberry Plant Starting Tips.
Watering. Keep the soil moist, but not wet and don't let the soil dry out.
Feeding. Strawberries like a moderate amount of nitrogen, phosphorus, and potassium. Nourish strawberries with compost tea every couple of weeks and avoid using a concentrated fertilizer. Heavy feeding will lead to excessive growth, soft rot and fruit rot.
Companions. You can plant strawberries with melons. Avoid following beets, corn, peas, peppers, and tomatoes, and don't plant strawberries with cabbage family members.
Pests. Birds and mice like strawberries. Protect strawberries with floating row cover or netting.
Diseases. Strawberries are susceptible to botrytis fruit rot, leaf spot, and leaf scorch. Control disease with clean cultivation and plant in well-draining soil. Mulch under fruit with straw or other organic material to prevent fruit rot and to deter weeds.
Harvest. Pick strawberries when the fruit turns crimson and is soft and aromatic, from spring to autumn.
Types of Strawberries
June-bearing varieties. These produce one crop per year in late spring or early summer. Try 'Allstar', 'Benton', 'Chandler', 'Earliglow', 'Guardian', 'Jewel', 'Lateglow', 'Robinson', 'Sequoia', 'Surecrop', 'Sparkle', and 'Winona'.
Everbearing varieties. These set fruit over a long season with harvest peaking in early summer and continuing unevenly through autumn. Try 'Alexandria', 'Fort Laramie', 'Ogalla', 'Ozark Beauty', 'Quinault', 'Tristar', and 'Tribune'.
Also of interest:
Strawberry Varieties for Backyard Gardens
Strawberry Plant Starting Tips
Starting Strawberry Plants from Runners
Growing Strawberries in Hot Summer Climates