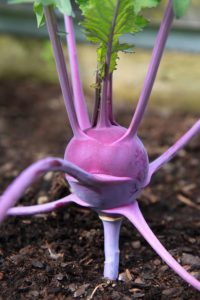 Lift kohlrabi from your garden when the mid-stem bulbs swell to 2 to 3 inches in diameter. (Turnips that form bulbs below the soil are best harvested at about the same size.) Don't let kohlrabi bulbs grow much larger or they will rapidly become woody.
Lift kohlrabi bulbs gently or cut them off just above the soil to avoid pulling up neighboring bulbs.
Kohlrabi is moderately frost hardy, but if the weather turns freezing cold immediately protect stems and plants with cloches or fleece. Where freezing temperatures are common, do not leave kohlrabi in the garden.
Kohlrabi has a sweet turnip flavor. Don't store bulbs long, your kohlrabi will lose some flavor. Cook the bulbs unpeeled for best flavor. Steaming is a great way to quickly cook and serve kohlrabi.
Use kohlrabi picked or grated raw in salads or coleslaw. You can also cut the bulb into sticks or slices  as hors d'oeuvres or add slice or cubes to soups and stews.