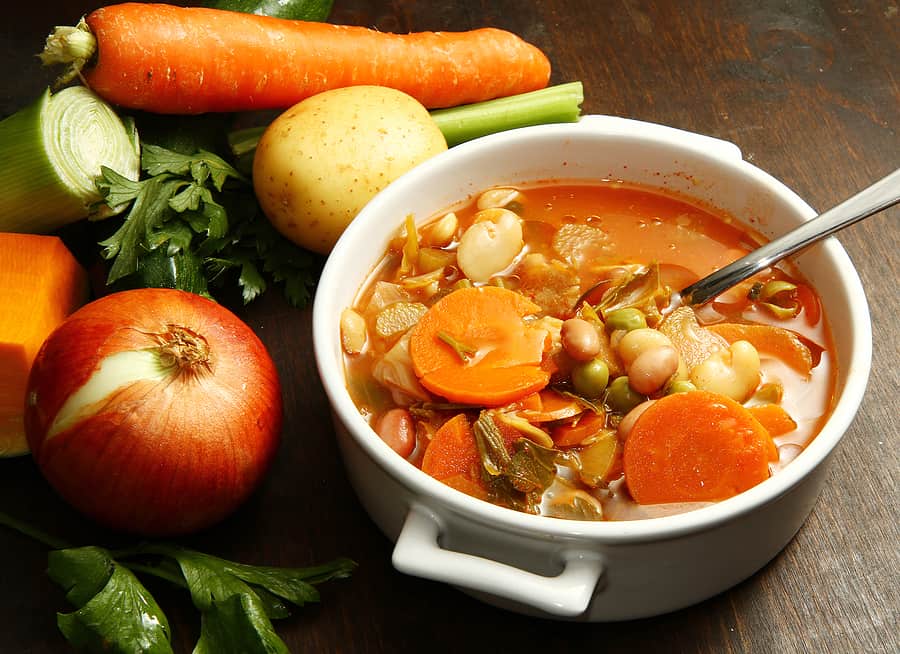 Minestrone means big soup in Italian. You can make and serve minestrone as a meal in itself, nearly a vegetable stew. Minestrone varies from cook to cook but most commonly includes onions, carrots, celery, potatoes, and tomatoes bolstered by beans or peas and pasta or rice.
Because minestrone is a thick soup, the vegetables are added in stages so that all are cooked complete at the same time. Like other vegetable soups, the flavor of your minestrone can vary from season to season, cooked with vegetables fresh from the garden or readily available at the produce market.
Preparing Minestrone Without A Recipe in 40 Minutes or Less:
Preparation: Traditionally cannellini or borlotti beans are included in minestrone. If you are using dried beans, you may want to cook them separately before adding them to the soup. Soak dried beans overnight covered in cold water; check after a few hours and add more water if necessary. After the beans have soaked, drain away the soaking water and put beans in a soup pot, cover with water, and bring to a boil, then reduce the heat and simmer and let cook partly covered until just tender, about 40 to 60 minutes. The cooked beans will be added in the last 10 minutes when you make minestrone, so don't overcook the beans in advance or they will become flabby. Drain the beans again, you can reserve the water to add flavor to the minestrone later if necessary. One cup of dried beans will yield 3 cups of cooked beans. An alternative is to add drained, canned cannellini or other white beans at cooking time.
Step One: Prepare a base of aromatic vegetables—onions, carrots, and celery (or onions and one of the other two); the ratio is two parts onions and one part carrots and one part celery. For example, one large onion finely chopped, 2 carrots scraped and finely chopped or cut into ½ inch rounds, and two ribs of celery string removed and chopped—all vegetables cut into bite-size pieces. (Substitute fennel for the celery if you want a more delicate flavor.)
Sweat or sauté the base vegetables evenly and thoroughly coated in olive oil (or vegetable oil or butter), until tender and nearly translucent, about 10 to 15 minutes. Use a heavy bottomed soup pan or pot so that the heat is evenly distributed. To deepen the flavor you can allow the vegetables to cook to a golden hue, but don't let them scorch.
With about 3 to 5 minutes left to cook, season with 3 or 4 garlic cloves chopped or minced, 3 or 4 thyme sprigs, a pinch or two of fresh or dried oregano, or 1 or 2 bay leaves (just before serving remove the bay leaves from the soup), or a combination of these.
Step Two: Add 3 cups of vegetable stock or water and the longer-cooking vegetables (cut to bite size)–enough broth or water to cover the vegetables. Bring the mix to a boil and then reduce heat to a simmer. Add 1 cup—more or less–of vegetable broth for each serving. Add the vegetables in the amount so that they are always covered by liquid during cooking. Longer-cooking vegetables include: beets, parsnips, potatoes, turnips—generally root vegetables. Remember, you will add vegetables to the soup so that they all complete cooking at the same and none become flabby or mushy. (The total cooking time for long-cooking vegetables is 15 to 20 minutes.)
Step Three: Five minutes after starting the longer-cooking vegetables, add medium-long cooking vegetables such as green beans, green savoy cabbage, kale, chard, and spring greens such as collards, turnips greens, and mustard greens. Before adding, remove the core and main rib from these greens and slice into bite-size short, thin edible strips and cut green beans to bite size. Again bring the mix to a boil and then reduce heat to a simmer. (The total cooking time for medium-long cooking vegetables is 10 to 15 minutes; they are added about 10 minutes before serving.)
Step Four: After 5 more minutes of cooking, add short-cooking vegetables—all cut to bite size. Short-cooking vegetables include broccoli, Brussels sprouts, cauliflower, escarole, mushrooms, shelled peas, bell pepper, spinach, summer squash, zucchini, and tomatoes. Tomatoes (plum tomatoes are ideal) should be seeded, peeled, and chopped. Also add fresh basil or parsley to flavor—2 or 3 large fresh basil leaves should do. Again add enough vegetable stock or water to cover the vegetables and bring to a boil and once again reduce to a simmer. (If fresh tomatoes are not available you can use a can or two of tomatoes with juices.) Simmer the short-cooking vegetables 5 to 10 minutes, until they are just tender. If soup becomes thick, add a little broth, water, or the reserved bean water as needed.
To gauge how many vegetables you will need for 6 serving, use this guide: 3 small boiling potatoes, ½ small head green cabbage, 2 small zucchini. You can vary the vegetables in minestrone each time to the season and your liking.
Step Five: Five minutes after the tomatoes have been added, add cooked cannellini beans (the beans traditionally added to minestrone) or other white beans and pasta. Add two parts beans to one part pasta. Use small, quick cooking pasta: ditalini, orzo, anellini rings, tubettini, or partially cooked rice. Again bring the pot to a boil and then turn down the heat and simmer for about 5 minutes or until the pasta is just cooked. Keep in mind that the vegetables will continue to cook with the pasta.
In the final minutes add salt and pepper to taste.
Cooking Time: The total cooking time for minestrone—vegetables added sequentially—is about 25 to 40 minutes, depending upon the vegetables you choose.
Serve: Garnish each bowl with a teaspoon or two of extra-virgin olive oil or a knob of butter. Allow each person to top the soup with a tablespoon of freshly grated Parmesan cheese before serving as well as finely minced parsley.
For extra flavor you can top minestrone with thinly sliced peperoni or Polish sausage cooked crisp.
Serve each bowl with crusty bread and butter. For a full meal, follow each bowl with a salad of mixed greens. For dessert offer sliced apples, walnut halves, and a firm cheese.
For deeper flavor, you allow minestrone to cool and then reheat it for serving.
Seasonal variations for minestrone can include these vegetables:
Fall: Borlotti or cranberry beans, kale, tomatoes, and butternut squash.
Winter: Cabbage, turnips, turnip greens, and yellow potatoes.
Spring: Fennel instead of carrots, shelled peas, asparagus, and spinach.
Summer: Zucchini, tomatoes, spinach, leeks sliced white and part of green.
Vegetable growing and kitchen tips: The Kitchen Garden Grower's Guide