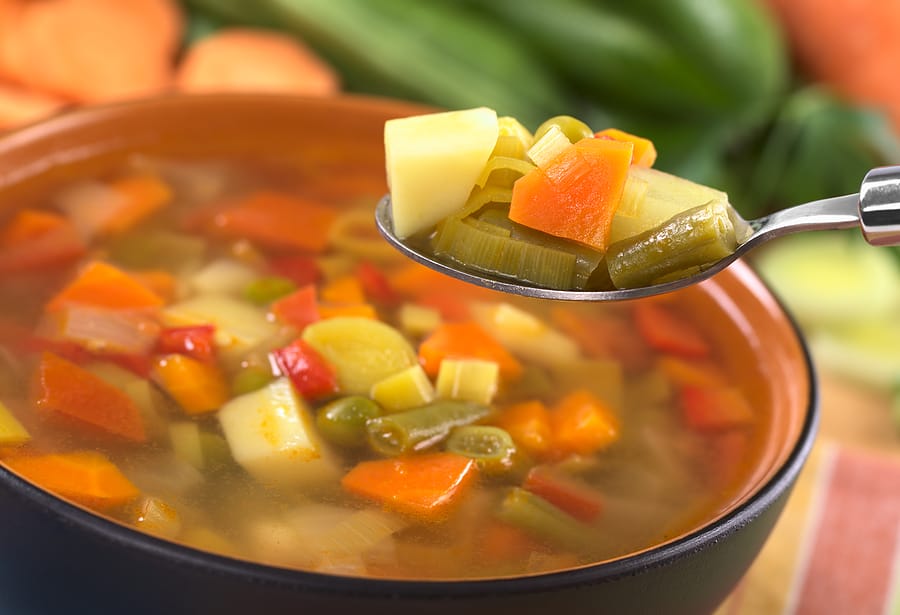 A hearty seasonal vegetable soup is made simply by combining the flavors of one, two, or three in-season vegetables with the flavors of one, two, or three all-season vegetables. You can have tasty home-made vegetable soup in 30 to 40 minutes any time of the year.
All-season vegetables–carrots, celery, onions and potatoes–are a classic foundation for vegetable soup. These and other members of the onion family—leeks, shallots, and garlic– are readily available from the garden or produce market year round.
In-season vegetables from the garden or produce market for soup making include:
Spring: shelled fresh peas, broccoli, asparagus, mustard greens, spinach leaves, and Boston lettuce.
Summer: green beans, fennel, snow peas, mushrooms, zucchini and other summer squash, bell peppers–red, yellow, or orange, chard, and tomatoes.
Fall: parsnips, turnips, and beets, and yams, sweet potatoes, and pumpkin (the last three for deep, rich flavors).
Winter: cooked dried beans, acorn squash, butternut squash, Hubbard squash, cabbage, and kale.
As you plan your garden and harvest or as you plan your trip to the produce market or farmers' market include fresh seasonal vegetables that will bring flavor to soups. To make a great soup on-the-run, use extra vegetables out of the garden or left-over vegetables in the refrigerator vegetable drawer.
Preparing Vegetable Soup Without a Recipe in 30 minutes:
Step One: Clean, peel, and chop vegetables into same-size pieces for even cooking, pieces 1 to 2 inches long or bite size. Prepare longer-cooking all-season and seasonal root vegetables first, then stem and fruiting vegetables (such as zucchini and tomatoes), and finally leafy vegetables. Prepare vegetables that are longer-cooking followed by those that are shorter-cooking. Prepare the shorter-cooking vegetables after you have already started cooking the longer-cooking vegetables to save time.
The quantity of vegetables you will need depends on the number of servings you want. One pound of vegetables cut into bite-size pieces will make two hearty servings when added to two cups of stock or liquid. That is 32 ounces of liquid for each pound of veggies.
Step Two: In a heavy saucepan or soup pot—a heavy bottomed pan or pot disperses the heat evenly to avoid browning–on low to medium heat, sweat or sauté the all-season vegetables and longer-cooking seasonal vegetables (such as root vegetables) in olive oil (or vegetable oil or butter). Add enough oil to thoroughly coat the vegetables you are cooking. Slow cook until vegetables are just tender–onions, carrots and other roots, and celery should be tender and translucent in about 10 to 15 minutes. (It will be time to move to Step Two and add the broth when the onions are softened and translucent; don't overcook the onions.)
To the sautéed vegetables, add garlic and seasonal herbs—such as fresh basil or fresh parsley–and cook another two or three minutes.
Remember: The key to making tasty soup is allowing the flavor of each vegetable and herb to maximize as you cook. (Slow cooking infuses the oil or fat with the flavor of the vegetables and the fat disperses the flavor throughout the soup.) To allow one vegetable flavor to dominate your soup, add more of that vegetable to taste. Tasting as you go will tell you how the flavors are developing.
Step Three: Add the liquid–several cups (a cup for each generous serving) of homemade vegetable stock or water or tomato juice or a combination of the three and bring the mix to a simmer (bubbles just breaking the surface of the liquid). Simmer for 15 to 20 minutes. (To thicken and add a rich tomato flavor to the soup, you can add tomato paste.)
Step Four: Next, add shorter-cooking vegetables–broccoli, green beans, snow peas, mushrooms, tomatoes, and summer squashes or thick leafy vegetables such as cabbage and kale to cook another 5 minutes, or until just tender or al dente, meaning a slight resistance when bitten into (not soft or overdone).
Step Five: Add thin leafy vegetables such as spinach and lettuce and cook until just wilted. (Be sure to stem and wash leafy vegetables before adding them.) Add salt and pepper to taste.
Taste for flavor as you cook; as the flavor deepens and grows rich and as the vegetables cook just tender, move to the next step. The cooking time from start to finish is about 30 minutes.
Simple Two Vegetable Soups: If you don't have many vegetables to work with, you can make the simplest of vegetable soups by simply doing Step One and Step Two. Slow cook the onions for 10 to 15 minutes followed by slow cooking the second vegetable—sweated if a root vegetable or added to the broth if a fruit or leafy vegetable—bring to a boil then quickly reduce to a simmer and cook another 10 to 15 minutes. The soup is ready when the vegetable has added its flavor to the broth.
Serving: Finally, add a few drops of olive oil to each hot bowl of soup just before serving and serve with a crusty French bread.
Classic vegetable combinations for soup:
(Add one medium onion any combination that does not include onions or leeks):
Cabbage and potatoes
Carrots and peas
Potatoes and peas
Leeks and peas
Escarole and white beans
Kale and white beans
Butternut squash and onion
Turnips and potatoes
Turnips and turnip greens
Cauliflower and spinach
Bell peppers and tomatoes
Corn, potatoes, and leeks
Mushrooms, zucchini, and chickpeas
Zucchini and potatoes
Zucchini and turnip