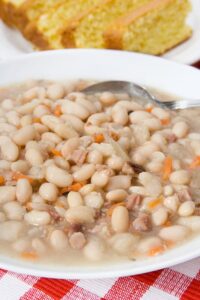 White bean soup is hearty and well suited for cold weather.
Basic bean soup is easy to make; follow one simple rule for best flavor: keep the heat low; bean soups burn easily.
Variations on bean soup are many: you can add leftovers, fresh vegetables such as greens sliced thin or chopped, pasta, cooked vegetables—carrots, celery, onions, potatoes, and winter squashes, and a variety of herbs—either fresh or dried. Use caution when you add onion or garlic, they can easily overcome the flavor of beans.
White beans for bean soup are many; here I use the Italian cannellini bean, but you can substitute borlotti beans, haricot blanc or navy beans.
I add carrots to give this white bean soup a dash of color. (You could do the same with chopped escarole, spinach, or winter squash; butternut, Delicata, acorn, or kabocha would be well-suited to this bean soup.)
White Bean Soup
Yield 6 servings
Ingredients
4 cups chicken broth
4 cups water
1½ cups dried cannellini beans or other white beans
2-3 tablespoon olive oil
1 medium onion, sliced thin
1 carrot, grated or diced
1 celery rib, diced
1 bay leaf
2 garlic cloves, minced (optional)
1 teaspoon fresh thyme leaves or ½ teaspoon dried thyme
½ cup chopped prosciutto (optional)
Salt and freshly ground black pepper
Grated parmesan, Gruyère, or Cheddar cheese
Instructions
Place the beans on a baking sheet then pick through them carefully, discarding stones or other particles. Rinse them thoroughly in cold water to make sure they are clean.
Soak the beans overnight in large bowl of cold water. Drain the beans then place them in a large heavy-bottomed pan covered with chicken broth and water, bring to a boil, then lower the heat, add the bay leaf and simmer until the beans are tender—start checking after about 50 minutes. When cooked, season to taste with salt and freshly ground pepper. Drain and reserve the liquid.
Option for creamy soup: For a creamy country-style soup: puree about three-quarters of the beans in a food processor or pass through a food mill, adding a little of the cooking liquid to create the consistency you want.
In a separate 4- to 5-quart pot, heat 2-3 tablespoons olive oil, when hot sauté the sliced onions until soft about 10 minutes then add grated or diced carrots and celery and fresh or dried thyme and sauté about 5 minutes more stirring often until the carrots are soft.
Option for adding a variety of vegetables: Here you can add a variety of vegetables: in cool weather add winter squash on hand or root vegetables; in warm weather add summer squash or even tomatoes. The key is to cook the added vegetables until just tender. As well, you can add add prosciutto or diced ham and a bit of garlic if you like.
Add the reserved cooking liquid to the pot of cooked vegetables and bring to a simmer. Stir in the cooked beans and bean puree; season with salt and freshly ground pepper and herbs to taste. Simmer for 10 to 15 minutes or until ready to serve (but keep the heat low, bean soup easily burns).
Ladle the soup into individual soup bowls, sprinkle with a little olive oil or garnish with sprinkles of grated parmesan, Gruyère, or Cheddar cheese.
Serve with thick-sliced cornbread or thickly sliced crusty bread that has been brushed with olive oil and toasted until crisp and brown.
Courses Soup