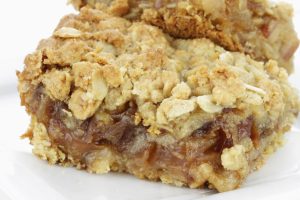 Hot oatmeal date squares! Yummy!
This recipe will make 25 squares. Each square will be topped with sticky chewy dates and bottomed with flaky warm oatmeal.
Ingredients
1cup chopped dates
½ cup water
½ cup brown sugar
6 tablespoons butter
1 cup oatmeal
½ cup sugar
2 egg yolks
1 teaspoon vanilla extract
1 ½ cups all-purpose flour, sifted
1 teaspoon baking powder
2 egg whites
1 cup brown sugar
Directions
1. Preheat oven to 350ºF.
2. Butter a square 8-inch baking pan. Sprinkle the bottom of the pan with oatmeal.
3.In a saucepan, boil dates with water and ½ cup brown sugar until mixture thickens. Remove from heat and cool.
4. In a bowl, combine butter, sugar, and egg yolks. Add vanilla extract, then flour and baking powder.
5. Pour batter into pan and top with dates.
6.In a separate bowl, beat egg whites into stiff peaks, add brown sugar and stir.
7. Pour egg whites over dates and bake 45 minutes. Cut into squares.