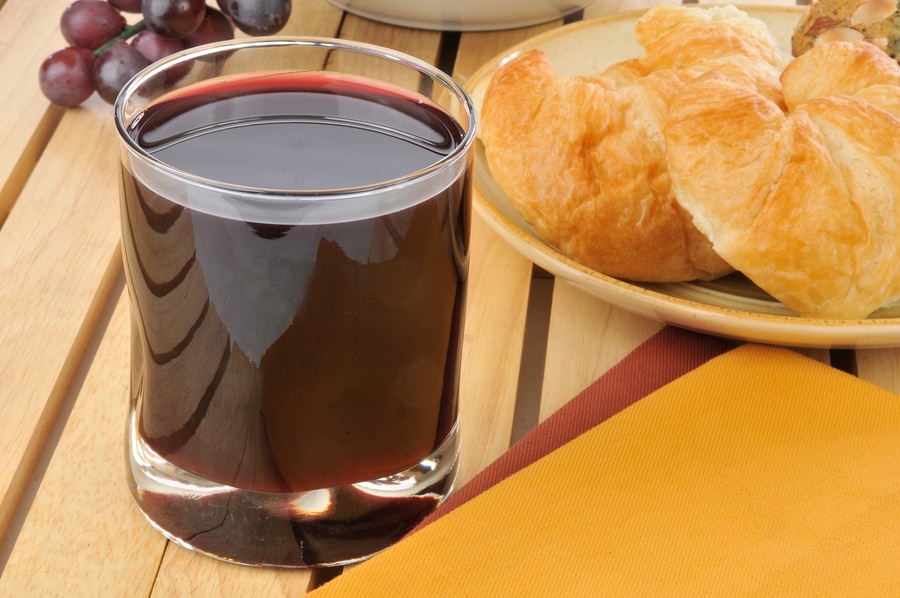 The secret to making delicious homemade grape juice is to never boil the grapes.
Grape juice reduces bad cholesterol, helps maintain healthy blood pressure, prevents damage to blood vessels in your heart, and reduces the risk of blood clots. Do you see a down side to drinking fresh-made grape juice?
Concord grapes are great for juicing. But there are a host of grape varieties for home-growing and most table grapes will work just fine for juicing. I like starting with a sweet grape and the sweet and tasty Muscadine that grows wild across a fence on a creek-side path I walk every day is perfect. Just find a grape that tastes good to you and get started.
How to Make Grape Juice Simply
Wash, stem, and crush the grapes in a flat-bottomed kettle. Use a potato masher to crush the grapes.
Barely cover the grapes with water in the kettle.
Heat the mix to160°F and hold the heat there for 20 minutes; don't let it boil (grape juice will boil at just above 210°F ). The juice will come free of the fruit tissue.
Strain the juice from the pulp through a square of muslin or a double thickness of cheesecloth.
Sweeten the juice to taste with sugar then reheat the juice to 160°F.
Seal the juice in thoroughly sterilized jars. During cooking, you can sterilize and prepare your jars. Sterilize your storage jars covered in at least 2 inches of boiling water for 10 to 15 minutes —not less. Quart jars are perfect for juices. Make sure you use fresh lids each year; you can reuse jars and rings each year once they have been sterilized, but you want to replace the lids every year.
Set the jars in a water bath heated to 170°F for 20 minutes.
Let the jars cool to room temperature. Press the lids with your finger. If the lids stay down, they are sealed.
Be sure to label your juices. Store juice in a dark place until ready to use.
How to Make Grape Juice—Even More Simply
Put 1 quart of washed and stemmed grapes into a sterilized ½-gallon jar.
Add 1 cup of sugar to the jar and then fill the jar with boiling water.
Seal the jars and pasteurize the jars in a hot water bath at 170°F for 20 minutes.
Wait a month, then drain off the juice. You can use the grapes left behind to make a pie.
Also of interest:
How to Plant, Grow, Prune, and Harvest Grapes