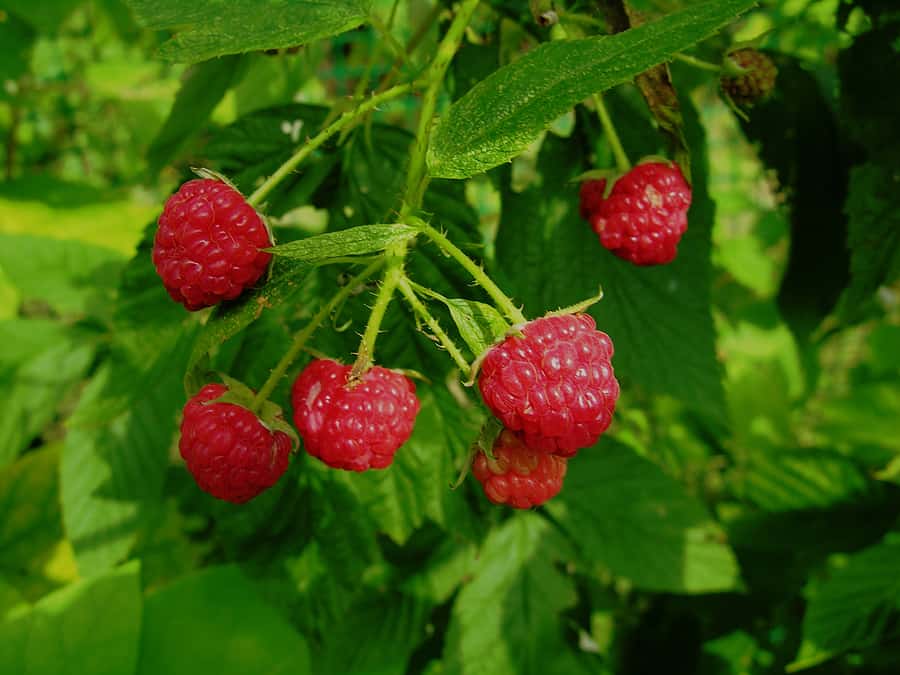 There are hundreds of varieties of raspberries.
Red raspberries are the most common.
Yellow or golden raspberries are a mutation of red raspberries.
Black raspberries–which are actually blue-black–are more firm and have more seeds than red or yellow raspberries.
Purple raspberries are crosses between black and red raspberries.
Everberaring (also called fall-bearing) varieties give an autumn crop as well as a summer crop.
Choose. Look for raspberries that are full, plump and meaty. Ripe raspberries will be brightly colored. The best way to know for sure is to taste one. A raspberry that has a soft haze or soft floss to its skin, is sweetly perfumed, and does not leave a juice stain is perfect—but must be eaten immediately.
Ripe raspberries will slip off their short stem easily. Raspberries with green caps attached are not ripe. They were picked too early.
Stay away from flattened, shriveled, or moldy berries and berries in containers that are too closely packed. If there are juice stains on the container, the berries may be overripe.
Store. Keep raspberries in a shallow bowl or container and avoid crushing or bruising them. Don't let them sit out in the sun. Don't wash raspberries until you are ready to use them or they will lose their texture.
If you are picking your own raspberries, look for plants that have never been treated with chemicals, wash your hands, pick each berry gently with your thumb and forefinger, and deposit the berry directly in your mouth.
Here are some raspberry varieties to be on the look out for—listed by color:
Red raspberry varieties:
Amity: large dark red, excellent flavor.
Autumn Bliss: everbearing with very large red berries, great flavor.
Bababerry: everbearing, large, firm red.
Boyne: medium-size red, summer bearer.
Canby: large, bright red, summer bearer.
Chilcotin: very large, firm, red, excellent flavor.
Chilliwack: very large red with fine flavor, summer bearer.
Fallred: everbearing, large, firm red, great flavor.
Heritage: everbearing red, small and tasty, summer and fall.
Indian Summer: everbearing, large, tasty reds.
Kiska: small red with good flavor, summer bearer.
Latham: red, large, an old standard, summer bearer.
Meeker: large, firm bright red, summer bearer.
Newberg: large, light red, summer bearer.
Scepter: red, good quality, summer and fall.
September: everbearing, small to medium-size red with good flavor. Fall bearer.
Southland: red, very good flavor, summer and fall.
Summit: everbearing, large red with very good flavor.
Sumner: large red with excellent flavor; summer bearer.
Tulameen: very large, firm red, excellent flavor, summer bearer.
Willamette: large red, very good flavor, summer bearer.
Yellow raspberry varieties:
Amber: golden, excellent taste, summer bearer.
Fallgold: everbearing yellow, large fruit, good quality; fall bearer.
Golden Summit: everbearing, medium-size yellow, great flavor.
Black raspberry varieties:
Black Hawk: black, firm berry, good quality.
Bristol: black, very large, excellent eating. Midseason.
Cumberland: black, large, old favorite, good eating. Late season.
Jewel: black large. Early season.
John Robertson: black, good for jam and jelly.
Logan: black. Early season.
Morrison: large black berries.
Munger: medium-size black. Very popular. Midseason.
Purple raspberry varieties:
Brandywine: purple, firm, large, very tart. Late season.
Clyde: purple, soft, large, tart; use for jams and jellies. Late season.
Sodus: large purple, rich flavor, for pies.
Also of interest: How to Grow Raspberries