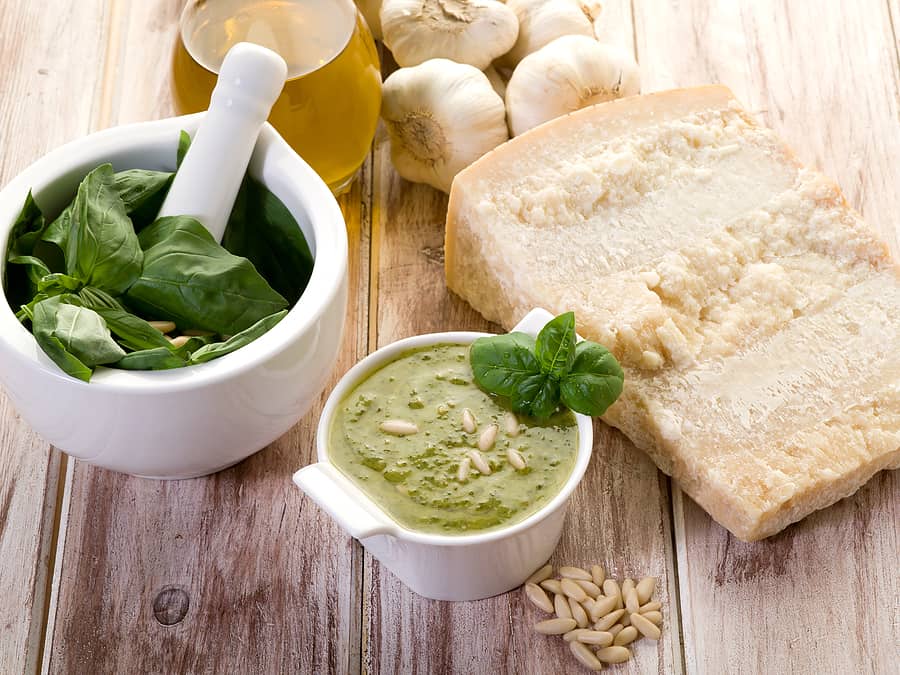 Pesto is a creamy green herb sauce you can make by hand in about ten minutes. Classic pesto is a combination of fresh basil leaves, garlic, pine nut kernels, grated parmesan cheese, salt, and olive oil.
But pesto is not a specific dish, but the name for a style of sauce; so substitutions for the classic pesto ingredients are not only acceptable but used to create new and equally flavorful sauces.
Pesto involves no cooking. Use pesto to flavor grilled vegetables and chicken, salads, pizzas, beans, and soups—that's just a starter list.
The word pesto comes from the Italian verb pestare which means to pound, as in mash or crush. Pesto describes the technique used to create the sauce, not the ingredients: a mortar and pestle is used to pound and mix the ingredients.
Handmade pesto is infinitely more delicious and flavorful than anything you can buy pre-packaged–and a trip to the grocery will take you longer. Handmade pesto is also more flavorful than pesto made with a blender or food processor —hand working the ingredients both releases and seals flavor ingredients and creates pesto's signature texture.
Steps and technique for making pesto by hand:
Put a handful of pine nut kernels and a peeled clove or two of garlic and a pinch of salt in a mortar and smash them with the pestle to form a paste.
Take a handful or two of coarsely chopped fresh basil leaves and begin to add them a few chopped leaves at a time to the mortar mix—work them to a coarse paste.
As the mix becomes a paste begin to add olive oil a few drizzles at a time into the mix. Stir the oil in steadily—blending it with the other ingredients. Add the olive oil carefully and gradually to thin the paste—but not too thin. The finished pesto should have the consistency of creamed butter.
When the paste is still coarse yet smooth switch from the pestle to a rubber spatula, mix in a dash or more of finely grated Parmesan cheese. Add a bit more salt and freshly ground pepper to taste. And add more oil if needed to achieve the consistency you wish.
Making pesto by hand allows you to taste as you go—to balance the flavors of the sauce. The mortar leaves small pieces of the basil, pine nuts, and garlic intact—they are not thoroughly pulverized. Work the pestle with a downward and circular motion. The active enzymes of the coarsely ground plant tissues interact—the broken up solids and the juices come together; the aroma and flavor of the ingredients are compounded. Handmade pesto is more interesting and less uniform than machine made pesto—it is an aromatic, flavorful, textural blend. As you pound and blend the ingredients, you can smell and taste their qualities and intensity. Pound, smell, and taste as you go.
Ingredients for classic pesto, amounts, and substitutions:
• Genovese basil leaves or Piccolo Fino Verde basil leaves. Genovese basil has large tooted leaves. Piccolo Fino Verde has small finely formed leaves. Both are smooth, soft, and cool to the touch. Both exhale the scent of mint and clove when bruised. Either will make a richly flavored, authentic tasting pesto. Use only the leaves; basil stems can be bitter tasting. As well, puréed basil leaves can be bitter flavored—a reason to hand pound pesto. Two cups of packed basil leaves will make one cup of pesto which is enough for one pound of pasta. Wash, dry, and chop the basil with a sharp knife before it goes in the mortar to seal in the flavor. (You can substitute basil with one or two leafy greens: Italian parsley, cilantro, mint, arugula, thyme, tarragon, sage, watercress, spinach, or sorrel.)
• Pine nut kernels come from the nuts of various pine trees—usually stone pines (genus Pinus). Pine nut kernels have ivory-colored meat and a rich distinctive and aromatic flavor and a high fat content. You will need a handful more or less for pesto. Pine nuts can be lightly roasted in a sauté pan to deepen their flavor before adding to pesto. Toast the nuts in a small, heavy skillet over medium heat, stirring frequently until just golden and fragrant, about 4 to 5 minutes. (You can substitute pine nut kernels with walnuts for a distinctive bite, hazelnuts—tasty with parsley, sunflower seeds, almonds, peanuts, or macadamia nuts.) You can omit nuts from pesto, but the sauce will be thinner.
• Garlic cloves are sections of the edible garlic bulb. Garlic is highly aromatic and strongly flavored. The cloves are covered with a papery membrane and must be peeled before using. Two or three cloves or just a half clove—or no garlic—can be added to pesto. (The garlic can be sautéed before chopping and adding to pesto if you prefer the mellow flavor of cooked garlic. Add the garlic to an empty pan and toast shaking the pan occasionally until fragrant and the color of the cloves deepens slightly, about 7 minutes. Transfer the garlic to a plate, cool, peel, and chop.) You can rinse fresh chopped garlic in copious water before setting it in the mortar; rinsing will remove harsh flavors from the cut surfaces. You may want to add just a bit of garlic at first and save the rest for later after tasting. Do not add so much garlic that it overwhelms the perfume of the basil or the finished sauce.
• Olive oil—choose extra virgin olive oil; it's buttery and low in acidity. Olive oil is drizzled into pesto and unifies the flavors of the ingredients. The amount of oil added to pesto can vary from just an a few tablespoons to a several ounces. Less expensive than extra virgin olive oil is virgin olive oil, canola, or grape seed oil.
• Parmesan cheese—the correct name is Parmigiano Reggiano–is a dry, rough, grainy cheese with a strong, fruity aroma and taste. Parmesan is finely grated for adding to pesto; much less than a handful, a quarter of a cup will do. Pecorino Romano cheese can be used in pesto as well—combine Parmesan and Romano in pesto. Other cheeses well suited for pesto are Grana Padano and asiago. Cheese can be optional for pesto.
• Salt—just a pinch–is added to pesto early. It is not only a seasoning but it keeps the pine nuts, garlic, and basil from binding.
• Pepper—freshly ground black pepper to taste.
Serving pesto:
Pesto—and other fresh sauces—are best made just before serving. (As soon as blending is complete oxygen and uncontrolled enzymes begin to change the flavor and cause brown discoloration of freshly broken plant tissues.) If discoloration is a concern, add fresh Italian parsley to the basil during preparation—the parsley will keep the blend a bright green.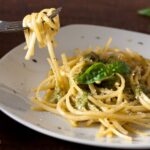 Here are suggestions for serving pesto:
Use pesto as a pasta sauce. Add pesto to pasta: substitute an equal amount of unsalted melted butter for half the olive oil and blend at the same time you add the olive oil. The addition of butter helps pesto adhere to the pasta and carries the flavor of basil. Serve pesto with tagliarini, linguine, or fettuccine noodles. Add cooked chicken cut into bite sized pieces or sliced potatoes to the pesto pasta.
Spread pesto on pizza crust instead of tomato sauce then add artichoke hearts.
Use pesto to flavor spaghetti. (If pesto is a bit dry when added to noodles, thin the pesto with the pasta-cooking water, tomato sauce, stock, olive oil, or a combination before dressing pasta.)
Use pesto to flavor stuffed pasta fillings: stir pesto into ricotta cheese when making a filling for ravioli, tortellini, or manicotti.
Stir a dollop of pesto into soups or stews as a flavoring.
Use pesto with gnocchi as a flavoring for soups.
Toss pesto with cooked French cut string beans and new potatoes or other cooked vegetables.
Add a dash of pesto to a baked potato with butter and oil.
Use pesto as a sliced ciabatta or sandwich spread or hamburger topping.
Blend pesto with butter and serve with grilled fish.
Brush a thin layer of pesto as a sauce on grilled chicken, fish, meats, and vegetables.
Lightly spread pesto inside or under the skin of poultry before roasting.
Use pesto as a dipping sauce for vegetables or nachos.
Spread pesto on sliced fresh tomatoes.
Use pesto as a dressing for salads.
Add cooked white or red beans to make a bean-pesto dip. Add cooked beans as you begin to blend in the oil and mix until smooth. Serve with crackers or crudités.
Storing pesto:
Pesto is best served fresh but can be stored fresh for up to five days in the refrigerator. Store pesto in a covered jar or container with a layer of olive oil drizzled on top to prevent the air from discoloring the sauce. If the top of the sauce discolors, simply scrape the surface layer off before serving. Instead of oil, you can lay a sheet of plastic directly on top of pesto and press it against the surface to exclude air.
Pesto can be frozen for up to three months if cheese and butter have not been added. Drizzle olive oil across the pesto before sealing the container and freezing, or freeze pesto in ice cube trays for flavoring soups and stews later. Thaw and stir in the cheese and butter before using.
Making pesto in a blender or food processor:
Pesto can be made in a blender or food processor, but you will undoubtedly sacrifice some flavor and texture. When using a machine to make pesto, pulse blend the ingredients into a paste, not a liquid. Do not overwork the ingredients, especially the tender herb leaves.
Place the nuts, garlic, basil, oil, and salt in the work bowl of the blender or food processor. Use a steel blade. Process until it is the consistency of porridge, stopping as necessary to scrape down the side of the bowl. Transfer the mixture to a small bowl, stir in the cheese, and adjust the salt.
Notes on alternatives to basil in pesto:
Cilantro pesto will be less creamy than classic basil pesto. Add a bit of lime juice to the mix. Cilantro pesto is delicious with black bean nachos, spooned into guacamole, or spread lightly on chicken fajitas.
Arugula pesto is made just as classic pesto—substituting the arugula for the basil. Arugula pesto is delicious on grilled chicken or shrimp.
Mint pesto is made just as classic pesto—substituting the mint for the basil. Mint pesto is tasty with grilled vegetables or lamb.
Parsley pesto is made like classic pesto—substituting the parsley for the basil. Parsley pesto is tasty on broiled or grilled chicken or fish or tossed with shiitake or other mushrooms that been lightly sautéed in oil or butter.