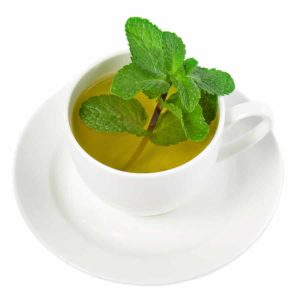 Mint and chamomile are the most common herb teas, but you can brew tea from almost any garden herb.
Herb teas are soothing and often health-giving. They contain virtually none of the caffeine found in coffee.
Herbal tea is easy to make: put a handful of fresh herbs (about ¼ cup) per cup of tea into a pot. Pour boiling water over the herbs, cover,  and steep for three to five minutes. Strain before serving. (It's always good to preheat the pot and the serving cup with hot water; this will ensure a cup of hot tea at serving.)
You can also make herbal tea with dried herbs: use just 1 teaspoon of herbs for each cup.
For iced drinks, brew the tea at double strength.
You can vary the amount of herbs and the brewing time according to your taste.
Tisanes are herbal infusions. The word tisane comes from the Greek for medicinal brew. Herbal tisanes are made in much the same way as herbal teas but usually in smaller quantities. Use 1 ounce of fresh herbs or ½ ounce dried herbs for every 2½ cups boiling water.
Lemon juice and honey have an affinity for many hot herbal teas and tisanes.
Herbs to use for teas or tisanes:
Anise Hyssop (Agastache foeniculum). Licorice-tasting blossoms and leaves. Perennial.
Bee Balm (Monarda didyma). Mildly-citrus flavored. Use dried leaves. Perennial.
Chamomile (Matricaria recutita). Mellow grassy flavor and fragrant. Good for the digestive system and calms nerves. Annual.
Lavender (Lavandula angustifolia). Use blossoms for steeping. Soothing and relaxing. Shrub.
Lemon Balm (Melissa officinalis). Tastes like mint plus citrus. Used to calm the nerves and also aids digestion. Use leaves fresh and dried. Perennial.
Lemon Verbena (Aloysia triphylla). Intense flavor and very fragrant. Use leaves fresh and dry. Shrub.
Mint ( Mentha species). Nearly 200 varieties. Use fresh and dried leaves. Aids digestion. Spearmint and peppermint tea are revitalizing. The menthol in hot peppermint tea is useful in clearing head colds. Perennial.
Rosemary (Romarinus officinalis). Strongly flavored; stimulates circulation and ease migraines. Use leaves and sprigs. Shrub.
Sage (Salvia species ). Mild, musky, camphorous, with spiciness. Soothes sore throats. Perennial.
Thyme, lemon (Thymus citriodorus ). Sweeten with honey to ease coughs. Perennial.
More Herbs for Tea: Other herbs that can be used to make tea: catmint, chicory, comfrey, costmary, fennel, horehound, hyssop, lemongrass, lovage, parsley, pennyroyal, perilla, rose (hips), and  sweet cicely.
More tips at How to Start an Herb Garden.
Many useful culinary herbs grow well in containers. Basil, chives, cilantro, dill, common and Florence fennel, garlic, lemon balm, mint, oregano and marjoram, parsley, rosemary, sage, French tarragon, and thyme are excellent choices for container growing. Continue reading>>>
Many herbs have edible flowers than can be used as a colorful garnish for salads and for both sweet and savory dishes. Add herb flowers to delicate salads and salad herbs such as lamb's lettuce and chervil. Continue reading>>>
Add herbs to wine or cider vinegar to make herb-flavored vinegar. Basil, chervil, chives, dill, garlic, marjoram, mint, rosemary, sage, and tarragon are ten common herbs well-suited for making flavored vinegars. Continue reading >>>