Blueberries are easy to grow in a home garden and yield abundant sweet, delicious, and colorful berries.
Plant blueberries in compost-rich soil that is well-draining. Blueberries like acidic soil with a pH between 4.5 and 4.8. Lots of organic compost should make the soil just right, but you can add pelletized sulfur to the soil the fall before planting if your native soil is limey.
Plant more than one variety of blueberry in your garden to insure good pollination.
Keep the soil in blueberry planting beds evenly moist. Don't let the soil go dry. Mulch around blueberries to retain soil moisture in warm summer regions.
Give blueberries a light feeding every spring; a low nitrogen fertilizer is best, such as 5-10-10.
Keep birds from your crop by draping bird netting over plants with ripening berries.
Grow early, mid, and late-maturing varieties so that you have a harvest that last 2 months or more. (You may not be able to grow early, mid, and late-maturing varieties in all regions.)
Types of Blueberries and Where They Grow
Lowbush Blueberries for Very Cold Winter Far Northern Regions. Lowbush blueberries grow low to the ground, 6 to 18 inches tall. Lowbush varieties are suited for very cold winter regions; draw a line from Nova Scotia to Vancouver, lowbush varieties grow to the north of this line. Lowbush blueberries have a sweet, musky flavor and come to harvest mid-summer.
Half-High Blueberries for Cold Winter Plains States. Half-high blueberry varieties are cold-hardy like low-bush blueberries but produce larger fruit, the size of highbush varieties fruits. These plants are suited for the cold winters of mid-continent states.
Half-high varieties grow 18 to 36 inches tall and bear most of their berries close to the ground. Fruit can be as large as a nickel.
Highbush Blueberries for Moderately Cold-Winter Regions. Highbush blueberries grow best in northern regions with temperatures moderated by the ocean or Great Lakes—coastal Maine to New York state, southern Ontario and low Michigan, and Northern California to Vancouver.
Highbush blueberries are shrubby growing 4 to 8 feet tall maturing in about 8 years. They will begin producing in their second year yielding 10 to 20 pounds of fruit per plant. They produce large, sweet berries.
Southern Highbush Blueberries for Mild-Winter Regions. Southern Highbush blueberries are low chill varieties that can be grown in coastal California and inland valleys, the Sunbelt, and the Southeast region. These varieties are hybridized for soil adaptability, heat tolerance, and low winter chilling. Southern highbush varieties grow from 4 to 6 feet tall and there are varieties that mature early, mid, and late season.
Rabbiteye Blueberries for the Southern States. Rabbiteye blueberries are native to the southeastern United States growing from Virginia and Tennessee south to Florida and west to Arkansas and Texas in areas that have acid soils. Rabbiteye varieties require less chill than other blueberries. They grow to 10 feet tall and produce large, sweet berries.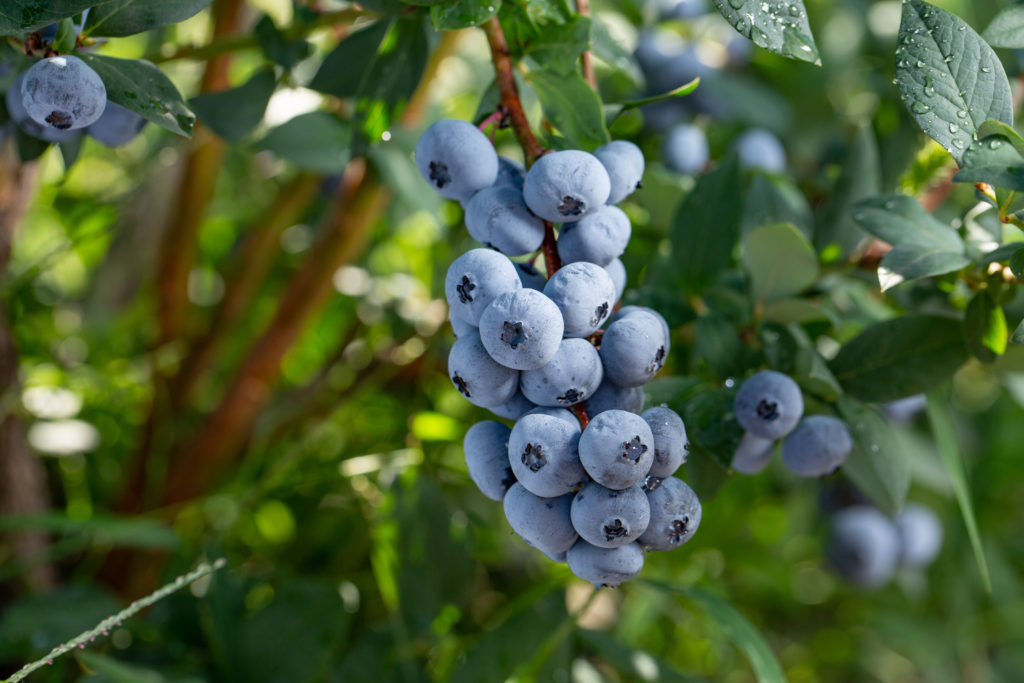 A Sample of Blueberry Varieties and When They Ripen
Highbush Varieties: 'Berkeley' (mid to late); 'Bluecrop' (mid); 'Blueray' (mid); 'Bluetta' (early); 'Darrow' (late); 'Duke' (early); 'Elizabeth' (mid to late); 'Elliott' (late); 'Herbert' (mid to late); 'Jersey' (mid to late); 'Patriot' (early to mid); 'Spartan' (early).
Half-High Varieties: 'Chippewa' (mid); 'Friendship' (mid); 'Northblue' (mid); 'Northsky' (mid); 'Polaris' (mid); 'St. Cloud' (mid).
Lowbush Varieties: 'Chignecto' (mid).
Southern Highbush Varieties: 'Sharpblue' (early); 'Misty' (early).
Rabbiteye varieties: 'Brightwell' (early to mid); 'Powder Blue' (late); 'Tifblue' (mid to late).
Also of interest:
How to Plant, Grow, Prune, and Harvest Blueberries