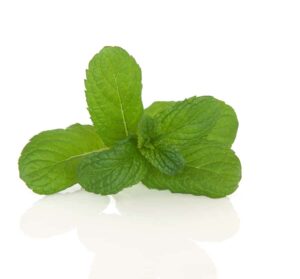 Spearmint, peppermint, pineapple mint, orange bergamot, and apple mint: these are just a few of the mints used in cooking.
The peak season for fresh mints is summer, but many mints will grow indoors year-round in a bright window. And dried mint leaves can be used when fresh mint is not available.
Mints can be used to garnish salads or beverages. Mints complement both fresh summer vegetables and winter root vegetables. Use mints to flavor soups and dried bean dishes.
There are about two dozen varieties of mint—almost all from the genus Menthe–commonly used in cooking and food preparation. Here are a few you might want to try:
• Apple mint (M. suaveolens): smells of mint and ripe apple with good flavor; best shredded.
• Basil mint (M. x piperita citrate 'Basil'): spicy scent with light notes of basil. Good with eggplant, tomatoes, and zucchini.
• Bowles' mint (M. x villosa f. alopecuroides): use for all dishes requiring mint; fine flavor; leaves should be chopped finely to eliminate furry texture.
• Black peppermint (M. x piperita piperita): use as peppermint, pungent aroma.
• Chinese mint (M. arvensis ssp. haplocalyx): use to flavor tea.
• Chocolate mint (M. x piperita citrate 'Chocolate'): the scent of after dinner chocolate mints; good for chocolate desserts and as a garnish for ice cream and sorbets.
• Corsican mint (M. requienii): strong peppermint scent when crushed.
• Curly mint (M. spicata var. crispa): flavor similar to spearmint; use in most culinary dishes.
• Field mint (M. arvensis): aromatic but mildly flavored with high menthol content; used in Southeast-Asian cooking. Also called "wild mint" which was used by Native Americans in baking fish.
• Ginger mint (M. x gracilis): delicate warm mint; use in salads and tomato dishes. Also called Scotch mint.
• Golden apple mint (M. x gracilis): spicy apple fragrance; use to flavor foods.
• Japanese peppermint (M. arvensis var. piperescens): flowers used to delicately flavor tea. Called English mint in Japan.
• Large-leafed horse mint (M. longifolia): musty, minty scent; use in Indian chutneys and Afghan cooking. Also called Buddleia mint.
• Lemon mint (M. x acuatica 'Citrata'): refreshing minty lemon scent; use in mint sauce or fruit dishes.
• Moroccan mint (M. spicata 'Moroccan'): spicy aroma, less sweet than spearmint; use in teas and minted dishes.
• Mountain mint (Pycnanthemum pilosa): not a true mint; smells and tastes like mint but slightly bitter; young leaves and buds used as a mint substitute.
• Orange mint (M. x peperita citrata): orange flavor; use to flavor teas and fruit dishes; the scent has also been described eau de cologne, lemon, bergamot, and lavender.
• Pennyroyal (M. pulegium): very strong peppermint scent and flavor; use sparingly; use in mint sauce and as a substitute for peppermint in sorbets. Do not use when pregnant or if suffering from kidney disease.
• Peppermint (M. x piperita): intense sharp-minty flavor; use to flavor candies and desserts and to make hot or cold tea, cordials, and liqueurs or as a garnish for punch or fruit.
• Pineapple mint (M. spicata 'Variegata'): young leaves have a tropical fruit aroma; older leaves are mintier. Use young leaves to flavor salads, cool drinks, and fruit desserts.
• Spearmint (M. spicata): most widely grown of all mints; use for mint sauce, mint jelly, mint julep.
• Tashkent mint (M. spicata 'Tahskent'): intense aroma and flavor; use as spearmint.
• Water mint (M. aquatica): scent can vary from musty to strong peppermint.