Loppers are used for trimming small shrub and tree branches up to about 2 inches in diameter. Loppers are essentially oversized pruners. They have larger heads and longer handles than pruners.
Loppers are also called lopping shears, two-handed pruning shears, two-handed shears, and cloppers.
Loppers are similar to pruning shears except the blades are larger and the handles are about 18 inches long. Smaller hand pruning shears are used for trimming stems and branches up to 3/4 inches in diameter. Loppers are used for cutting branches between 3/4 and 2 inches in diameter. For branches larger than 2 inches in diameter use a pruning saw or chainsaw.
It takes two hands to operate loppers; hand pruning shears are operated with one hand. The longer handles add leverage when making a cut; using two hands instead of one provides added force. There are long-reach loppers with handles up to 6 feet long. They are designed for cutting high branches.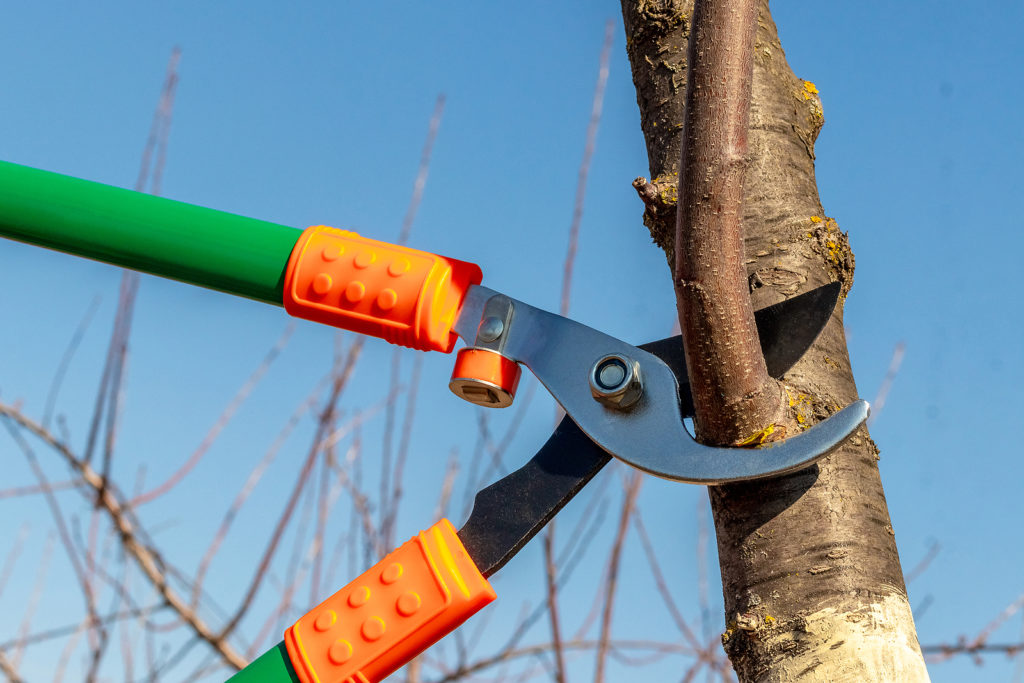 Types of loppers
Like pruners, loppers have two types of cutting blades, bypass and anvil. Bypass loppers or scissor-type loppers have two offset cutting blades. Bypass loppers make a close, clean cut and are used to trim live plant tissue. Anvil loppers have one sharpened blade that strikes against a flat, broad plane–the anvil. Anvil loppers tend to crush the plant tissue and so are used to trim dead plant tissue.
Like other hand tools, lopper handles are available in wood, metal, aluminum, or fiberglass. For overhead pruning, aluminum and fiberglass handles are lighter in weight.
Some loppers have bumpers on the handles to absorb the shock when the blades snap together after a large cut. They help reduce operator fatigue on larger pruning jobs.
Ratcheting loppers–also called compound-action loppers–have gears to increase their power. Ratchet loppers have an offset hinge for cutting thicker branches than those possible with standard models. Ratcheting pruners require less strength and effort to operate.
Loppers may be made entirely from one piece of steel or have wooden handles and high-quality steel blades. Some are made of fiberglass.
How loppers work
A bypass lopper has two curved blades that are sharpened on both sides allowing for a clean cut. The thinner blade is the one that slides past the thicker blade. An anvil lopper has one sharpened cutting blade that strikes the anvil. An anvil lopper tends to flatten and crush the stem against the anvil and so is best used on dead wood.
Anvil-type loppers are slightly easier to squeeze than bypass pruning shears, but the anvil prevents the cutting blade from making a close cut, so they tend to leave stubs. Place the pruners so that the anvil is underneath the branch you are cutting. Bypass pruners do not leave stubs; they can be placed close to the place where two branches or stems meet to prune away one from the other with a close, clean cut.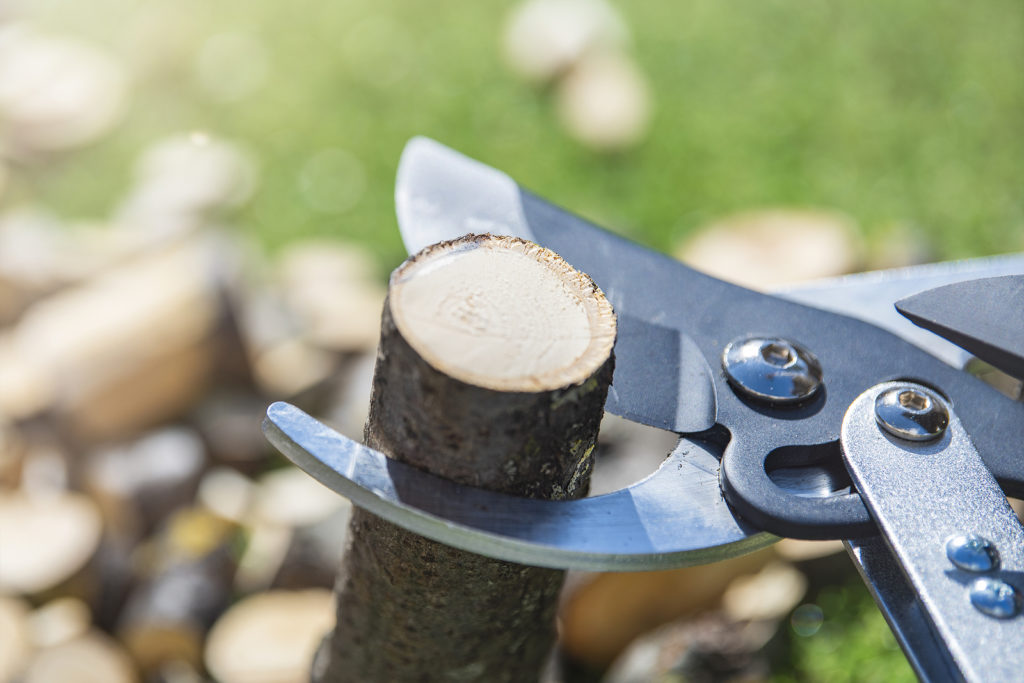 Lopper use tips
Do not twist loppers when cutting, as this will bend the blades, preventing clean cuts in the future.
Don't use extra force to cut branches with loppers. If you are having trouble cutting through a branch with loppers, don't force them; use a pruning saw instead.
When using anvil loppers, place the anvil blade on top; this will require less effort.
Always clean the blades after use; this will prevent the spread of bacterial disease.
Lopper maintenance
Loppers work best when the blades are sharp.
Keep the pivot area oiled.
Always clean and dry the cutting surfaces after use. This will stem the buildup of sap on the blades.
Lubricate pivotal parts with oil to prevent rust
Store loppers in a clean, dry place.
After several uses, sharpen the blades of your lopper. File the cutting edge in a direction moving away from your body until the blade is sharp.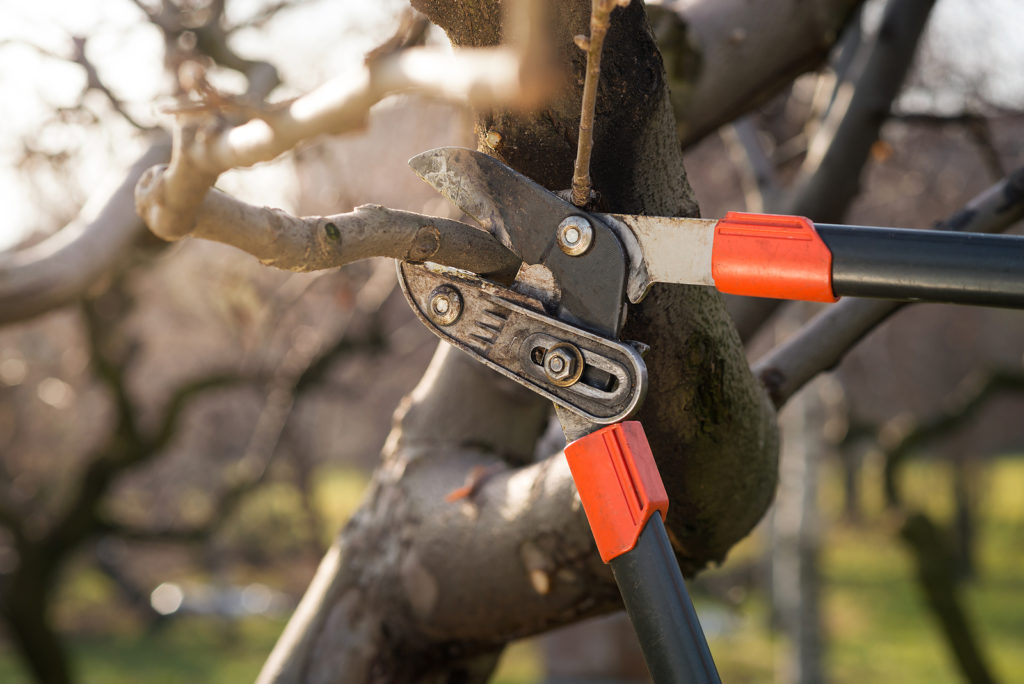 Lopper buying tips
Bypass loppers make cleaner, closer cuts.
As with pruning shears, the longer the blade, the thicker the limb they can cut.
Loppers with chrome alloy steel parts resist rust better.
Loppers with hinges that are slightly offset keep the branch being cut from slipping out of the blades, as does a hooked end.
The choice between wooden, metal, or fiberglass handle loppers depends upon the feel of the tool and your preference.
Many gardeners like the balance of the newer all-metal loppers, but if you are cutting branches over your head, you may feel that they are too heavy. Fiberglass or aluminum handles may be a better choice.
Fiberglass handles may not be quite as durable as those made of wood or metal.
Most loppers are graded by weight with the heavier ones capable of doing heavier-duty jobs.
Ratchet models give you more force, which is a consideration if you don't have the strength for heavy pruning with regular models.
Better lopper models have shock absorbers.
Loppers' long handles give more leverage for heavier cutting than the short handles of pruning shears, and rachet or compound action loppers can cut still thicker branches.
Loppers we like
Bypass loppers
Fiskars 28″ Steel Blade Garden Bypass Lopper and Tree Trimmer – Sharp Precision-Ground Steel Blade for Cutting up to 1.5″ Diameter. About $28.
Ratchet bypass loppers
Kings County Tools Double Ratcheting Bypass Lopper | Cuts Green Wood | Extendable 26″–40″ Long Handles | Trim Tree or Bush Branches | 6 Pin-Locked Position Stops | Heavy-Duty Steel. About $60.
TABOR TOOLS GG21A Extendable Bypass Lopper with Compound Action, 27-40 Inch Telescopic Tree Trimmer, Long Handled Branch Cutter with ⌀ 1 1/2 Inch Cut Capacity. About $55.
Bypass loppers with extended handle
STEELHEAD Heavy-Duty 27-40″ Adjustable Gear-Bypass Limb & Branch Lopper, Telescoping Extendable Handles, Ratcheting, Cuts Up to 1-3/4", Secateurs, Shock-Absorbing. About $41.
Ratchet anvil loppers
TABOR TOOLS GG12A Anvil Lopper with Compound Action, 30 Inch Tree Trimmer, Branch Cutter with 2 Inch Cutting Capacity. About $56.
Jardineer 2″ Anvil Loppers Shears – Loppers Heavy Duty with Garden Shears & Spare Blade, Effortless Pruning Tree Loppers, 30″ Branch Cutter and Long-Lever Tree Trimmer. About $34.
Extended handle anvil loppers
THANOS A1101 Extendable Anvil Loppers Tree Trimmer with Compound Action, Chops Thick Branch Ease,28-40" Telescopic Heavy Duty Branch Cutter,2 inch Clean Cut Capacity. About $36.
More Buyer's Guides