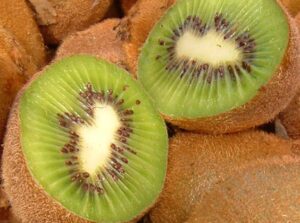 July means winter in the Southern Hemisphere.
Winter wherever you are is one the prime seasons for citrus. At the farm markets in Australia, New Zealand, South Africa, Argentina, Uruguay and Chile this month look for kumquats, grapefruit, limes, early mandarins, oranges, and tangelos.
Other winter fruits ready for harvest include late apples, avocadoes, and olives. In more tropical regions, the July fruit harvest includes bananas, guavas, feijoa, kiwifruit, and late passionfruit.
Vegetables ready for harvest in July in the southern hemispere are beets, broccoli, Brussels sprouts, carrots, celeriac, Chinese cabbage, corn salad, kale, lettuce, parsnip, peas, purslane, radish, rutabaga (Swede), spinach, turnips, and witlof chicory.
July may be the middle of winter in the cool, temperate regions of the Southern Hemisphere but that doesn't mean there is nothing to do in the garden.
Root crops can be planted in the garden now: kohlrabi, carrots, parsnip, potatoes, and garlic. If you get your garlic in the ground now, you will be enjoying it come mid-summer, just a short six months from now.
Cabbage family crops–broccoli, Chinese cabbage, and cauliflower–can get started indoors this month. If you don't have a greenhouse, a sunny windowsill will do.
If you want to get another harvest of broad beans before the winter is through, sow them now.
July is the month for pruning. Fruit trees that have lost their leaves and gone dormant as well as roses can be pruned this month.
If you are ready to get a jump on early spring, here is a July planting guide for the kitchen garden the in the Southern Hemisphere:
Temperate regions. Vegetables: artichoke suckers, asparagus crowns, beets, broad beans, cabbage, carrots, chard (silverbeet), cress, kohlrabi, lettuce, mustard, onion, parsnip, peas, potato tubers, rhubarb crowns, salsify. Herbs: chamomile, garlic, marigolds, and parsley.
Cooler southern regions. Vegetables: artichokes, asparagus crowns, broad beans, cress, garlic, lettuce, onion, peas, spinach, turnips. Herbs: garlic.
Tropical and subtropical regions northern regions. Vegetables: asparagus crowns, beans, beets, broad beans, buckwheat, cabbage, cape gooseberry, capsicum, carrots, celery, Chinese cabbage, choko, cress, cucumber, endive, fennel, lettuce, marrow, melons, mustard, parsnip, peas, potatoes, pumpkin, radish, rhubarb crowns, salsify, shallots, silverbeet, spinach, spring onion, sweet corn, strawberry runners, sweet potato, tomatoes, zucchini. Herbs: angelica, basil, borage, caraway, chamomile, celeriac, chervil, chives, coriander, dill, garlic, hyssop, lemon balm, marjoram, oregano, parsley, salad burnet, and thyme.
Pictured above: kiwifruit.