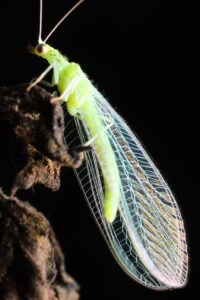 Green lacewings are beneficial insects.
Adult lacewings feed on nectar, pollen, and aphid honeydew. Young, larvae lacewings feed on the eggs and immature stages of many soft bodied insect pests including aphids, asparagus beetle larvae, caterpillar eggs and young caterpillars, Colorado potato beetle larvae, spider mites, thrips, whiteflies, leafhoppers, and the eggs of pest moths and mealybugs.
Attract lacewings to the garden by planting plants rich in pollen and nectar such as angelica, caraway, coreopsis, cosmos, goldenrod, marguerite daisies, Queen Anne's lace, tansy, and yarrow. Lacewings eat pollen and nectar in addition to insect pests.
Female lacewings lay eggs singly or in small groups. Eggs are placed on plants usually where aphids are nearby. Each egg is hung on a slender stalk on the underside of a leaf. Immediately after hatching, the larvae ascend the egg stalk to feed.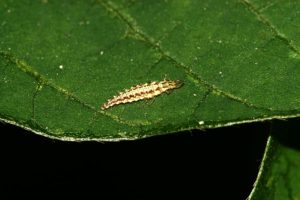 Larvae grasp their prey with their mandibles and disable them by injecting them with a toxic digestive secretion before eating them. They are voracious predators. Lacewing larvae are sometimes called "aphid lions."
There are one to three generations of lacewings each year. Lacewings overwinter in the pupal stage.
Lacewings are very common in North America and Europe.
Scientific name: Family Chrysopidae