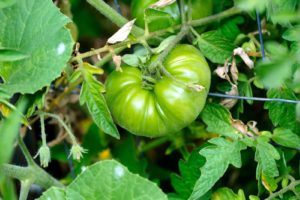 To quicken the ripening of tomatoes on the vine at the end of the season, remove all new flower clusters from tomato plants about a month before the first frost. This will divert the plants' energy to ripening fruit already on the vine.
From flower to ripe fruit, tomatoes require four to six weeks depending upon the variety (beefsteak tomatoes require more time, cherry tomatoes less time).
Tomatoes will ripen off the vine, but the flavor will not be as intense as those left to ripen on the vine.
You can redden up tomatoes off the vine by placing them in a paper bag with an apple or banana. Ethylene gas given off by the fruit will speed the tomato ripening process.
You can also can let unripe tomatoes sit in a cool, dark place and they will ripen to color—but again the flavor will not be as intense as vine ripened tomatoes.
More tips: How to Harvest and Store Tomatoes