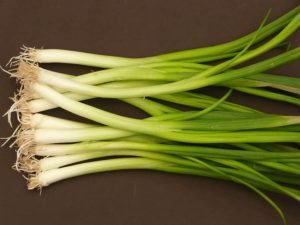 Young onions offer a range of taste from mild and smooth to pungent and biting. You can eat raw young onions whole with a dipping sauce or chopped in a green salad or potato salad or pasta salad. Raw green onions chopped make a colorful topping for sauces or baked potatoes.
Onions cooked become mild and even sweet. Young onions require less cooking than mature onions since they are not very pungent to begin with. Just a couple of minutes of sautéing will mellow a young onion that has gained any bite. You'll find cooked young onions mild enough to serve at breakfast.
So what do you call young onions? Spring onions, green onions, or scallions? Here we go!
Depending upon the maturity of the onion and where you live, you will pick up a bunch of young onions and say, "I'll take these…."
Are they spring onions, green onions, or scallions?
Here are the differences:
Scallions. Scallions are the youngest or least mature of onions with very thin white bases no wider than their long, straight green stalks. Scallions offer no hint at the development of a bulb-like base. Pulled from the ground a scallion resembles a large chive. Scallions are very mild flavored. Both the white base and the green stalk of the scallion are easily eaten raw. You can slice or chop scallions and add them raw to green salads. You can also serve them on the raw vegetable tray or sprinkle them raw as a topping for sauces.
Scallions can be cooked whole or chopped, but they will require no more than a couple of minutes of cooking. (Sauté or pan steam them on low heat in butter or water.) Scallions can be used as a substitute for chives in many recipes. Scallions are sometimes called green onions or bunching onions, but for onion lovers and growers there is a difference. A green onion or bunching onion has gained the hint of a bulb with maturity; a scallion has not.
Green onions. Green onions have long, green, delicate stalks and small, very, very slender, white bulbs. The bulb of a green onion is slightly defined. Green onions come out of the ground early in their lives, usually in spring. They are mild tasting having not been alive long enough to gain much pungency. Green onions can be used sliced or chopped raw in green salads or creamy salads like potato salad, pasta salads, or atop baked potatoes.
Green onions are sometimes called bunching onions. When onion seeds are planted densely they grow so close or bunched together that the bulbs have little chance of fully maturing and rounding out. Green onions are green onions in the United States; in England and Australia the green onion is also called a spring onion. Green onions are sometimes also called scallions. (But, now, you know there is a difference even if ever so slight.)
Spring onions. Spring onions have slightly rounded bulbs that are more defined and just a bit larger than the more slender green onions. Spring onions are the most pungent tasting of young onions with a bit more bite than green onions. Remember, most onions gain their sharp taste as they mature. Spring onions can be used raw or cooked. Because raw spring onions are pungent, taste to make sure their flavor does not overpower more delicate flavors. You can slice raw spring onions thinly onto green salads.
Cooked spring onions—usually sautéed—will be more delicately flavored as a result of the cooking process and are a good combination with other spring and summer vegetables. The spring onion is distinctly different than a green onion to many growers and onion lovers in the United States. In England and Australia, a spring onion and a green onion are most often considered the same bird.