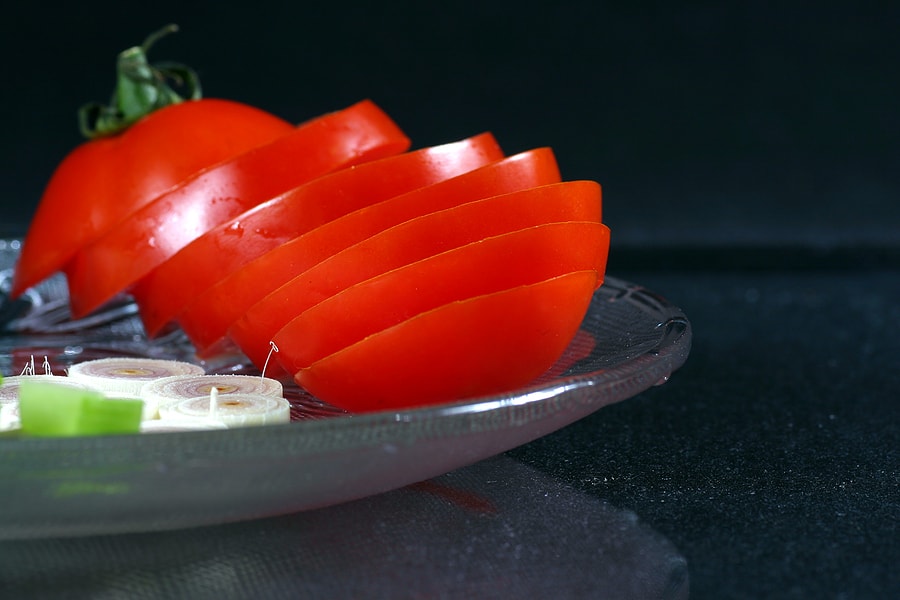 Tomatoes fresh from the garden—medium or large ones—sliced or cherry tomatoes halved and arranged on a plate and served with flavor matches take little time. Serve sliced tomatoes every day with a different flavor match—you will not run out of flavor combinations from the first picked tomato to the last.
Choose one or two medium tomatoes per person if tomatoes are the heart of the meal. Slice tomatoes horizontally, not vertically—that is across the equator. (Wedges are sliced stem to blossom end.) Quarter-inch slices will work perfectly. Discard the stem and blossom ends.
Most simply: tomato slices can be drizzled with a little extra-virgin olive oil and sprinkled with kosher salt and freshly ground black pepper. You'll want crusty bread to soak up the juices on the plate.
You won't have to work hard to discover combinations that are flavorful. Salt and pepper, olive oil, vinegar, or vinaigrette will work with any of the combinations here. Keep tasting to find the flavor matches you like best.
Sliced tomato flavor matches:
tomatoes + vinegar (balsamic, raspberry, red wine, rice, sherry, tarragon, white, wine)
tomatoes + salt + pepper + lemon juice + cider vinegar + mozzarella cheese
tomatoes + avocado + jalapeño mayonnaise
tomatoes + bacon + bittersweet lettuce
tomatoes + cucumber + olive oil
tomatoes + hard cooked egg + salt
tomatoes + toasted bread + garlic rub + olive oil + salt
tomatoes + mushroom garnish
tomatoes + sliced onions (red, sweet, Vidalia)
tomatoes + prosciutto + mozzarella cheese + olive oil
tomatoes + Italian parsley + garlic + olive oil
tomatoes + Italian parsley + minced garlic + grated hard cheese (Dry Jack, Parmesan, Romano, Asiago)
tomatoes + arugula + vinaigrette
tomatoes + lemon basil + olive oil
tomatoes + bell peppers + olive oil or vinaigrette
tomatoes + minced garlic + shaved Parmesan cheese
tomatoes + slices of mozzarella fresca + olive oil
tomatoes + lemons + olive oil
tomatoes + minced garlic + lemon cucumber + bell pepper + olive oil
tomatoes + cheese (blue, goat, Gorgonzola, mozzarella, Parmesan, pecorino)
tomatoes + chile peppers
tomatoes + chives
tomatoes + cilantro + jalapeño or Serrano chiles + olive oil
tomatoes + cucumbers
tomatoes + lemon
tomatoes + olive oil
tomatoes + sliced green olives + olive oil
tomatoes + black olives
tomatoes + lemon + tuna
tomatoes + sweet red onion + anchovy filets + olive oil
tomatoes + feta cheese + anchovy filets + olive oil + minced oregano
tomatoes + parsley + olive oil
tomatoes + minced garlic + grated cheese + chopped preserved lemons + olive oil
tomatoes + feta cheese + oregano + chopped red onions + red wine vinegar
tomatoes + grilled sweet onions + bacon + balsamic vinaigrette
tomatoes + avocado + basil + crab
tomatoes + avocado + lemon
tomatoes + basil + chervil + garlic + tarragon
tomatoes + basil + goat cheese
tomatoes + basil + mozzarella cheese + garlic + olive oil + balsamic vinegar
tomatoes + basil + olive oil + orange juice + prosciutto + watermelon
tomatoes + basil + oregano + thyme
tomatoes + basil + ricotta cheese
tomatoes + chile peppers + garlic + onions
tomatoes + fennel + Gorgonzola cheese
tomatoes + garlic chives + lemon basil
tomatoes + horseradish + lemon
tomatoes + olive oil + balsamic vinegar
tomatoes + frisée + watercress + balsamic vinegar
tomatoes + raspberry + basil + vinegar
tomatoes + mozzarella + ham + jalapeño + basil
tomatoes + cucumber relish + parsley
tomatoes + crème fraĩche + fresh herbs
tomatoes + watermelon
tomatoes + peppers + onions + bread + almonds