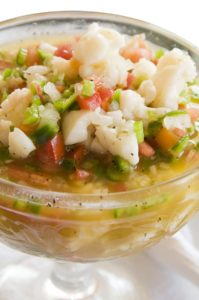 Seviche is a blend of fresh raw saltwater fish, lime juice, and the addition of vegetables and spices.
Seviche is popular as both an appetizer and main course in many Latin American countries. Seviche–which is also spelled ceviche or cebiche–is said to have originated in the ancient Inca civilizations of Peru and Ecuador.
The essence of seviche is the chemical action that the acid of the lime juice has on the raw fish. The acid in the juice firms the seafood flesh and turns it opaque. This process is said to "cook" the fish.
Seviche can be made with one or a combination of fresh scallops, red snapper, pompano, sea bass, flounder, sole, shrimp, tuna, marlin, grouper, salmon, lobster, shellfish, squid, or octopus.
The raw fish is marinated in the lime juice—you can also use orange juice, lemon juice, grapefruit juice or any combination of the four—for anywhere from two hours to overnight. The longer the fish marinates in the juice the more powerful the citrus flavor.
The vegetables—essentially a salsa or sauce—are added to the "cooked" fish usually just before serving. The vegetables which are chopped can include tomatoes, olives, scallions or onions, seeded serrano chiles, and cilantro.
The fish and salsa are served on flat tortilla chips.
Here is one recipe for seviche. You can improvise your own.
Ingredients
1 pound fresh, boneless, skinless fish (salmon or lobster)
1 cup fresh lime juice
1¼ cups peeled, seeded, chopped tomatoes
½ cup sliced, pitted olives
3 tablespoons chopped cilantro leaves
½ cup finely chopped onions
2-3 tablespoons olive oil
¾ teaspoon salt
Directions
1. Combine the fish and lime juice in a bowl. Cover and refrigerate for 2, 4 or 6 hours or overnight. The fish should marinate until it is no longer pink or raw looking when broken apart.
2. Combine the chopped tomatoes, olives, onions, and cilantro in a separate bowl to make the salsa.
3. Just before serving drain the fish and juice mixture in a colander, pressing gently to remove the excess lime juice.
4. Mix the drained fish with the tomato salsa and add the olive soil and season with salt (and 1 teaspoon of sugar if you like).
Serve scoops of the seviche on flat totrilla chips. Top with sliced or diced avocado if you like.