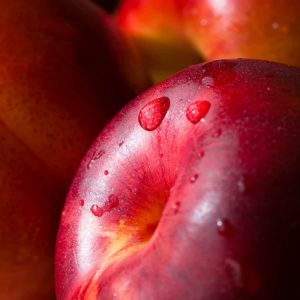 'Fire Sweet' and 'Fantasia' are two simply mouth-watering nectarines.
'Fire Sweet' is a medium-sized nectarine with a flaming red and yellow skin that is smoothly sweet. A grower at the Ferry Building farmer's market in San Francisco handed me a slice of 'Fire Sweet' last Saturday and it was so candy-sweet that I simply could not move before finishing off the whole fruit. I let each bite take a minute to settle in.
'Fantasia' is a slightly larger nectarine than 'Fire Sweet' with a bright red over yellow skin and yellow, firm, smooth flesh. 'Fantasia' is just a tiny bit acidic with a sweet-tart flavor that is mouth filling. I waited an hour after tasting 'Fire Sweet' before biting into 'Fantasia.' The wait was worth it. For a moment, I thought 'Fantasia' was the only nectarine I had tasted that day. It's smooth and zippy.
'Fire Sweet' is a clingstone nectarine. That means the flesh clings to the pit. This makes eating 'Fire Sweet' a little bit of work, but nibbling around the pit while letting each bite of 'Fire Sweet's' yellow flesh melt in your mouth is truly worth the effort.
If you were to pit 'Fire Sweet', and thinly slice it into a bowl of cream or over a scoop of vanilla ice cream you would have a heavenly dessert. But the skin of 'Fire Sweet' is so thin that eating this nectarine out of hand offers no distraction.
'Fantasia' is freestone nectarine which means the pit does not cling to the flesh. You can easily half 'Fantasia' and enjoy the adventure without thinking about the stone in the middle. Though sweetly-tart, the smooth texture of 'Fantasia' makes each bite seem just a bit sweeter than it is. This nectarine lingers a moment in your mouth as it announces itself before melting away.
The skin of 'Fantasia' is a bit thicker than 'Fire Sweet'. If you like a nectarine that holds together while you eat it out of hand, 'Fantasia' is a good choice. Sliced into cream or over ice cream, I think I would remove the skin first and then relax.
Enjoying nectarines only minutes or a few hours off the tree is one of the great benefits of summer. Both 'Fire Sweet' and 'Fantasia' are midseason nectarines that will make you thankful that there's still another half of summer to come.
Finally, remember that the best way to select a nectarine is to smell it and then give it a gentle squeeze. A nectarine ready for eating out of hand will be fragrant and not too hard. A ripe and ready-to-eat nectarine will give to gentle pressure at its seam.