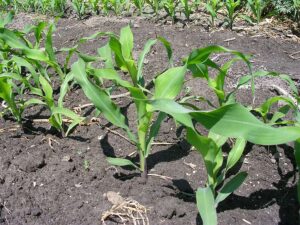 If you live where water is scarce, choose vegetables that do not demand a lot of water. Here are drought tolerant vegetable varieties that are very good performers. One note, even plants that do not require a lot of water, do require water to germinate and begin growing. Once these plants are well established, they will not need regular water.
Vegetable varieties for dry gardens:
• Amaranth: green leaves used as vegetables; use thinnings raw in salad, steam like spinach.
• Moth bean: nutty flavor, popular in India.
• Garbanzo bean, also called chickpea: bean for making humus and use in salads.
• Tepary bean: grows in desert and near desert conditions, a common bean.
• Black-eyed pea, also called cowpeas: use bean to make vegetable soup.
• Yard-long asparagus bean: long, thin, crunchy pod often used in Chinese cooking.
• Snap beans and pole beans: require a short growing season and can draw on residual soil water.
• Chard
• Black Aztec corn: use black kernels for roasting.
• Eggplant
• Mustard greens: tangy, spicy salad green.
• Purslane: use as a salad green.
• New Zealand spinach: a warm weather spinach use just as cool-weather spinach.
• Pearson tomato: old fashion flavor, used often for canning.
• Early Girl tomato: medium size, tasty.
• Super Roma tomato, Golden Nugget tomato.
• Sugar Baby watermelon: sweet tasting ice box watermelon.
Planting. Set plants at least 1½ times or greater the spacing distance recommended on seed packets. When fewer plants are in the garden there will be more water to go around. For example, tomatoes that might normally be planted on 4 foot centers should be planted on 5 or 6 foot centers. (It is important to note that seeds must germinate under normal conditions; that is they must receive moisture to begin life and grow. Give seeds and seedlings all the water they need until they are established.)