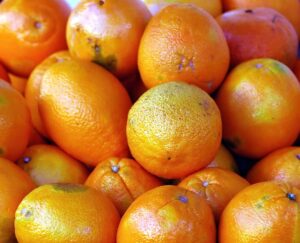 Common oranges are sweet oranges that are not navel oranges or blood oranges.
Common oranges are juicier than navel oranges, but they also have more seeds and are more difficult to peel.
Because the juice of common oranges is sweet and does not have a bitter aftertaste or turn bitter when stored—like some other sweet oranges, the common orange is ideal for fresh and frozen juice.
Two popular common orange varieties are Valencia and Trovita. These are popular oranges for juicing.
Valencia common orange is a round or slightly oval medium-large orange that has a thin, smooth rind. Its juice is a delightful balance of sweet and acid tastes. It is slightly more acid than Washington navel.
Valencia has a deep golden rind and few seeds. It can be eaten out of hand, but it is not easy to peel. iI has abundant juice.
Valencia originated in Portugal but is named for a region in Spain where it is widely cultivated. It can ripen in midwinter in warm regions of its range and at the beginning of summer in cooler regions.
Valencia is cultivated in Spain, South America, Australia, South Africa, and in Arizona and Texas in the United States.
There are three improved Valencia varieties that are also popular:
Delta is a seedless South African variety that ripens 2 to 3 weeks earlier than Valencia.
Midknight is another seedless South African variety that ripens 2 to 4 weeks before Valencia. It is a big orange with a full orange flavor.
Rohde Red is a deep-orange Valencia type that is also seedless.
Popular Common Orange Varieties
Trovita is a sport or mutation of the Washington navel orange but has no navel. Trovita is a medium-size orange–slightly smaller than Washington–with few seeds. It has an orange rind and is excellent for eating out of hand or for juicing. It is juicier than Washington and is pleasantly sweet tasting. It ripens from winter into spring.
Hamlin is a medium-small, seedless common orange that is low in acid and excellent for juicing with a sweet taste. It has an orange rind and few to no seeds. It ripens fall into winter.
Jaffa, also called Shamouti, is a medium-large to large, thick-skinned common orange that is nearly seedless. It has a light orange rind and few to no seeds. It has excellent flavor and can be eaten out of hand or juiced. It ripens from winter into spring.
Marrs is a medium-size, low-acid orange that is juicy but best eaten out of hand. Marrs is a navel-less sport of Washington that was discovered in Texas. It has an orange rind, few to many seeds and a sweet to low acidity taste. It ripens from fall into winter.
Parson Brown is a small, yellow-fleshed common orange. It is seedy and is best used for juicing. It has an uneven flavor. It ripens from fall into winter.
Pineapple is a small to medium-size orange with a glossy deep-orange colored rind that is quite seedy. It has a sweet flavor and rich pineapple aroma. It has few to many seeds and is popular for juicing. It ripens fall into winter.
Some common oranges are sometimes referred to by the general name Arizona Sweets. These common non-navel oranges are popular in Arizona where they ripen before the first hard frost. Arizona Sweets include the varieties Hamlin, Marrs, Pineapple, and Trovita. Sometimes these oranges are grouped together and marketed as Arizona Sweets.
How to Choose an Orange. Select an orange that is firm and heavy for its size. A heavy orange will be a juicy orange. Avoid oranges that are spongy or have mold. Rough brown russeting on the rind of an orange will not affect the flavor or quality. A slight greening of the orange rind will not affect the quality. An orange with a green tint to its rind can be ripe and ready to eat.
Store. Oranges will keep in the vegetable bin of the refrigerator for up to a month, or they will store in a cool, dark place in the kitchen for a week.
The botanical name of the common orange is Citrus sinensis.
Also of interest:
How to Plant, Grow, Prune, and Harvest Citrus